Your Salesforce email marketing options – MassMailer Vs Pardot
Siva Devaki
2022-08-19T02:33:47+00:00
Your Salesforce email marketing options – MassMailer Vs Pardot
October 5, 2021 | by
You may find the bombardment of information through many new channels to be overwhelming, but email still rules. As a marketer, your primary focus should be emailing. But among the buzz, which one can suit your business better? Let's compare MassMailer Vs. Pardot here.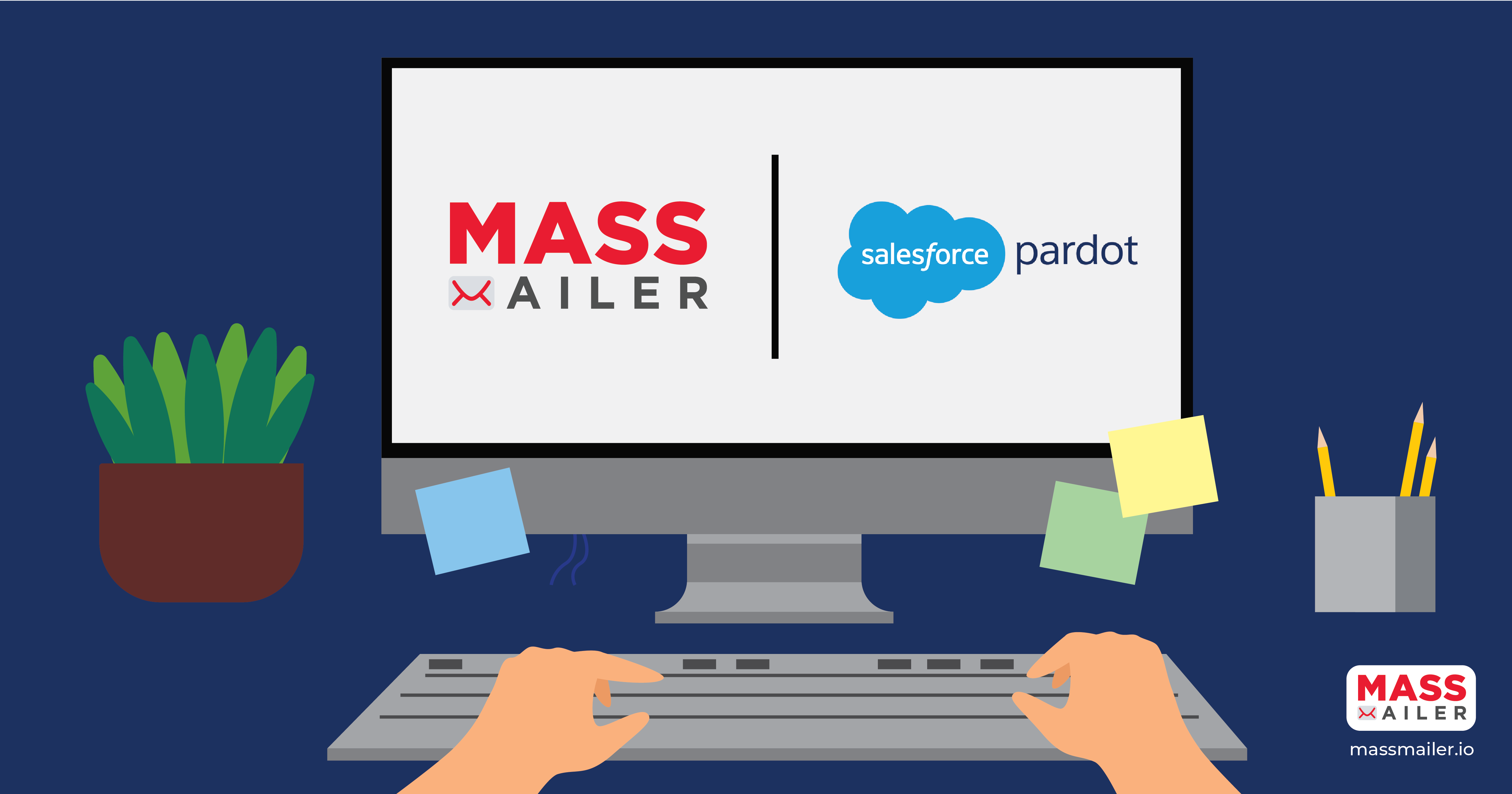 There are 4 billion daily email users. This number is expected to climb to 4.6 billion by 2025. (Statista, 2021)
Check out what features you prefer for your business operations based on the list below.
Integration with Salesforce:
You may be aware that native apps can have an advantage and MassMailer is a native Salesforce app. The advantage of native apps is that you do not need any APIs to integrate with Salesforce. Moreover, data from Native apps are stored in your Salesforce instance. That reduces your worry about any extra security. MassMailer is a native app that delivers a seamless experience.
Pardot is a B2B lead nurturing and marketing automation platform but not just an email marketing tool.  You can integrate Pardot with Salesforce using a specially designed connector.
Email Authentication:
The success of your email campaigns rests on sending campaigns to valid email addresses. Both MassMailer and Pardot support email authentication. Pardot authenticates domain through the Sender Policy Framework (SPF).  DomainKeys Identified Mail (DKIM). MassMailer also follows the same industry best practices to authenticate.
Vanity Tracker Domain for links:
Mass mailer and Pardot support Vanity Tracker Domain for links. The feature is helpful when you send email content, and images may get hosted in URLs defined by the email tools.
IP Address:
You get a dedicated IP address with MassMailer. An IP address identifies spam. and the email sender's reputation. Having a dedicated IP address protects your reputation and reliable email delivery.
You get a shared IP address with Pardot by default. You need to purchase a dedicated IP address as per your needs.
View Email activity:
Viewing email activity is of primary importance for your marketing. Here both the applications do not disappoint in this critical area. In MassMailer, you can configure viewing of emails sent in Salesforce Activities. Alternatively, you can view details of emails sent in the MassMailer Email Status Related List or the Lightning Component in Salesforce.
Pardot also shows Email sends in Salesforce activities. You can include it in the Engagement History Lightning Component too. See what works best for your teams.
Send Mass Emails:
Probably a favorite tool in your marketing strategy – sending mass emails. MassMailer and Pardot support sending mass emails to email lists of your choice. Both the applications are suitable for email marketing initiatives and perform reliably well.
One to one Emails:
At times, you need to send a one-to-one email, and here both MassMailer and Pardot support sending a single mail.
Email Validation and Verification:
Sending mails to wrong addresses or irrelevant people impacts your brand reputation. Email Validation and Verification features are available in MassMailer, and there are many statuses. You can have this feature work with Salesforce too.
Unfortunately, Pardot does not support this critical feature.
Attachments:
At times you may need to send marketing collateral through email attachments; MassMailer supports attachments in emails.  In Salesforce, one can email file attachments with MassMailer.
Pardot has limitations in that it supports email attachments, but only if you use Salesforce Engage Tool with appropriate licenses, which can be a dampener.
Dynamic Attachments:
Dynamic attachments significantly reduce the time spent in email marketing. With MassMailer you can attach files dynamically from any object and send a mass email in Salesforce.
Pardot lacks the dynamic file attachment feature. 
Email sending limits:
Massmailer has no limits technically and is based on the email volume package that you purchase.
Pardot has no email sending limits too. Limitations impact email marketing planning. You will be glad to know that both these applications do not have any technical limitations.
Email Template Builder:
Email templates help in rapidly rolling out email marketing campaigns. You will find MassMailer's user-friendly drag and drop builder interface that integrates with Salesforce email very helpful. HTML support is available.
Pardot's native email builder has 48 pre-made templates and supports HTML. If you are seeking a variety of templates, this may be an available option.
Email Merge fields:
You get flexibility with MassMailer that enables merging all SFDC fields, including the parent fields up to 6 levels in the hierarchy.
Pardot is limited to only Lead, Contact, Account, and Opportunity fields. You need to create these fields in Pardot and sync.
Email Tracking Metrics:
You can use both MassMailer and Pardot for metrics tracking. Both applications support opens, clicks, bounces, spam, reply, and unsubscribes.
Email reporting:
You can view MassMailer reports on opens, clicks, bounces, spam, unsubscribes, and other activity too. Both Salesforce and Pardot – displays reports on opens, click-through, bounces, spam, and unsubscribes.
You can find plenty of options for Pardot, a B2B marketing automation platform, with enhanced lists for email reporting based on the email client, click-through reports, length of engagement, etc. Besides that, there are campaign reports on salesforce campaigns that include native engagement metric fields, related lists, and engagement dashboards.
A/B testing:
A/B testing helps test variations of email campaigns across different user sets to know which one garners the best results for you. MassMailer includes A/B testing with diverse templates and provides a report. Pardot also provides A/B testing options.
Some of the other features that both MassMailer and Pardot support include – Render Testing and, Send from Salesforce Campaign.
Dynamic Content:
is releasing soon for MassMailer, but it's available in Pardot.
Campaign Engagement Metrics and Related Lists:
Knowing results helps you to do better. MassMailer supports email engagement metrics. However, MassMailer does not have forms or landing pages functionality.
Pardot provides you with engagement metrics and related lists for emails, marketing links, forms, and landing pages.
Drip Campaigns:
MassMailer supports drip campaigns but requires you to create a Process Builder process or Flow. Salesforce process builder is a point-and-click tool that automates business processes and shows a graphical representation.
You can use Pardot for drip campaigns with Salesforce's native Engagement Studio user-friendly and can update Salesforce campaigns and fields values.
Website tracking:
MassMailer does not support website tracking, but you can easily integrate Google Analytics with Salesforce and add Google Analytics tracking codes to Email Links.
Websites can add Pardot tracking codes for tracking purposes.
Forms:
As far as forms go, MassMailer does not support forms, but you can choose  Pardot that provides support.
Landing Pages:
MassMailer does not support landing pages, but you can add a link to them.
Pardot supports landing pages.
Social connectors:
Social media posting has become a part of the digital marketing mix. Pardot supports social connectors, but MassMailer does not.
Event and Webinar connectors:
MassMailer does not support Event and Webinar connectors, but you can leverage other AppExchange apps that provide these features.
Pardot supports Event and Webinar connectors that help run events and webinars.
Visitor tracking and Reporting:
Pardot supports Visitor tracking and Reporting, but with MassMailer you will need Google Analytics integration with Salesforce.
Analytics:
MassMailer does not have analytics capabilities, but you can build a custom integration with Analytics.
Pardot supports metrics integration.
UI Customization:
MassMailer offers UI customization using the configuration settings.
Pardot does not provide UI customization.
Quick Send:
Quick Send is popular and you can personalize and send a single message to contacts, leads, or person accounts throughout the Salesforce platform. MassMailer supports Quick Send, and the feature has only one page.
Pardot does not support Quick Send.
Inboxing (IP and domain warmup):
Don't let the tech talk startle you here. IP/domain warming adds email volume to a new IP address establishes a positive sending reputation with mailbox providers. You will find the MassMailer Inboxing feature that warms up the domain and the IP address continuously.
Pardot does not offer the Inboxing feature.
Conclusion:
Both MassMailer and Pardot are feature-rich in many aspects. Based on your nature of business operations, you need to see your focus areas and business needs before you make a choice.
If you see a rapid expansion of your business in the short to medium term, Pardot can be a choice for wider marketing automation along with the focus on emails. On the other hand, if your marketing focus is email, MassMailer can be a better choice.
Between both the applications, we suggest you can choose one with the features you really need before taking the leap.