What Does Suspended Mean in Constant Contact and What to Do
neerajmaurya03@gmail.com
2023-03-10T16:12:49+00:00
What Does Suspended Mean in Constant Contact and What to Do
January 5, 2023 | by
What Does 'Suspended' Mean in Constant Contact and What to Do?
When it comes to email marketing, it is very important to keep your contact list updated and clean to improve both the email deliverability rates and open rates. One of the ideal ways to do this is to keep a check on the bounces for each email campaign that you send out.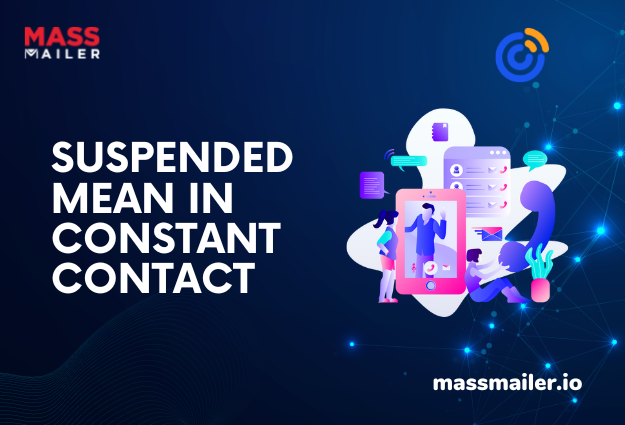 Constant Contact account holders can navigate this better as the platform notifies them with a reason when a particular contact bounces. While some are common reasons, such as non-existent or vacation/auto-replies, others are more specific, such as suspended accounts.
In this post, we explore the Constant Contact suspended bounces, including what they mean and what to do if this happens.
What Does 'Suspended' Mean in Constant Contact?
'Suspended' in Constant Contact essentially refers to when an email address that has continually bounced is deemed non-existent. This is done to protect the delivery rate for both Constant Contact and customers.
So, in case your Constant Contact emails go to spam continually, it will result in your account being automatically suspended. It is important to note here that although you'll still be able to log in to your account, you wouldn't be able to send any emails till the time the issue is fixed.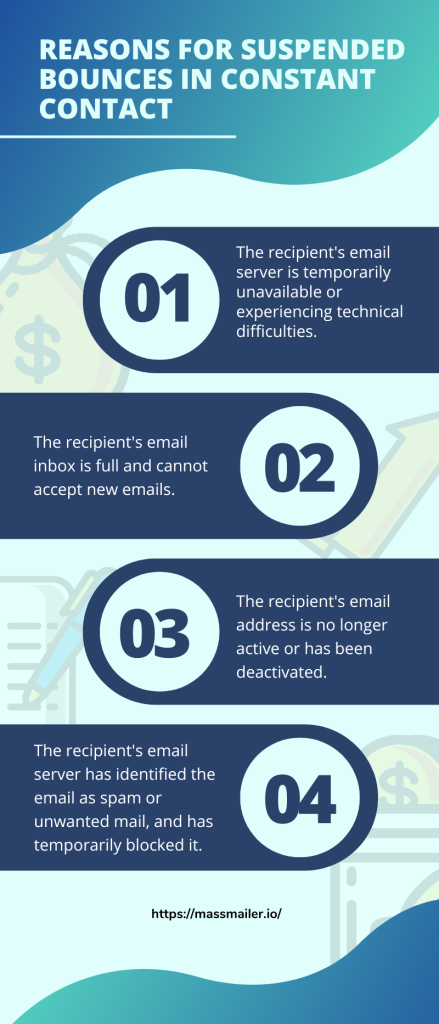 Since repeatedly sending emails to such non-existent email addresses can hurt your sender reputation, Constant Contact ensures to suppress these addresses and marks them as "suspended" in your email reporting.
It is also important to note that when an email address gets suspended, it isn't just suspended in the user account. Any Constant Contact customer who has the same email address on their list is also barred from sending emails to it.
How Does an Email Address Get Suspended in Constant Contact?
Email addresses listed as "Suspended" in Constant Contact should be removed from your email contact lists as the chances of them becoming active again are quite low.
Here is the quick process to remove suspended email addresses from the suspended report for each individual email in Constant Contact:
Check the box in the top left to select all the suspended contacts.
Once done, click Actions > Delete.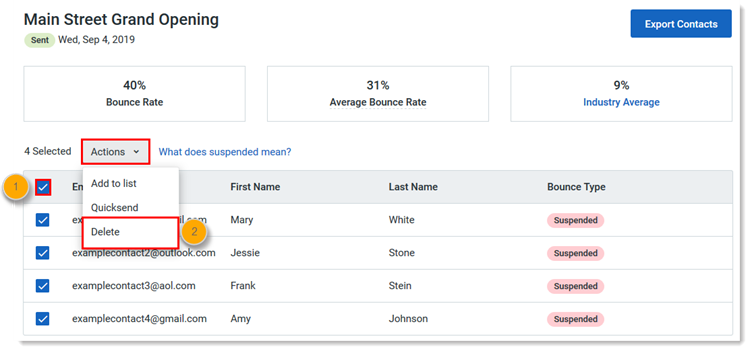 Lastly, click Delete and Unsubscribe.
How to Unsuspend an Address in Constant Contact?
If you think a valid email address has been marked as 'suspended' by a Constant Contact account, you also have the option to either unsuspend it from your account or contact Constant Contact help to check and discuss your options for emailing that person again.
Here is how you can unsuspend an address in Constant Contact:
Click on the right corner next to the email address you wish to unsuspend and choose one of the below options:
Edit – You need to select edit or check if there's either a typo/error with the email address, followed by updating the contact information. As soon as the address is changed, it will be automatically unsuspended.
Unsuspend – Here, you need to select the "Unsuspend" option if the email address appears to be valid.
Why Does Constant Contact Care About Bounces?
Constant Contact uses a shared IP environment with several IP addresses through which all customers send their mail.
To ensure effortless email delivery in such a case, the platform takes strict measures so that the reputation of these IP addresses remains intact and there is no chance of ISPs and domains rejecting the mail.
Emailing continually to contacts or addresses that bounce as non-existent is looked down upon in the industry and could significantly impact Constant Contact's ability to deliver emails to the inbox. This is why the platform takes suspended contacts or Constant Contact bounces very seriously.
If you are looking for an alternative to Constant Contact, MassMailer is one of the best solutions to eliminate both the risk of suspended contacts and Salesforce email limitations for sending bulk emails via the Mass Email Wizard or Campaigns.
Constant Contact Pricing: How Much Does Constant Contact Cost?
neerajmaurya03@gmail.com
2022-12-27T16:37:11+00:00
Constant Contact Pricing: How Much Does Constant Contact Cost?
December 25, 2022 | by
Constant Contact Pricing: Know more about constant contact pricing
Every organization needs digital marketing tools to keep up with competitors in the present market. If you want to increase your reach and target a large demographic with your products or services, you cannot achieve it manually.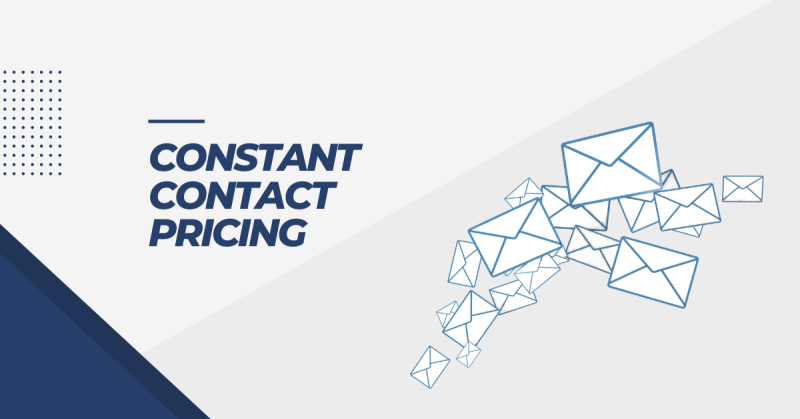 For email marketing efforts, especially, there is a need for efficient software that automates and streamlines bulk email campaigns and other advertising efforts. If you are aware of email marketing tools, you must have heard of Constant Contact.
In this article, we will discuss the features, benefits, and pricing structure of Constant Contact for your business. Before elaborating on how much is Constant Contact, let's check out what it is and how it works.
What is Constant Contact?
Constant Contact is a software that allows small businesses to send a large number of emails to their clients or prospective customers. It has a payment plan for services based on how many contacts you have on the list.
Constant Contact can also be integrated with your other business applications to create a real-time and transparent reporting system and email builder.
The Constant Contact pricing structure makes it suitable for small and medium businesses to use its features without compromising too much on the budget.
Constant Contact Features and How It Works
Choosing the right email marketing software for your company is a big decision. You need to consider its features, pricing, customer support, and other factors before taking a subscription.
When it comes to Constant Contact, it has a lot of useful features that can benefit small businesses:

You can test multiple email formats and structures to determine which email works best and gives the highest success rates.
Ready email templates
You can choose among the dozens of available email templates to find the best fit for your brand and messaging.
Email editor
With Constant Contact, you can customize emails with drag-and-drop options for a personalized feel. The email editor takes your brand logo, colors, and social media links from your website to create a customized template that you can edit further.
You can rest assured that your emails will reach the right recipients almost instantly.
Automated actions
You get access to autoresponders that can send emails on specified days, like customers' birthdays, subscription renewal days, and so on. You can also set automated responses for user actions, like when they show interest in your products or click a link on the email or website.
Insightful reporting
You can keep track of your marketing activities with comprehensive reports and analytics dashboards.
List management
You can create specific lists based on categories and email content for your contacts.
Overall, Constant Contact offers small businesses the flexibility to automate their email activities for a small charge. It also has helpful customer service, high scalability, and low price points.
Its user interface is easy to navigate; a new user can create and launch an email campaign a few minutes after signing up. Also, you don't need to worry about information security with this platform.
Besides the Constant Contact prices, the best thing is that you can integrate it with popular services like Microsoft Excel, Outlook, Salesforce, Vimeo, and other email list-building tools. This allows you to sync contact lists across platforms and also include media such as images, videos, and GIFs.
Now that you are aware of how Constant Contact can benefit your small business, let's check its pricing options.
Constant Contact Pricing Options
Constant Contact offers two digital marketing plans for your business: The Core Constant Contact Plan and the Constant Contact Plus plan.
The Core plan is ideally suitable for small teams and businesses that do not require advanced email marketing features.
The Plus plan is better for larger teams and offers more features like marketing automation, advanced segmentation, online surveys, and dynamic content.
There is a Constant Contact free trial of 60 days if you want to use the platform before paying for a plan.
The Core plan starts at $9.99 per month, while the Plus plan starts at $45 per month. The prices vary based on the number of contacts, as listed below.
| | | |
| --- | --- | --- |
| Number of Contacts | Core Plan (per month) | Plus Plan (per month) |
| Up to 500 | $9.99 | $45 |
| 501-2,500 | $45 | $70 |
| 2,501-5,000 | $65 | $95 |
| 5,001-10,000 | $95 | $125 |
If you have more than 10,000 contacts on your list, you can check the Constant Contact website for more information on advanced plans. In case you opt for a 12-month plan, you can get a Constant Contact discount of 15%. You also get a 30-day money-back guarantee if you are not satisfied with the services.
Core vs. Plus: Which Should You Choose?
The Core plan is suitable for smaller businesses with limited contacts to email. It has the following features:
Unlimited email sending
Up to 5 users
Chat and phone support
Available templates
1 GB file storage space
Registration forms in-line, pop-up, and in-registration pages
Stock photo library
Integration and reporting enabled
iOS and Android app
Email management features
In the Plus plan, you get all the features mentioned above, along with a few additional functions.
Unlimited users
2 GB file storage space
Email marketing automation features
Advanced segmentation
Facebook and Google Ads integration
Online surveys
Dynamic content
You can also opt for a Sales Accelerator Plan powered by SharpSpring, which starts at $399 per month. This gives you a holistic CRM platform with advanced features that can automate your email marketing campaign.
However, the price point might be too high for a small business. You can choose better alternatives at much lower prices, like MassMailer, which helps you send bulk emails in Salesforce CRM with ease. Start the 15-day free trial to get acquainted with all the advanced features and how they can revolutionize your business.
Conclusion
The models for pricing in Constant Contact are flexible and customer-friendly. Depending on the features your business needs, you can choose an appropriate plan or get on a free trial. With an array of customizable actions, you can step up your email marketing game and save resources with this platform.
Get started with your MassMailer trial today.