EMAIL CAMPAIGN, SALESFORCE November 23, 2022
How to do A/B testing in MassMailer for Salesforce?
Step-wise Process to Perform A/B Testing in MassMailer for Salesforce
Introduction
Also known as split testing, A/B testing is one of the most popular methods for businesses to test new UX features or new versions of a product and decide whether the business should launch that new product/feature or not.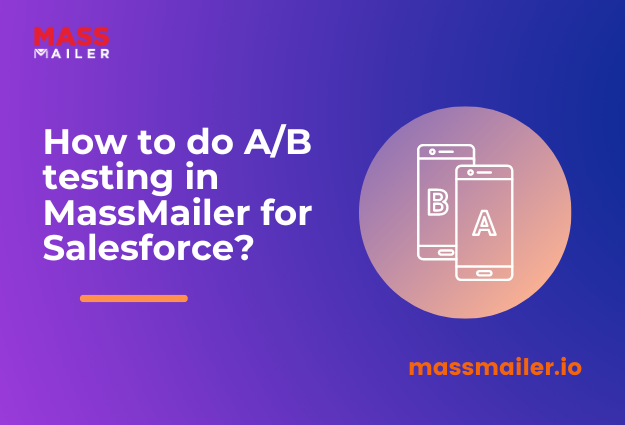 The key objective of performing A/B testing in Salesforce is to understand what improves a product/feature performance and what doesn't. It's essentially a way to make data-driven decisions for a product and marketing strategy.
In this post, we are going to cover the detailed process of how to do A/B testing in MassMailer for Salesforce.
About the MassMailer Platform
MassMailer is a Salesforce app that allows you to send unlimited emails and efficiently manage email sending limitations set by the Salesforce CRM.
The key features of MassMailer that simplify email marketing include:
Allows you to send mass emails
Lets you create email templates
Helps you consolidate contacts and leads
Generates in-depth analytical reports
How to Do A/B Testing in MassMailer for Salesforce
Here is how to perform A/B testing in MassMailer for Salesforce in a few simple steps: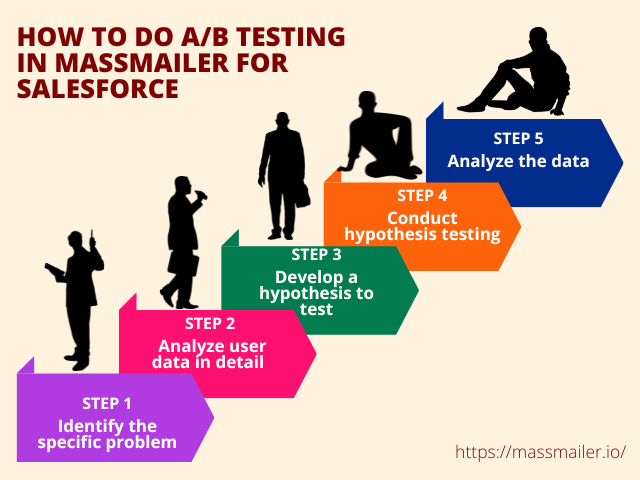 1. Identify the specific problem
The first step in the process of A/B testing is to identify and define a specific problem. Unlike a general problem statement, going into the specifics of the issue is something you can begin with.
It is important to keep in mind that there is a range of factors that go into issues, such as low website conversions, whether an email recipient clicks through to your site, or whether a website visitor becomes a customer or not. This makes it important to identify and define the problem first.
2. Analyze user data in detail 
This is the stage of A/B testing where analysis of user data is done. While A/B testing could be conducted on almost everything your customers see once they open your emails, it would be a time-consuming process.
Also, since there is a range of design and content elements that customers encounter that probably aren't relevant, it is important to figure out and analyze the specific elements.
3. Develop a hypothesis to test
At this point of A/B testing, you need to decide what you want to test and how you want to test it. This is the stage where you need to narrow down your choice and determine how changing a particular element or elements might fix the issue you're facing.
4. Conduct hypothesis testing
Once you develop a hypothesis to test, the next step is to do the hypothesis testing by developing a new version of the test product/ feature that implements your idea.
Here, you need to run an A/B test between that version and your existing page with your target audience.
5. Analyze the data
As soon as the hypothesis testing is over, you need to thoroughly look at the results and see if the new version of your product/feature leads to any noticeable changes. If it did not result in any noticeable difference, it is time to try testing a new element.
Post these steps, you can decide whether the improvement was significant enough and if you can make the necessary changes or choose to run another A/B test to evaluate the impact of another feature/ element.
Example of A/B Testing in Mass Mailer
Here is an example of how you can do A/B testing in MassMailer:
Go to MassMailer's in-built A/B testing tool and change whichever variables you want to test through its easy-to-use and intuitive interface.
(Because of the similarities the platform has with the Salesforce interface, there is no training required to conduct an A/B test with MassMailer)

Once you have opened Massmailer's A/B testing tool, you can perform testing of two separate templates with different email subjects and bodies.
For instance, if you have 10K recipients with emails in two different email templates and both templates are equally distributed to those recipients, then out of the total recipients, 5K would receive the first template, and the rest would receive the second template.

If you are an existing Salesforce user, you can start bulk emailing and A/B testing in MassMailer right away. Additionally, MassMailer also lets you send any number of mass A/B test campaigns without worrying about any Salesforce limitations.
Apart from this, with MassMailer, you also get:
Out of the box reports available for detailed A/B testing comparison
Outreach statistics for each template for all email events, such as open and click
The other highlight of A/B testing Salesforce in MassMailer are these soon to be launched enhancements:
Email previews will have an option to preview the A/B template
Test email deliverability will have an option to select an A/B template
Send Test will have an option to choose the A/B template
While you can perform A/B testing on your Salesforce mass email campaigns manually, using MassMailer simplifies the process manifolds. If you're looking for a robust tool for your Salesforce campaigns, try MassMailer today and get a 15-day free trial to perform A/B testing.