HOW TO, SALESFORCE March 3, 2023
Salesforce Reports Types: How to Generate Salesforce Reports
Creation of Salesforce Reports and Report Types: All You Need to Know
When it comes to making sense of all the data captured in your Salesforce environment, the importance of Salesforce reports and dashboards is immense. These reports serve as a tool to visualize and use the Salesforce data and draw actionable insights from them.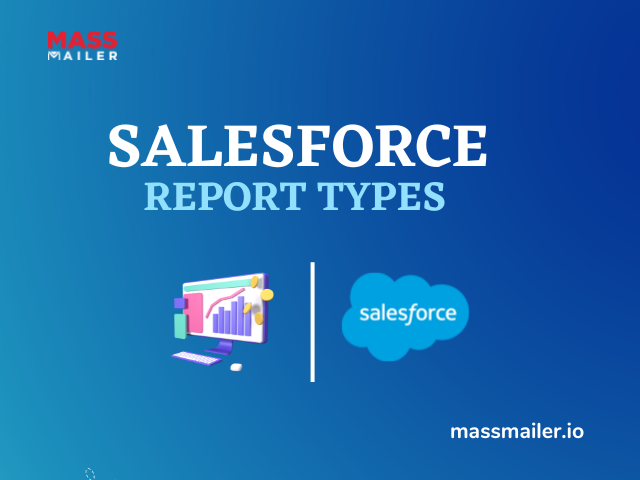 In today's world of information overload, an increasing number of marketers are relying on these Salesforce reports to get actionable insights for their sales teams so they can better visualize their sales data and make informed decisions.
To that end, this post aims to explore the types of Salesforce reports, their uses, and how you can create them.
What is a Salesforce Report?
A Salesforce report is essentially a visual representation or curated list of filtered sales data that meets specific criteria and gives you relevant information about your sales performance.
The best part is that you can organize this data in various ways with one single goal, which is to make the data easy to understand and get actionable insights out of it without spending hours on the report.
These Salesforce reports offer a complete overview of business KPIs and help you determine how your sales team is faring toward your business objectives and revenue targets.
They can also be used to evaluate sales performance, make business decisions, and identify any issues in the sales process.
What is a Report Type in Salesforce?
Report types in Salesforce refer to the templates that you can choose based on what kind of data you wish to see. The report type defines the kind of records and fields that will be displayed in your report based on how the primary object is related to other objects.
There are various predefined report types available that you can use in Salesforce. While you cannot edit them, you can create your custom report type to suit your specific needs.
Types of Salesforce reports primarily refer to the following:
Objects: What objects the particular report can see (e.g., Contacts, Accounts, Opportunities, etc
Object Relationships: The overlap between various selected objects 

Fields included in results 

Fields checked by default 

Field display names
Salesforce Report Types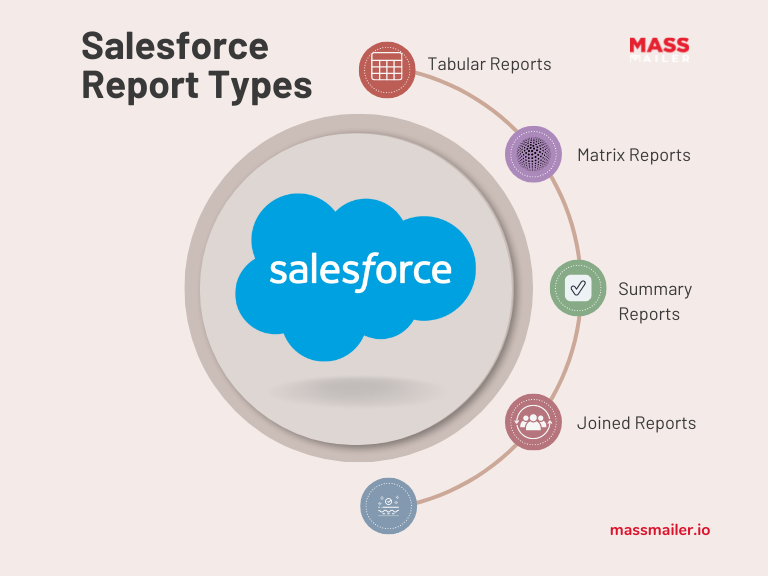 In general, reports can be categorized as standard and custom report types in Salesforce. Since custom reports generally depend on each salesperson's unique needs and goals, we are discussing the standard report types in Salesforce.
Among these are the following
1. Tabular Reports 
These are the simplest type of Salesforce reports which show your data in rows. Tabular reports are most effective to use when your goal is simply to export them.
Although easy to set up, tabular reports can't be used to create groups of data or charts and also cannot be used in Dashboards. 
Example – Tabular reports are primarily used to list all accounts, lists contacts, and more.
2. Matrix Reports 
Matrix reports are the ones that allow you to group various records by row and column both. This type of report is used for a comparison of related totals with both row and column-wise totals.
It is best to use matrix reports when you are looking to see your data for two different and unrelated dimensions, such as product and date.
Example – Matrix reports can be used to summarize opportunities by date vertically and by product horizontally.
3. Summary Reports 
Summary reports in Salesforce offer a complete listing of data with groupings and sub-totals.
The ideal use of summary reports is when you either want to create a hierarchically grouped report (sales numbers organized based on quarter/year) or want subtotals depending on the value of a particular field or when.
Example – Different opportunities can be sub-totaled in summary reports based on the owner and sales stage.
4. Joined Reports 
In Salesforce reporting, joined reports are most useful when you wish to compare the data from two separate, individual reports.
In this type of report, you can create up to five different or separate blocks to display related data. All these blocks act like separate reports, and you can make use of unique filters and formulas to sort and display the data in different views. 
Example – Joined reports can be used to compare the number of opportunities for two different accounts.
How to Generate a Standard Report in Salesforce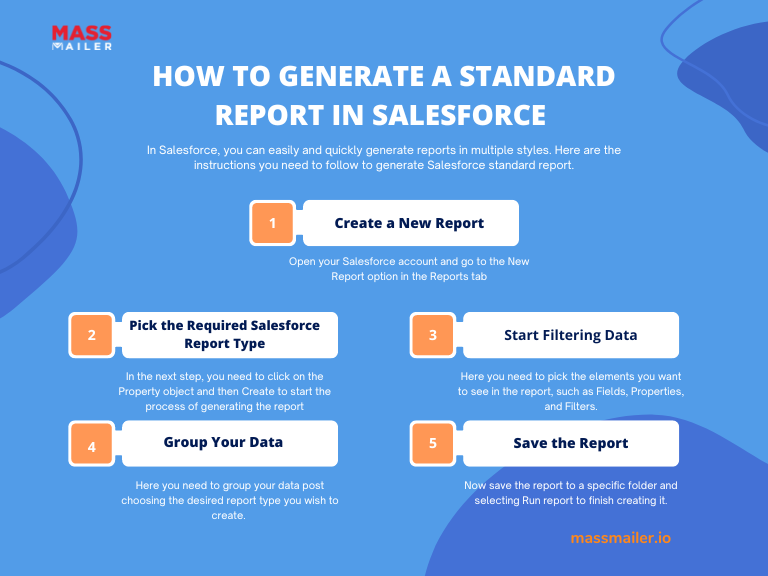 In Salesforce, you can easily and quickly generate reports in multiple styles. The platform offers a powerful suite of analytic tools to help you manage, organize, view, and analyze your data.
Here are the instructions you need to follow to generate Salesforce standard report.
Step 1 – Create a new report
Open your Salesforce account and go to the New Report option in the Reports tab.
Step 2 – Pick the required Salesforce report type
In the next step, you need to click on the Property object and then Create to start the process of generating the report.
It is important to note that the Salesforce report list is quite exhaustive and includes everything from "Accounts," "Deals," and "Opportunities" to "Cases." You can make your search simpler by typing in the relevant keywords.
Step 3 – Start filtering data
Here you need to pick the elements you want to see in the report, such as Fields, Properties, and Filters. 
Step 4- Group your data and save the report
Here you need to group your data post choosing the desired report type you wish to create, followed by saving the report to a specific folder and selecting Run report to finish creating it.
To Conclude
Salesforce CRM reports serve as an excellent tool that allow you to conveniently list, group, and relate your data points so you can better understand and analyze the performance of your sales pipeline.
To get even more out of these reports with a customized and streamlined overview of your pipeline's performance and boost your revenues, partner with MassMailer. 
MassMailer is a Salesforce ISV Partner that provides a powerful mass email solution to let you send mass emails without any limits to any standard or custom object. 
With a list of advanced features such as the ability to attach files, drip campaigns, email monitoring, email alerts, IP blacklist monitoring, email verification, and much more, MassMailer offers the best email solution for Salesforce CRM users.
Get started with your MassMailer trial today.