HOW TO February 10, 2023
How to Remove Your IP from Microsoft's Blacklist
Blacklisted by Microsoft? Here is How to Remove IP from Microsoft Blacklist
Email marketing has always been the dark horse of outreach in business circles. While nobody wants to admit it, it is actually quite an effective tool to get your target audience's attention.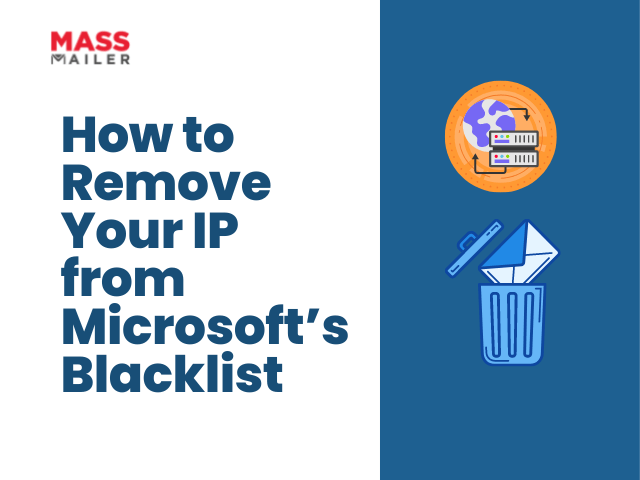 With that said, have you ever faced a situation where you went from a 15% email open rate to a 5% rate overnight? If the answer is yes, your IP address may have been blacklisted by the receiving servers.
This happens sometimes. In fact, according to Statista, about 47.3% of the total marketing emails in 2020 were reported as spam. Spam mail is one of the red flags that can get your IPs blacklisted on the receiving servers.
If you are facing a blacklisting issue, read this blog. You will learn how to remove your IP from the Microsoft blacklist. However, do keep in mind that these methods do not trump practicing email marketing hygiene.
Common Reasons That Cause Blacklisting by Microsoft
Before diving into the solution, here is a quick recap of the multiple reasons why Microsoft might be blacklisting your IP address.
Sending spam emails in high volumes alerts Microsoft's servers to mark your communications as spam. Doing this persistently can get your IPs blacklisted.
If your users find your email messages unhelpful, they may mark them as spam. This alerts Microsoft servers to treat your IP with caution. Persistence may earn you a blacklist entry.
You may still get blacklisted after practicing good marketing hygiene if the settings of your DNS are misconfigured.
If your emails are experiencing higher bounce rates, Microsoft may blacklist your IP.
If your IP is forwarding an uncommonly high volume of emails to Outlook or Hotmail users, Microsoft can consider this as a red flag and blacklist you.
Blacklisting is also a result of working with servers and IPs that have a bad reputation.
Knowing these reasons makes it easier to understand why your email marketing isn't performing the way it should. This is your first step in checking for the probable causes for blacklisting and IP blacklist removal.
Download comprehensive Guide on how to Remove Your IP from Microsoft's Blacklist.


Checking Whether Your IP is Actually Blacklisted by Microsoft
Before you begin your IP blacklist removal process, you need to ascertain whether Microsoft has indeed banned your IP. It is a simple process.
If you know your mail servers are sending emails to Microsoft 365/Hotmail users, a blacklisted IP will be denied deliverability by Microsoft screening and return an error message to your inbox.
The error message will look something like this:
550 5.7.511 Access denied, banned sender[xxx.xxx.xxx.xxx]. To request removal from this list, forward this message to delist@messaging.microsoft.com. For more information, go to https://go.microsoft.com/fwlink/?LinkId=526653.
Receiving this error message is a certain indicator that your mail IP has indeed been banned from Microsoft users. You can now proceed to the delisting process.
IP Blacklist Removal from Microsoft Servers
If you did everything right and followed email marketing best practices, your IP can be easily delisted by following this guide. Basically, there are two ways you can remove an IP from Microsoft's blacklist:
By contacting Microsoft through email
By using the Microsoft delisting service
1. By Emailing Microsoft
If your business was blacklisted for sending emails to Hotmail and/or other Live domains, you can use this simple method for IP blacklist removal. Send an email to delist@messaging.microsoft.com
You can place your request to have your IPs delisted from the Microsoft server blacklists. You will receive a response within 48 hours of sending the email; however, if it does take longer, you can resend the email.
Do note that this method only applies if you have been mailing to Hotmail/Live domains. For all other domains, you need to adopt the second method.
2. By Filling Out the Delisting Service
Microsoft's delisting service is available for email marketers who have been wrongfully blacklisted because of some reason.
It is best to ensure that your mail servers haven't been compromised by cyberattacks before you fill out the delisting form. Compromised servers do get delisted but end up back on the blacklist sometime later because of suspicious activity detection by Microsoft.
Once you have ascertained that your mail servers are secure, follow the steps below to remove your IP from 
Fill out the captcha code, and submit the form. Microsoft will send you a confirmation email at the address that you filled out earlier.
You now need to open this email address and find the email from Microsoft. If you don't find it in your inbox, try looking in the junk or spam folders as well.
Open this email, and click on the "Confirm your email address" link in the mail. You will be navigated to the delisting portal again when you click on the link.
This window will contain the IP address of your mail server that was blocked. To remove this IP from the blacklist, just select the IP and click on the "Delist IP Address" button.
It takes about 24 hours for Microsoft to work on your request and remove the IP from its blacklists.
Wrapping Up
Blacklisting can happen to anyone, and it can happen even when you are using bulk email marketing tools that help you reach a wide audience at the same time.
You can make sure that your IPs don't get blacklisted by using MassMailer for bulk emailing. Our servers are reputable and well-configured and do not have any security or compromise issues. This will help you stay clear of Microsoft's blacklists. To know more about MassMailer, get on a free trial today.
If, however, Microsoft has blacklisted your mail servers for whatever reason, you can simply contact them via email or fill out the delisting portal forms to remove your IP from Microsoft's blacklist.