EMAIL MARKETING, HOW TO, MARKETING June 26, 2022
The Best Time to Send a Marketing Email
The Best Time To Send A Marketing Email, According to Research
Email marketing is all about the ROI. For every $1 spent on an email campaign, the average marketer sees a $36 return. That's massive compared to other forms of digital marketing, and it's not surprising when you consider just how much consumers actually use their email. 99% of the population checks their email every single day—and some people check it as much as 20 times a day. Needless to say, it's one of the most direct marketing channels, but in order to have a successful campaign, you have to do it right.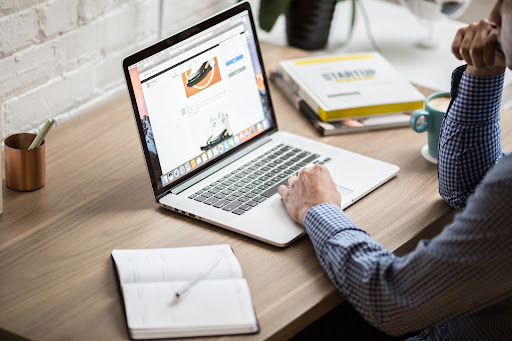 Though the majority of people check their email first thing in the morning, the actual time you send out a campaign email does matter. Keep in mind that there are a lot of other factors that play into a stellar open or click-through rate. Optimizing your send time is just part of it. Here's what you need to know.
Target Open Rates For Different Industries 
Before you can understand the best time to send an email, you need to know whether or not a campaign is succeeding. Average open rates, click-through rates, and click-to-open rates vary—and they might not be as high as you think. According to GetResponse's analysis of 35 billion emails, the average email campaign in North America has:
23.5% open rate

3.9% click-through rate

16.4% click-to-open rate
Other rates, like spam or unsubscribe rates, tend to remain stagnant no matter what time you send an email. It's also highly dependent on the industry. Internet marketing tends to have the lowest open and click-through rates while nonprofits and restaurants tend to have the highest. Here are some basic open-rate benchmarks by the industry:
Food and Restaurants:

30.1%
Arts and Entertainment:

26%
Financial Services:

24.9%
The Best Day to Send Emails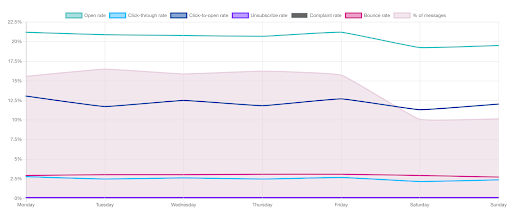 Source: GetResponse
What's the best day to send marketing and promotional emails? As it turns out, it's complicated. There have been numerous studies, and each study tends to have a slightly different conclusion. Despite the variations, most marketers agree that the optimal day to send a marketing email is sometime during the work week—though it's not a hard and fast rule. Let's look at the statistics.
GetResponse, which analyzed 35 billion emails, found that Monday and Friday showed a slight uptick in opens, but it was an almost negligible increase of about 1% to 2%. Monday was also the winner when it came to clicks, but again, only by a small percentage. Campaign Monitor, which analyzed 100 billion emails, had similar findings. Monday had the highest open rate, but Tuesday and Wednesday had the highest click-through and click-to-open rates, respectively. 
Other studies seemed to lean towards the middle of the week. Moosend, which analyzed 10 billion emails, found Tuesday and Thursday had the highest open rates. HubSpot's analysis of 20 million emails, also pointed to Tuesday. So, what's the takeaway? As long as you send your emails on a weekday, there's not much of a difference. There are other factors at play, which we'll get to later.
Conclusion: Weekdays are the best days to send emails.
The Worst Day to Send Emails
If weekdays are optimal, weekends are the worst time to send an email. This is actually similar to what we know about social media marketing. Facebook posts and Instagram Stories published on Saturday and Sunday tend to flounder, which makes sense considering people are far more likely to be out and about rather than tied to their desktops and mobile devices.
Most of the research agrees that Saturday and Sunday have the lowest open rates, click-through rates, and click-to-open rates. The specifics vary based on the study and don't take the exact hour into account. For example, Campaign Monitor found that Sunday had the lowest open rate, while Moosend and GetResponse found that Saturday had the lowest open rate. Either way, the rates didn't vary dramatically between weekdays and weekends, so it's important to consider your audience rather than the so-called ideal time.
Conclusion: Saturday and Sunday are the worst days to send an email.
The Best Time to Send Emails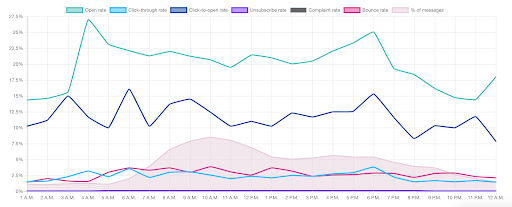 Source: GetResponse
When it comes to email marketing, the time you send an email is perhaps more important than the day. The truth is that 22% of email campaigns are opened in the first hour after sending, and the opens only decrease from there. Since open rates can vary dramatically based on the time of day, picking the ideal time can help increase engagement overall. So, what's the sweet spot?
Globally, GetResponse found that 4 AM and 6 PM had the highest open rates, at about 27% and 25% respectively (or, slightly higher than the average open rate across all industries). Click-through and click-to-open rates spiked at 6 AM and 6 PM when most people are either getting ready to go to work or getting ready to leave work, but this doesn't paint a full picture.
Other large-scale studies have come to completely different conclusions. Moosend found that the best time to send emails was between 8 AM and 9 AM and that open rates started to decline after 6 PM. Omnisend, which analyzed 2 billion campaigns, also found that an 8 AM send time maximizes your open rate, but click-through rates peak at 5 PM and actual conversions at around 4 PM. Campaign Monitor found that the most open happen between 9 AM and 5 PM. So, what does it all mean?
Conclusion: The best time to send an email is during typical work hours in your audience's timezone, aside from when people are likely to take their lunch break.
The Worst Time to Send Emails
Like with the best time to send an email, there doesn't really seem to be an exact consensus on the worst time to send an email. Most research has found that email opens tend to trail off after work hours (at around 6 PM) and fall throughout the night into the morning, where they'll rise somewhere between 4 AM or 8 AM (when people are waking up and going to work).
As a general rule, you can expect that your audience won't open emails when they're asleep (though, you might have the odd insomniac who likes to check their email in the middle of the night). Email opens also drop off in the hours directly after a typical work day. Of course, it depends on your target audience. If, for example, you're marketing to mostly stay-at-home moms, your schedule should center more around naptime than a typical workday.
Conclusion: The worst time to send emails is in the middle of the night and directly after work.
How to Find the Best Time to Send Emails for Your Specific Business
The best time to send an email isn't a steadfast rule. It depends on your target audience. The most successful email campaigns are tailored to the average subscriber's lifestyle. This can vary dramatically among demographics. For example, a tech entrepreneur's day-to-day life probably looks a lot different than the life of a typical 20-year-old. Here's how you can determine the best time to send emails for your business.
1. Pay Attention to the Difference Between B2B vs. B2C Email Marketing 
The B2B buying journey is a lot more complex than that of the B2C consumer. In other words, B2B businesses can't follow the traditional email marketing playbook used by retail brands and e-commerce sellers. They need to tailor their campaign to best reach decision-makers, who tend to avoid low-priority, work-related emails outside the office.
The average professional spends 28% of their workday managing emails—and that's no small percentage. With that in mind, B2B businesses should send out marketing emails during typical business hours when their audience is most engaged. Some research has shown that mid-week around 10 AM has the best open rates for average B2B employees, but executives and business owners tend to be more plugged in. This type of decision-maker is most likely to open an email on Saturday at 10 AM.
2. Keep Age Demographics In Mind
It's important to think carefully about your target audience's habits. An older audience is far more likely to fall into the typical 9 to 5 work schedule than a Gen Z audience. In fact, Gen Z is more likely to spend their time collaborating on Google Docs, iMessage, or Zoom than they are using email. 
That being said, research has shown that most Gen Z consumers check their emails multiple times a day and prefer to receive brand emails a couple of times a week (or as much as once a day). Meanwhile, Millennials tend to have a low tolerance for brands that send a high volume of marketing communications. 
3. Don't Forget Time Zone
It may seem obvious, but time zone matters. If you're running an email campaign for a global company, segment your list subscribers by time zone. You don't want your emails to get lost in the middle of the night, even if it might be daytime for you. 
4. Utilize Your Analytical Tools
With so much data pointing to so many optimal send times, you can't rely on research alone. It's important to fine-tune your send times to suit your actual audience—and there's no better place to look than the data you already have. 
Try tracking open rates, click-through rates, and conversion rates using an analytical tool. Most of the time, your existing email platform will have some sort of native analytics, which you can use in conjunction with Google Analytics. Try a few different send times, and see which works best.
5. Automate Your Campaign
With the right email automation, you don't actually need to know the best time to send an email. Modern automation tools allow for send-time optimization, meaning they'll automatically send out your email when your subscribers are most likely to engage. You can set this based on the goals of your campaign. 
Since this type of automation uses machine learning, it may not be the most effective for brand new subscribers, but it can help if you have a longtime list. Either way, it will work most effectively over time, so use it along with other methods.
6. Don't Discount the Subject Line
As we already know, there's no major difference between open rates on different days of the week. Even different times during the day have a limited range (barring the middle of the night).  The truth is that your email subject is far more important. A whopping 47% of email recipients open an email based on the subject line alone. In other words: it has to be eye-catching and illicit curiosity. There are a few different approaches you can take, but personalization usually reigns king.
7. A/B Test Your Campaign
A/B testing is just another way you can ensure your emails are optimized, whether you A/B test a subject line or a send time. The way it works is that you choose two options, and the A/B testing tool sends them out to a small sample of your email list. Whichever option elicits the highest engagement is then sent to the majority of your subscribers. It's just another layer that, when used in conjunction with other strategies, can help increase your open rates.
Author:
Ryan Gould
Vice President of Strategy and Marketing Services
From legacy Fortune 100 institutions to inventive start-ups, Ryan brings extensive experience with a wide range of B2B clients. He skillfully architects and manages the delivery of integrated marketing programs, and believes strongly in strategy, not just tactics, that effectively align sales and marketing teams within organizations.
LinkedIn: https://www.linkedin.com/in/rygould/
Sources
https://www.getresponse.com/resources/reports/email-marketing-benchmarks 
https://moosend.com/blog/best-time-to-send-an-email/
https://www.campaignmonitor.com/resources/guides/email-marketing-benchmarks/ 
https://www.klaviyo.com/blog/smart-send-time-audiences
https://blog.hubspot.com/marketing/best-time-to-send-email 
https://mailchimp.com/resources/email-marketing-benchmarks/ 
https://www.campaignmonitor.com/resources/guides/guide-to-gen-z-marketing-2019/