What Is HubSpot? | Guide to Inbound Marketing
Siva Devaki
2023-04-16T10:19:49+00:00
What Is HubSpot? | Guide to Inbound Marketing
November 1, 2022 | by
What Is HubSpot and How Can It Help Your Business?
For any inbound marketing strategy to be successful, the importance of having the right set of tools is immense. In the absence of this, your information can be distributed across multiple websites, requiring you to manually manage the leads.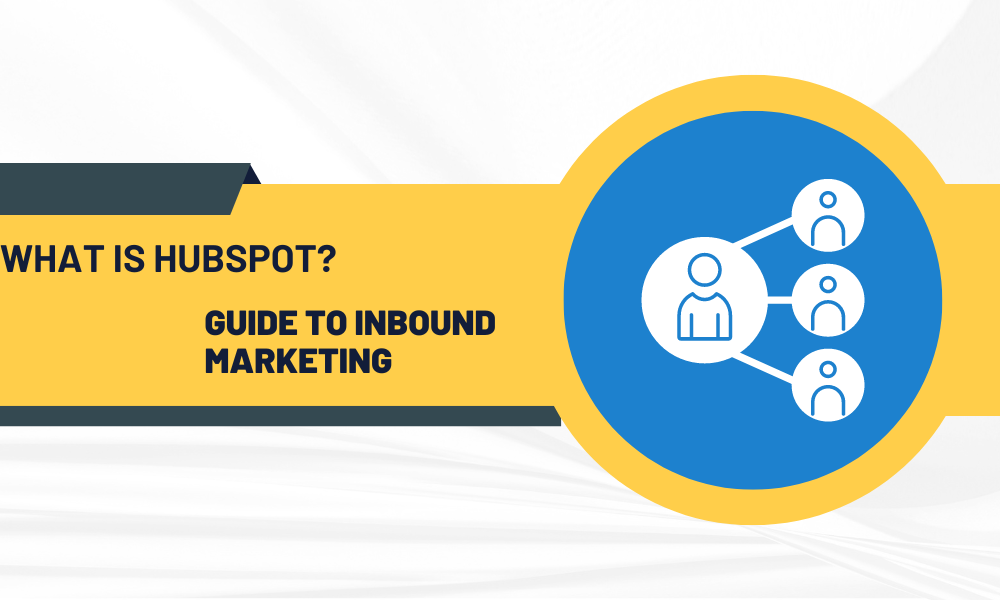 This could waste several productive business hours that otherwise could be used for other strategic tasks. HubSpot is an excellent tool to help you navigate this challenge and fuel your inbound marketing tactics.
As a powerful marketing, sales, and customer relationship management software, HubSpot allows you to accelerate your business's growth by utilizing all three aspects and integrating with multiple different applications and third-party programs.
In this post, we explore what is HubSpot CRM and how it can help your business's digital marketing strategy. Let's begin.
What is HubSpot?
HubSpot is an inbound marketing and sales software that helps businesses in multiple areas, such as attracting visitors, converting leads, and closing deals.
As a leading sales, marketing, and customer service software company, HubSpot helps companies generate leads, maximize sales and grow with time.
The software offers a range of resources to achieve these objectives, including the four main Hubs (to be discussed later).
How Does HubSpot Work?
HubSpot works primarily by being connected to the organization's website. Using the many tools that it has in its Hubs, the software help attracts, engage, and delight leads and customers. This is accomplished by:
Using the platform to create optimized website content
Driving the traffic to the website
Converting the traffic to leads, nurturing the leads into customers, and offering exceptional customer support.
The best part is that HubSpot is a cloud-based CRM technology. This allows users in an organization to utilize the platform from anywhere, anytime.
Who is HubSpot for? 
HubSpot, owing to its wide set of tools, can be useful for anyone running their own business or working as a marketing or sales personnel.
Some of the examples of who uses HubSpot include:
Salespeople who wish to identify prospective leads to enhance sales
Marketing personnel who wish to assess the performance of their marketing campaigns
Customer service professionals who want to follow up and act on customer issues quickly
Why Should You Use HubSpot for Your Business?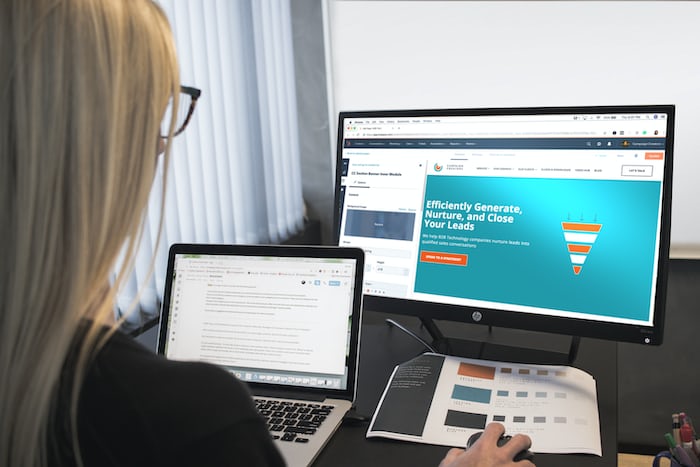 Here are some of the reasons why you should use HubSpot for your business:
a. Ease of Use 
The platform was built from scratch to create an easy and seamless user experience.
Being built specifically for inbound marketing ease, HubSpot gives you a unified experience across all its four main hubs. This ease of use and seamless adoption results in better business insights and satisfactory customer experiences.
b. Quick Growth
As one of the best CRM platforms out there, HubSpot has grown tremendously in recent times. The platform works as per customer requirements, thus reaching the top within no time.
c. Consistent Support 
With HubSpot, you can get the most out of your CRM implementation by conveniently accessing the wide array of resources available in HubSpot Academy and a massive online community.
Core HubSpot Hubs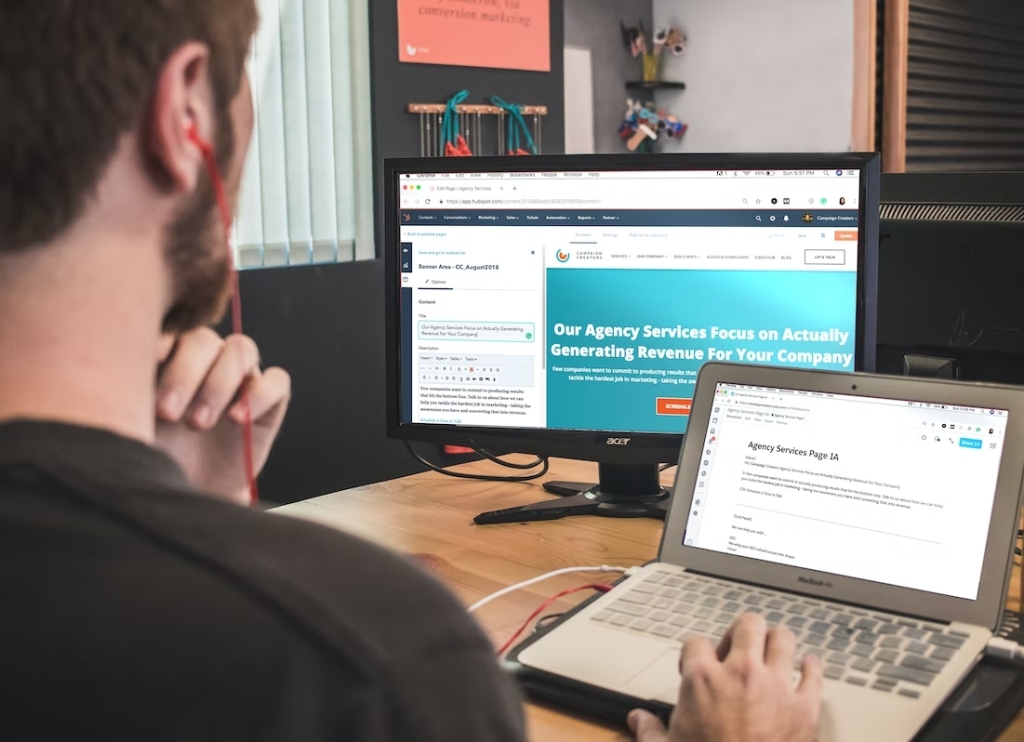 The four main functions of HubSpot are known as Hubs, and each of these Hubs comes with its suite of tools discussed below:
1. HubSpot Service Hub 
As the name indicates, HubSpot's service hub revolves around customer service. It has everything you need to support your customers and create a seamless experience for them.
Some of the main HubSpot service tools include:
Robust knowledge base support
Easy to access and streamlined helpdesk
1:1 video messaging, live chat support
Detailed customer feedback surveys
Conversational intelligence features
Reporting and analytics to assess customer satisfaction and team performance
2. HubSpot Marketing Hub 
HubSpot's marketing hub allows you to boost your website traffic, increase conversions, and display the ROI.
It is an all-encompassing tool that allows you to automate the time-consuming processes of segmenting, nurturing, and qualifying your leads within the HubSpot CRM.
Some of the main HubSpot marketing tools include:
Lead capturing forms
Live chat support and chatbots
Email automation
Lead nurturing
Lead scoring
Lead qualification
Audience segmentation
3. HubSpot Sales Hub 
Similar to HubSpot's marketing hub, the sales hub gives businesses the advantage of various advanced tools, such as automating different processes based on your sales pipeline.
Some of the main HubSpot sales tools include:
Detailed sales dashboards
Automated email sequences
Managing multiple sales pipelines at a time
Integrated emails
Account-based powerful marketing tools
Task management
Centralized view of prospects
4. HubSpot CMS (Content Management System) Hub 
CMS hub is the latest addition to the HubSpot team that allows you to manage your website while making the most of the various inbound marketing tools the platform offers.
It's primarily content management software that has something for everyone and offers a customized, safe experience for customers.
Key HubSpot CMS tools:
Build and maintain custom website pages and SEO recommendations
Multi-language content creation, Drag-and-drop editor
Contact attribution reporting
Adaptive testing
To Conclude
Inbound marketing has proven to be one of the most effective options in the business world. Yet, many companies hesitate to use it because of concerns about having to use different software and/or applications simultaneously.
HubSpot helps marketers effectively navigate these challenges and simplify their inbound marketing efforts. As one of the best marketing platforms, it consolidates all your current sales, marketing software, services, support systems, etc., and puts everything into one place, on one platform.
If you are looking to maximize and simplify your inbound marketing efforts, HubSpot is your single-stop solution to help you grow your business and delight your customers.
Further, if you are looking for a robust email solution for Salesforce CRM, MassMailer is an excellent choice. The platform enables you to send unlimited emails and email alerts, verify mailing lists, start drip campaigns, build email templates, and more using the Salesforce-friendly interface.
To learn more about MassMailer, get on a free trial today.
Salesforce Marketing Cloud vs. HubSpot
Siva Devaki
2022-10-21T15:51:56+00:00
Salesforce Marketing Cloud vs. HubSpot
October 18, 2022 | by
Salesforce Marketing Cloud vs. HubSpot: The Good and the Bad
When it comes to the success of any business, the importance of choosing the right marketing and CRM platform is immense. While multiple options are available in the market, Salesforce Marketing Cloud and HubSpot are two of the top-rated CRM platforms out there.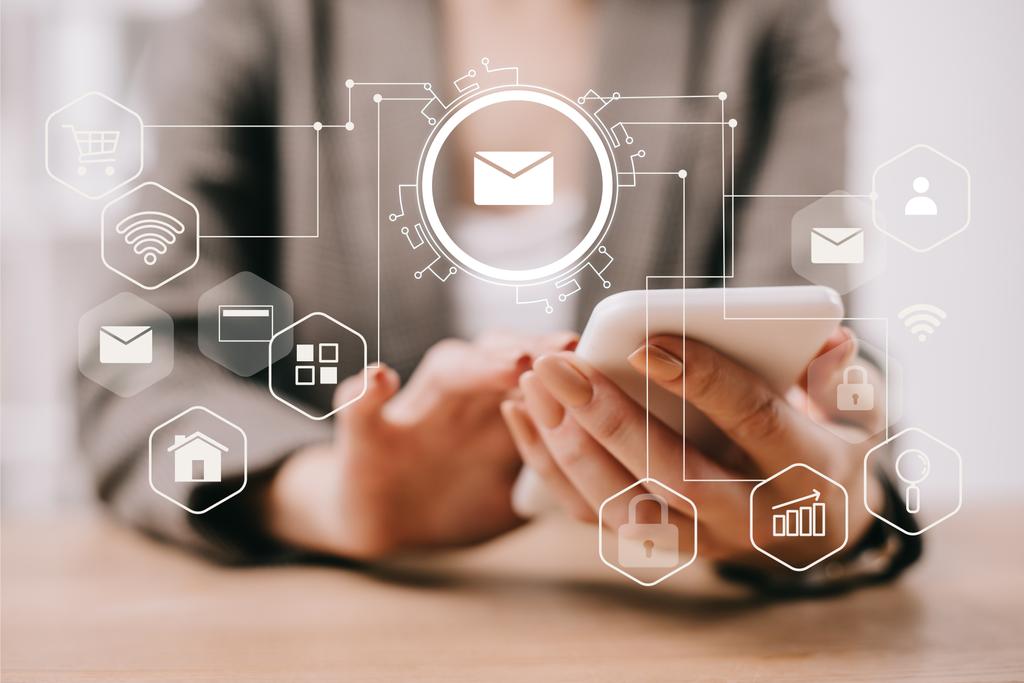 Although both platforms offer sales teams a powerful solution that can scale with growth, there are several differences between them in terms of how both platforms are built, their ease of use, and their adoption.
This post aims to compare Salesforce Marketing Cloud vs. HubSpot to help you make the best pick for your business and its unique needs.
What is Salesforce Marketing Cloud?
Salesforce Marketing Cloud (SFMC) is a powerful marketing platform with capabilities to support several facets of marketing.
This includes dynamic customer journeys, multi-channel campaign execution, pre and post-campaign analytics, social media engagement, audience building and segmentation, advertising, and a data management platform.
SFMC has different components, which are known as Studios and Builders, as discussed below:
Studios – Studios in SFMC are used to manage and engage with different communication channels. This includes Social Studio, Email Studio, and Mobile Studio.
Builders – Builders in SFMC are used to manage data, content, as well as customer journeys. They are often used by Studios but don't necessarily have to be (e.g., Analytics Builder).
Overall, Salesforce Marketing Cloud is a feature-rich platform with multiple capabilities across marketing domains, as listed below:
Email and marketing automation
Customer engagement in real-time
Social media engagement
Mobile (SMS) messaging and push notifications
Customer marketing analytics
What is Hubspot CRM?
HubSpot CRM is a well-known customer relationship management platform that helps organizations (irrespective of their size) track and nurtures their sales leads conveniently.
It offers a range of features, including outbound and inbound marketing, sales pipeline management, sales automation, customer relations management, email tracking, lead management, and more.
The HubSpot inbound marketing platform combines marketing automation, content marketing, and social media analytics for marketing teams of all sizes to help them grow organic traffic, convert leads and track customers, all in one place.
HubSpot Marketing Hub is ideal as:
Robust customer relationship management
Supports various platforms
Perfect for all business sizes
Salesforce Marketing Cloud vs. HubSpot: A Detailed Comparison
Here is a detailed comparison of Salesforce Marketing Cloud vs. HubSpot:
Differences
Salesforce Marketing Cloud
Hubspot CRM
Features
A/B Testing, drip campaigns, dynamic content, event-triggered actions, mobile optimized emails, list management, reporting/analytics, Image library, and landing pages/web forms.

A/B Testing, auto-responders, customer surveys, drip campaigns, image library, mobile-optimized emails, reporting/analytics, template management, WYSIWYG editor, and subscriber management.
Best for
1-1000+ users

Best for companies of all sizes and all industries.

1-200 users

More than 100,000 users in over 120 countries use HubSpot's CRM to attract, engage, and delight their customers.

Pros
"Encourages cross-team communications. Great support from the vendor and strong community of users and third-party integrators."

"Easy to understand for novices and navigate and comes with useful automated marketing features that make reaching a large audience seamlessly easy."

"Quite helpful in managing customer journeys, sending and preparing emails, and getting good reporting."

"Great amount of details and marketing capabilities. HubSpot has some of the best integrations."

"Helps track, monitor, and create the best content for growing business."

"Range of features that are quite easy to use. Great support to learn how to take good advantage of all the features."

Cons
Gartner– "Overall, the system is not as user-friendly as one would hope. There are pieces of key information not found immediately and require sifting through different menus and several levels deep into another area of the software to find, such as error reporting on why specific emails failed to send."

Capterra– "Does not have integration with Microsoft ads, so tracking the performance of search ads in Bing is difficult. Most landing page templates are ugly and hard to configure."

Capterra– "Does not have integration with Microsoft ads, so tracking the performance of search ads in Bing is difficult. Most landing page templates are ugly and hard to configure."

G2– "There is a limitation of the number of reports in the reporting dashboard, which disappoints some users who want to have multiple reports in the reporting dashboard, which is not cutting edge over its competitors."

Deployment and support 
Deployment – Cloud, SaaS, Web-Based

Mobile – Android

Mobile – iPhone

Mobile – iPad

Support – Email/Help Desk

FAQs/Forum

Knowledge Base

Phone Support

24/7 (Live Rep)

Chat

Deployment – Cloud, SaaS, Web-Based

Support – Email/Help Desk

FAQs/Forum

Knowledge Base

Phone Support

24/7 (Live Rep)

Chat

Pricing
Starting from

$4800

Pricing Model: Not provided by the vendor

Both Free Trial and Free Versions are not available.

Salesforce Marketing Cloud edges out HubSpot here for their overall pricing packages. This is largely because even the cheapest versions of Salesforce get you more functionality than those of HubSpot. Further, there are more subdivided packages with Salesforce, so you can pay for only the tools you need.

Starting from

$50/Per Month

Pricing Model: Flat Rate

Both Free Trial and Free Versions are available.
Salesforce Marketing Cloud vs. HubSpot: Which Is Better?
Salesforce Marketing Cloud offers an extensive range of features that makes it a top CRM. However, owing to its somewhat complex infrastructure and relatively high cost, it isn't for everyone.
The platform is most suitable for mid-sized to large-sized businesses that require a robust tool for managing their sales and marketing leads.
HubSpot, on the contrary, is a more user-friendly CRM that is affordable for businesses of every shape and size due to its limited-feature free plan. Paid plans of Hubspot come with feature upgrades that can manage most customer relationship management needs.
How to choose between HubSpot Marketing Hub vs. Salesforce Marketing Cloud, then?
While both platforms are great, each has its own downsides. To make an informed decision, it is best to see a demo of both tools, talk to people that have experience with them, and decide after thoroughly comparing all the aspects in terms of features and functionality.
If you're also a Salesforce customer looking for a powerful mass email solution, MassMailer is an excellent choice. Regardless of your industry or role, MassMailer is a single-stop solution for all your email marketing and prospecting needs.
To explore more about MassMailer's email marketing solution, start your free trial today.