EMAIL DRIP CAMPAIGN, HOW TO, MARKETING, SALES, SALESFORCE October 24, 2018
How to Setup Email Drip Campaign in Salesforce with the Workflow Processes and Process Builder
Through MassMailer and Salesforce Process Builder, you can create email drip campaign in Salesforce with ease. Drip emails are often used through Salesforce to send pre-written sequences of emails to potential leads over a period of time. MassMailer makes it possible to schedule these emails and send them to leads or contacts. Read on to find out how to create drip emails in Salesforce.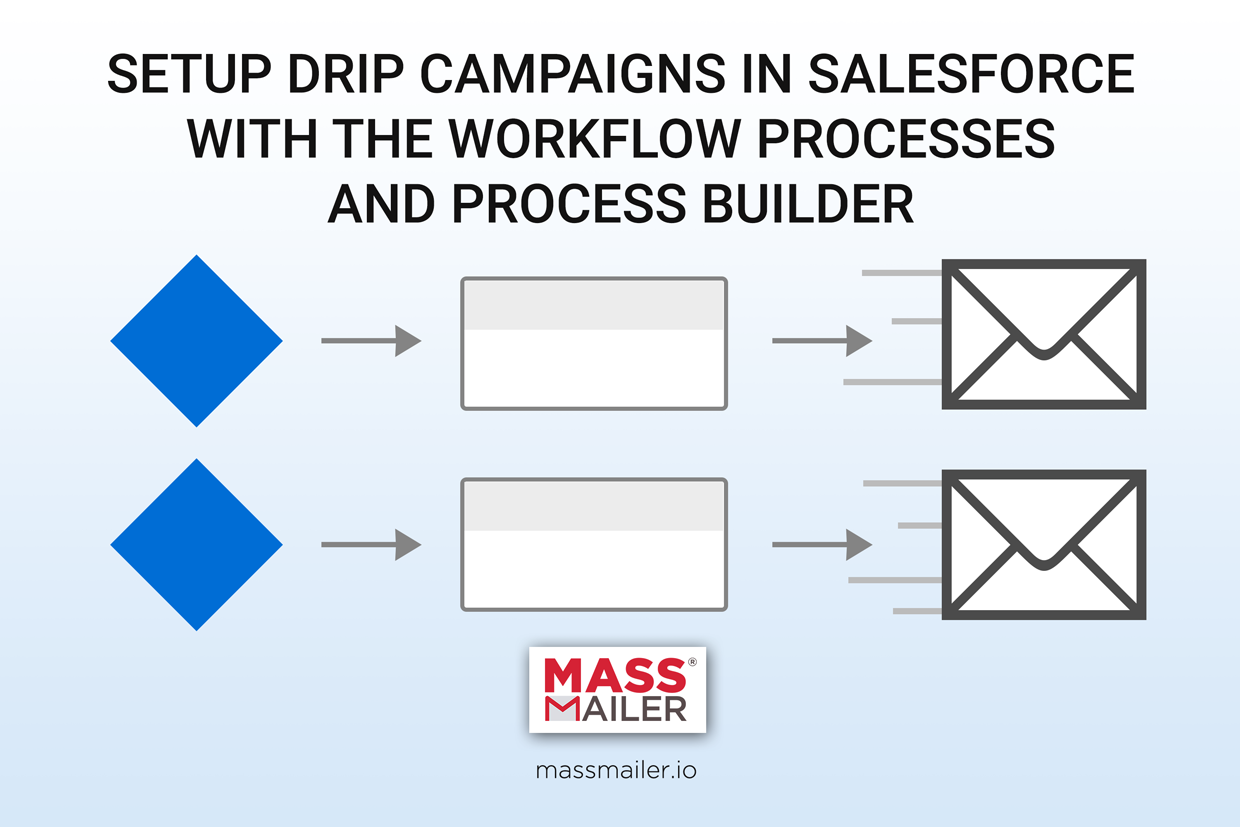 Trigger Email Drip Campaign with Workflow Processes and Process Builder in Salesforce
Workflow Processes and Process Builder enables you to trigger emails based on a number of actions, such as when records are created or updated, or a certain amount of time has passed. While you may know how to send drip emails in Salesforce directly, Process Builder gives you full control over when, how, and where these emails are sent. The Process Builder uses templates within Salesforce to format emails, so the amount of customization you need to do is limited.
Your email drip campaign in Salesforce can be sent to leads, contacts, cases, opportunity contacts, accounts, and users. Triggers can be related to the record updating process for each. Another advantage to this is that the emails sent through Process Builder can then be tracked.
How to Setup Email Drip Campaign in Salesforce
Drip emails are a set of emails that are sent through a schedule. The number of emails that will be sent depend on your organization's current marketing strategy. Here's how to setup email drip campaign in Salesforce with MassMailer.
Step 1
Begin by going to the Workflow Process Builder in Salesforce and create a new Workflow Process. Your Workflow Process will trigger when a record changes, when a platform event occurs, or when it's invoked by a different process.
Step 2
Select the Process you have just created and click on "Add Object" in order to determine when the process begins. The object can be something such as a lead or a contact. The process can be started either when a record is created or when a record is created or edited.
Step 3
Define additional criteria regarding when the process will be started. This criteria can include logic, such as comparing two different types of record. All conditions can be met or only a single condition may need to be met.
Step 4
Define the action that your campaign will take, such as sending a specific template with the selected record's data. You can also define the From Name, From Address, To Name, To Address.
Step 5
For a drip campaign, you would be repeating the above process multiple times for each drip triggered email. Many drip campaigns are a sequence of emails that are sent one after the other, so multiple processes would be created for each stage. However, each stage would be sent to the same contact list. Please note that the drips that are invoked from the first drip should be defined as Invocable Process.
There is no limit on how many Drips you can define. It depends upon your internal business requirements and needs.
For more robust drip campaigns, it is possible for different types of email to be sent at each stage, defined by additional criteria. This lets you fine-tune your campaign depending on how the individual has interacted with the company thus far.
Here you can find the detailed instructions on how to define a Email Drip Campaign in Salesforce using Lead or Contact object as the object in context.
Now that you know how to create email drip campaign in Salesforce with MassMailer, you can start reaching out to your existing leads and contacts in an engaging, active way. Drip campaigns are an ideal solution capturing leads over time. Through automation, it's possible for an organization to continuously capture leads without the need for additional resources.
Try out MassMailer for Salesforce, and contact MassMailer support team for any installation support.