EMAIL DRIP CAMPAIGN, MARKETING, SALESFORCE June 11, 2019
How to send drip emails using Salesforce Campaign?
Drip emails are an essential part of many marketing campaigns. Often used to welcome customers to a business, drip emails create a sequence of sustained, scheduled communications with a customer. By sending out emails at regular intervals, a company can build its customer relationships. Drip email campaigns can improve both customer engagement and new customer conversion.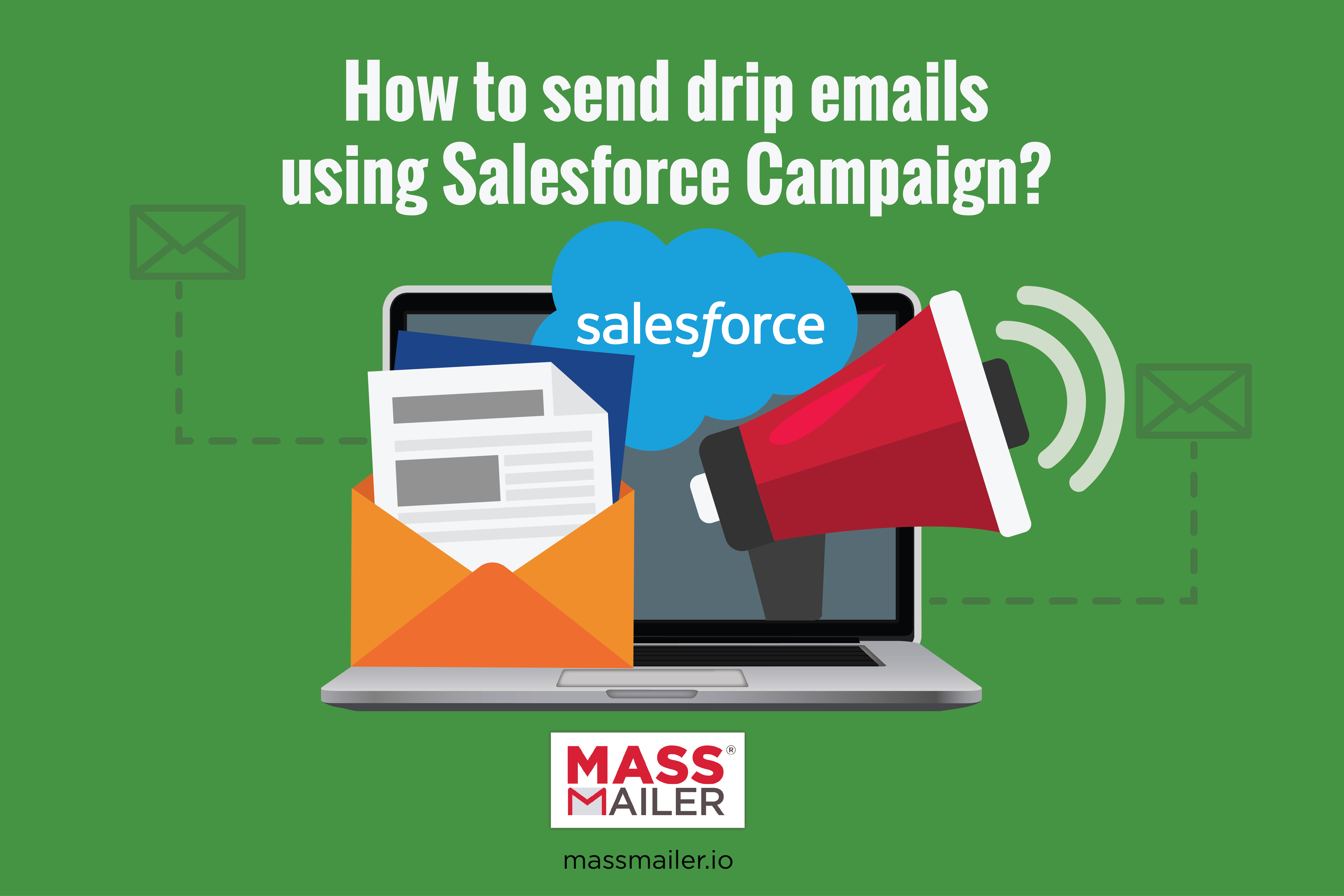 Leveraging the power of Salesforce Process Builder and Salesforce Email Templates, MassMailer can simplify the process of building a drip campaign in Salesforce. Here's how you can start to send drip emails in Salesforce and start growing your email strategy.
Using the Salesforce Process Builder for a Drip Campaign in Salesforce
At its simplest, a drip campaign is just a sequence of emails sent at staggered intervals. By using the Salesforce Process Builder, you can create sets of scheduled emails to be sent out to those on your contact list. For example, you could create three "welcome to the company" emails that are sent every two days after a Lead or Contact is created.
The Workflow Process Builder is intended to trigger emails based on actions within the platform, and then to send emails out based on pre-defined logical patterns. When creating a drip email, you will create an email that is triggered by the addition of a new Contact or Lead, which then continues to schedule out additional emails based on your drip campaign.
The Process of Creating a Drip Campaign in Salesforce
To get started, navigate to the Workflow Process Builder, and set up a new "Workflow Process" that will target "Campaign Members." This process can begin when a record is created, a platform event occurs, or another process invokes it. For a drip email, you should start the process when a record is created.
From there, you can add any additional criteria that you need for the sending of an email, such as the status of a contact. Further, you can define an action attached to each drip email. Each drip email will have an Immediate Action (sending the email) and a Scheduled Action (scheduling the next email).
Each email will also let you set the From Name, From Address, and Email Template ID. Once the Immediate and Scheduled Actions have been completed, click "Activate" and your new drip campaign in Salesforce will be completed.
The Advantage of Salesforce Email Templates for Drip Emails in Salesforce
When using the Workflow Process Builder, you can select a Salesforce email template to use. Using Salesforce email templates ensures that your emails are consistent and well-designed, and makes it faster to create emails than trying to develop them from scratch.
For additional convenience, Salesforce templates are integrated into MassMailer, and email templates can be built directly in Salesforce with the MassMailer Template Builder.
Tracking Drip Emails in Salesforce
Once drip emails have been sent, the MassMailer Email Status list and Activity History lists will track them. On the MassMailer Email Status, you can see whether your drip emails have been delivered, opened, clicked, unsubscribed, bounced, or marked as spam. Being able to analyze your emails in this way is valuable, as it will tell you whether your drip campaign is successful.
On Lead Objects and Contact Objects, an Activity History will appear. Activity History is also captured through the campaign. Activity History can be used to check on the status of a drip email quickly. Activity Histories are useful for identifying non-responsive contacts or contacts who may be marking emails as spam.
Through Salesforce and MassMailer, you can create an entire email marketing campaign, including drip emails. With MassMailer, you will be able to avoid MassMailer email limitations while using essential features such as the Salesforce Process Builder. Request a live demo today to find out more.