EMAIL TEMPLATES, HOW TO, MARKETING, SALES, SALESFORCE December 10, 2018
How to Create Email Templates in Salesforce using the MassMailer Email Template Builder
You can build your email templates directly in Salesforce with no extra coding knowledge needed. MassMailer Email Template Builder gives you the features and customization your organization needs, which can be used to create email templates quickly and effectively.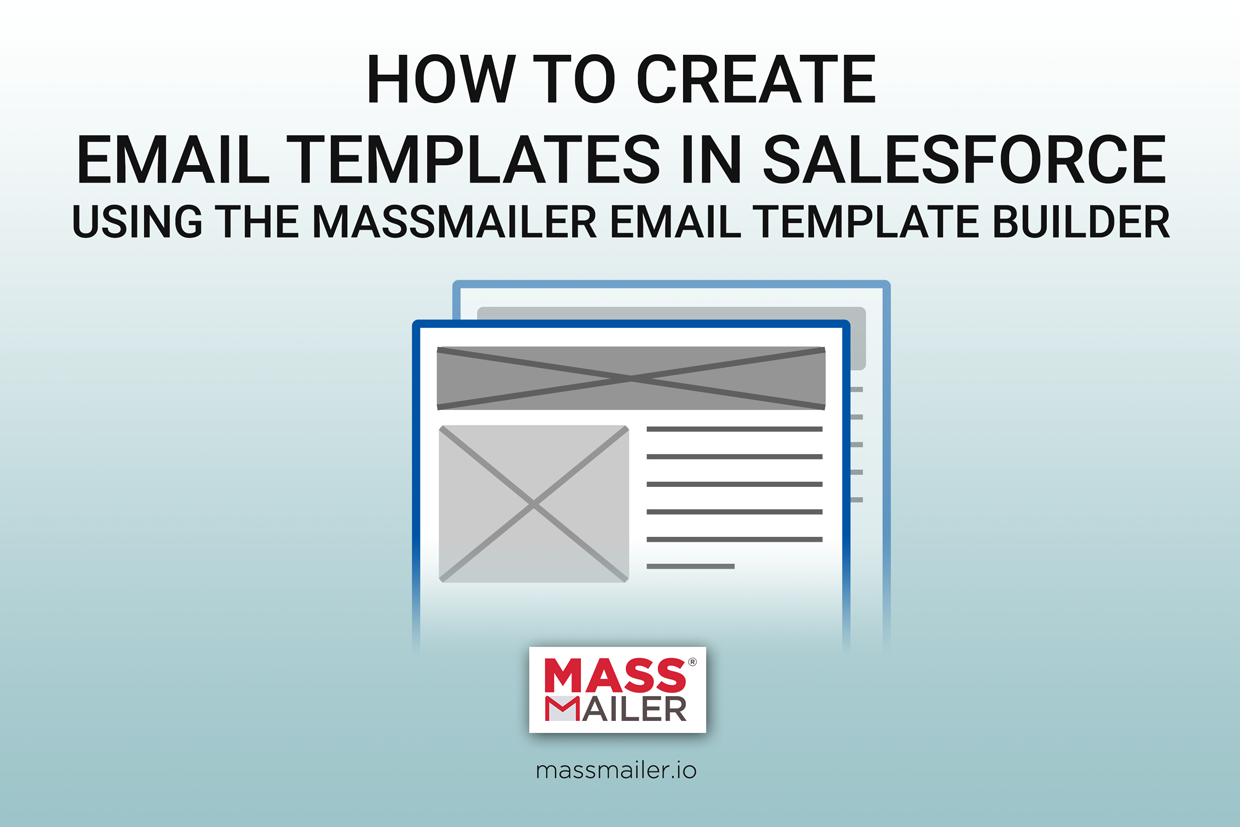 Design Your Own Emails Without Coding
MassMailer Email Template Builder features an easy visual editor so your emails will come out right the very first time. Drag, drop, cut, and paste; you can create attractive email templates without any additional knowledge.
Templates make it easier to ensure your emails are consistent. An automated process will fill in the information of the email, while the email itself will remain in the template format. You can build a number of emails for different events, from connecting to new leads to targeting users who have not connected with your business for some time.
The Power of 

MassMailer

 and the Convenience of Salesforce
MassMailer provides both the option to send mass emails and the option to send email alerts, such as transactional emails. Both of these options are able to leverage the email templates stored in Salesforce — or created using the template builder. MassMailer is able to use Salesforce's native email templates and template folders in order to store new and custom designs. This mix of MassMailer and Salesforce makes it easy to create attractive, professional emails which can be sent through MassMailer for Salesforce.
How to Setup Email Templates in Salesforce with MassMailer
Many existing template builders for Salesforce don't have advanced features available. MassMailer provides an all-in-one solution to create and manage email templates.
Begin by clicking on the 'MassMailer' option in the Salesforce menu and select 'MassMailer Template Builder'.
Select the correct file folder based on category.
Choose whether you want to create an email from scratch or begin with a default template.
Enter in the title of the email and subject.
Use the intuitive tools to add and modify elements such as text and images.
In the end, choose whether to save your email in 

MassMailer

 or to save it to Salesforce. Saving to Salesforce will ensure that it is stored in the standard Salesforce templates.
As noted, MassMailer Template Builder has a number of advanced features that you will see as you build your email:
Responsive designs.
Your designs will look good regardless of whether it's viewed on a desktop computer or through a mobile device.
Professionally designed templates.
You can design emails from scratch or use already designed templates to give your emails a professional appearance.
Image imports.
Easily bring in images into the email template. Images can then be positioned and scaled at will.
Easy social links.
You can connect your users to your company's social accounts with ease, making it more likely for them to connect and engage.
All of these features make it easier to build robust and professional emails for your email marketing strategy.
Using Email Templates for MassMailer
The MassMailer Template Editor and email templates can be used when sending mass emails out using through the MassMailer Email Wizard. On the Email Wizard, you can schedule one-off emails or opportunity emails to be sent with the given email template. You can also edit these templates on-the-fly through the Advanced MassMailer Template Editor.
For transactional emails or workflow email alerts, the MassMailer Process Builder can be used to select specific events that will trigger your emails to be sent. Processes can be designed to trigger events when new leads are added, records are updated, or when information has been changed. Each process can be associated with a Salesforce email template.
With the MassMailer Email Template Builder, you can easily control all of your email communications within a single platform. If your organization sends out large volumes of emails, you need MassMailer. Sign up for a free trial today.