5 Time-Saving Tips for Sending Out Mass Email
admin
2022-08-19T02:33:48+00:00
5 Time-Saving Tips for Sending Out Mass Email
September 18, 2016 | by
Email Marketing is one of the most cost effective methods of reaching out to your subscribers. If done right, it can earn you huge dividends. However, sending out emails to thousands of subscribers can be a time consuming and tedious job. When you have hundreds of other things to look into, you may not want to spend hours on that one mass email.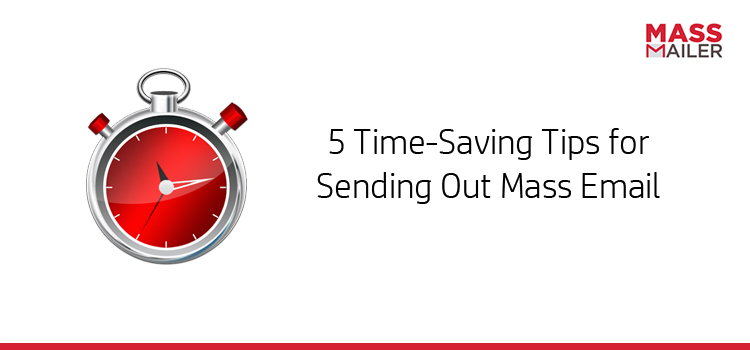 Here are 5 tips that would save you time while sending out a mass email.
Have a clear goal

Verify & Segment your Email list

Use customizable email templates

Ensure compliance with CAN-SPAM Laws

Use an email marketing tool like MassMailer
Have a clear goal
While this may seem the most obvious tip, it is also the most overlooked one when it comes to email marketing. Before you even start building your mass email campaign, it is important to ask yourself "Why am I sending this email?". You should have a clear idea about what you want to achieve from the campaign. Whether you are informing your customers about a new feature in your existing product or seeking to upsell or cross-sell or just wishing them well for the Holidays – whatever be the reason you are sending out the email, it should be very clear to you. This will make it easier for you to figure out the right message in your email.

Verify & Segment your Email List
Email list verification is the process of determining whether the email addresses on your list are valid and deliverable. In one of our previous articles, we discussed at length on why it is important. By removing invalid email IDs from your list, email list verification saves you time by ensuring that you do not waste time sending our email campaigns to junk IDs.
Segmenting a verified email list also goes a long way in saving you some valuable time. Let's say your enterprise sells 2 products A and B. Having a segmented list for each of the products' customers will ensure that you do not waste time sending out a mass email campaign for a feature update of Product A to a customer of Product B.
Maintaining a verified segmented list of email Ids will make the process of sending out mass email campaigns not only faster but also more effective.

Use Customizable Email Templates
Designing an email template from the scratch could take up a lot of your time. To make the process faster, use predesigned templates and then customize them as per your need. Most email marketing platforms today offer email templates. If you depend on Salesforce for much of your sales and marketing activity, you should choose an email tool that can generate templates from within Salesforce itself.
Ensure compliance with CAN-SPAM Laws
CAN-SPAM stands for Controlling the Assault of Non-Solicited Pornography And Marketing. It is a law that sets the rules for commercial email, establishes requirements for commercial messages, gives recipients the right to have you stop emailing them, and spells out tough penalties for violations.
Some of the dos and don'ts include:
Don't use false or misleading header information.

Don't use deceptive subject lines.

Identify the message as an ad.

Tell recipients where you're located.

Tell recipients how to opt out of receiving future email from you.
For details, you can check out The CAN-SPAM Act: A Compliance Guide for Business.
And if you are wondering, how does this save your time? Well, if you do not want to waste your time and money fighting lawsuits, this is important.

Use an email marketing tool like MassMailer
An email marketing tool like MassMailer automates the process and takes care of a lot of pain points of sending out mass mailing campaigns. Deeply integrated with Salesforce, MassMailer gives you the same refined user experience that you're used to with Salesforce, at the same time, it lets you send emails beyond Salesforce's limit of 5000 emails per day.  It has an-built mechanism to verify email IDs, features that let you segment your list easily, professionally-designed templates that can be customized as per requirement, analytics to help you track and measure your campaign's success and many more. MassMailer also has checks and balances in place to ensure that your email is CAN-SPAM compliant.
So go ahead and send your mass email campaign without wasting a lot of time on it. Try MassMailer today!