FEATURES October 12, 2016
Build an Automated Email Campaign within Salesforce using MassMailer
As a customer, what kind of mails do you like to receive? Boring, impersonal ones, with random updates of products that you do not even use OR well-designed ones, with updates which you actually look forward to? Look through your inbox and you will know!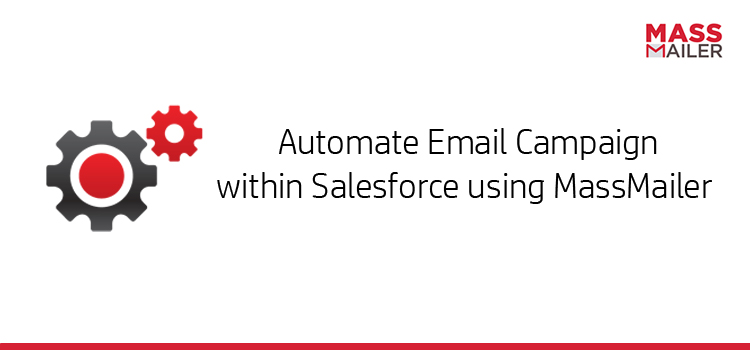 When you have a CRM tool like Salesforce at your disposal with tonnes of valuable information about your customers, why not use it to build a more streamlined and effective email marketing program?
MassMailer, an email marketing solution for Salesforce helps you do exactly that! The biggest advantage of using MassMailer for your Salesforce email campaigns is that, it simply blends in. Other email marketing platforms like MailChimp have different user interfaces from that of Salesforce and consequently, there is a learning curve involved. On the other hand, MassMailer leverages Salesforce-native features. The integration between MassMailer and Salesforce is so seamless and intuitive, that you never have to move out of Salesforce.
Send Emails to Object: Lead, Contact or User
In the Salesforce best practices process, Leads are someone you have not done business with. A Contact is someone who has shown interest in something and either decided to purchase or not to purchase.
MassMailer follows the same nomenclature for the different object categories and lets you choose who you want to send out your email campaign to- Leads, Contact or User (internal employees).
   

 Send Emails from Lead owner or Contact owner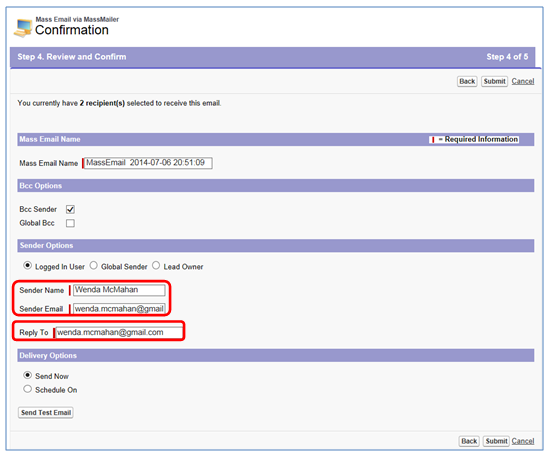 In MassMailer, the default Sender Name and Sender Email is the logged-in user. You can edit these, as well as the Reply To.
For Leads and Contacts, you can also select Global Sender to send the mass email from the Global Sender defined in MassMailer Setup. Or, you can select Lead Owner or Contact Owner to use as the Sender Name and Sender Email of the Salesforce user who owns the Lead or Contact record.
Manage Users and Contacts with Views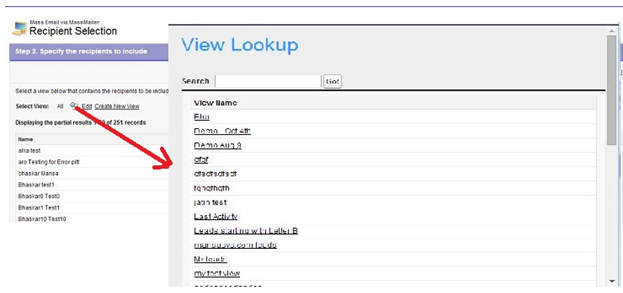 In Salesforce, a View is a set of search conditions that display items that match the search conditions. For example, a view of contacts that have "Birthdays This Month" would filter your list of contacts based on a search for birthdays falling on a day in the current month.
In MassMailer too, once you select the Object, the wizard moves to the Recipient Selection screen where you can select from an existing View from the Lookup, or choose to Create New View to build a new View.
Leverage Salesforce Email Templates

In Salesforce Classic, you can create four different types of email templates: text, HTML with letterhead, custom, and Visualforce. All of these email templates can include text, merge fields, and attached files.
In MassMailer too, you can either select from an existing template or enter the Subject and Body for the email  from Template Selection screen.
Send Now or Schedule Later

With MassMailer,you can Send a Test email to your logged in email ID. It also allows to schedule emails to be sent out at a specific date and time or send mass emails immediately.
View Statistics of Mass Mails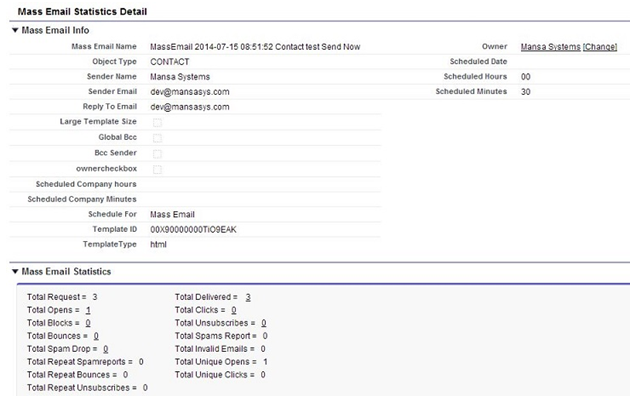 MassMailer's Mass Email Statistics provides analytics regarding mass emails that go beyond Salesforce functionality. The Mass Email Statistics include: Total Requests, Total Delivered, Total Opens, Total Clicks, Total Blocks, Total Unsubscribes, Total Bounces, Total Spam Reports, Total Spam drop, Total Invalid Emails, Total Repeat Spam Reports, Total Unique Opens, Total Repeat Bounces, Total Unique Clicks and Total Repeat Unsubscribes.
MassMailer leverages Salesforce features and even adds to some of its functionalities to help you build an effective email mass marketing campaign. For Salesforce users, MassMailer provides the closest experience possible to Salesforce for sending mass emails.
With MassMailer for Salesforce, say bye to your generic, impersonal and ill-timed Salesforce email campaigns and start sending out intelligent emails that work!