FEATURES, HOW TO, SALESFORCE October 19, 2018
How to Send and Track Workflow Email Alerts to Opportunity Roles and Opportunity Team Members in Salesforce
Are you interested in sending Workflow email alerts to Opportunity Contact Roles and Opportunity Team Members in Salesforce? Through a new feature from MassMailer.io, Salesforce users are able to use Workflow Process and Process Builder to automatically trigger emails. Emails can be customized via templates and sent to Opportunity Team Members in Salesforce from dynamic email addresses.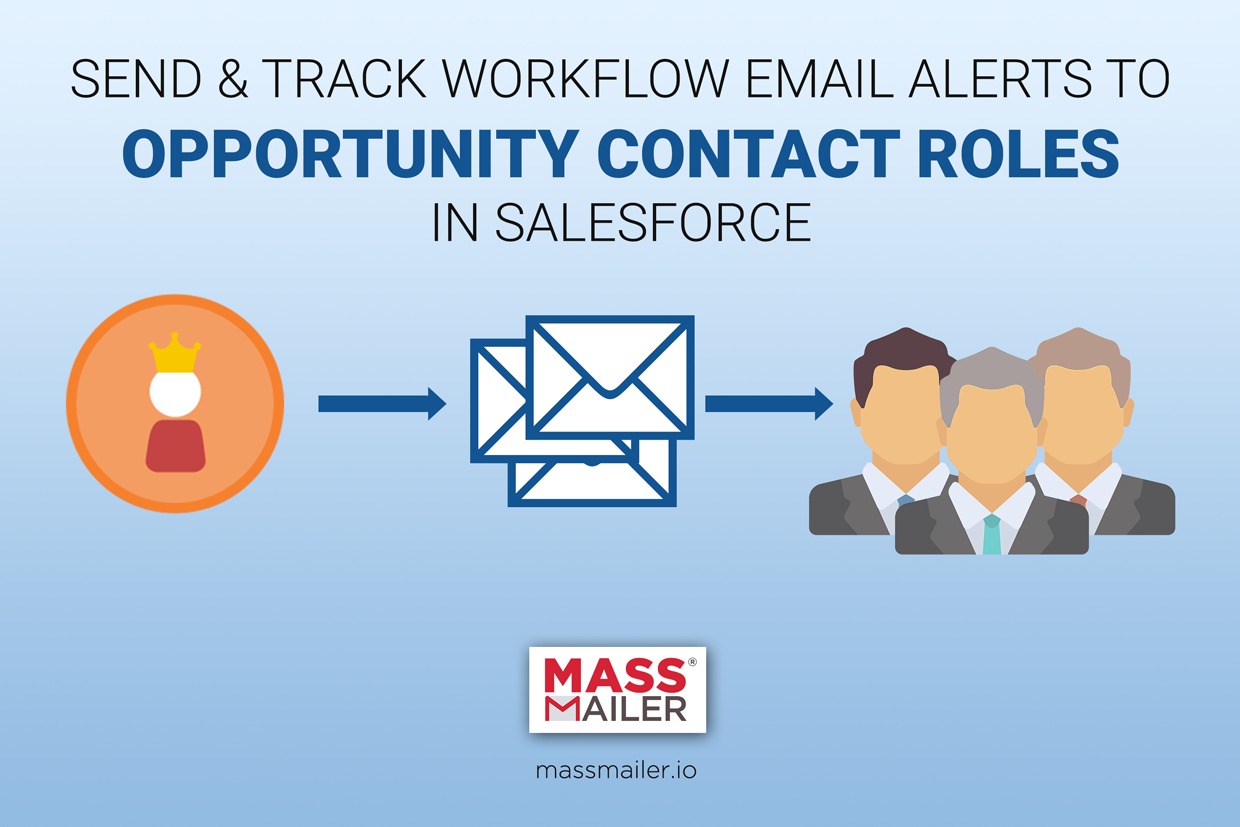 Here's what you need to know about automatically sending and tracking email alerts.
Send Workflow Email Alerts to Opportunity Contact Roles and Opportunity Team Members
Process Builder makes it easy to define conditional and non-conditional triggers for your email templates. Through Process Builder, you can select specific actions taken in Salesforce that will trigger an email to be sent.
For opportunity contact roles and opportunity team members, emails can be triggered by creating or updating Opportunity entities. The Process Builder will then send an email to each member on the appropriate Contact Role or with membership to the team — as well as CCing and BCCing others as needed.
To create a new workflow email alert for Opportunity Roles, create a new Workflow Process. Select "Opportunity" as the object and choose whether you want emails to be sent when the Opportunity is updated or when is initially created. Multiple workflows can be built to trigger emails upon both events.
From there, you can either create a condition that must be met before emails are sent, a formula that evaluates whether emails should be sent, or just choose to send the emails without any additional conditions!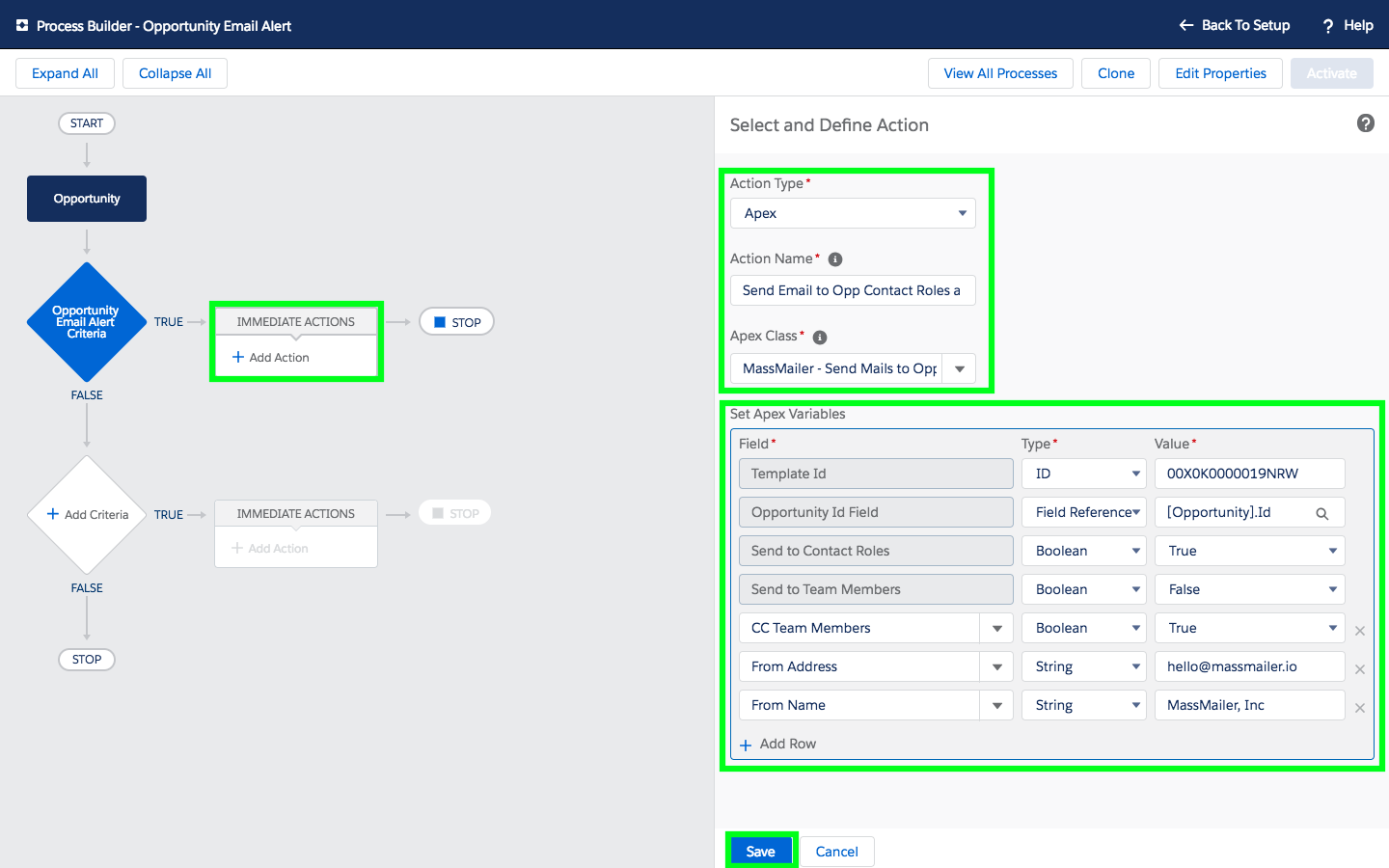 Setting a Dynamic from Email and Customizing Templates
You can set a dynamic From email for Workflow email alerts to Opportunity Contact roles, changing the "From" email as needed. Process Builder uses the same templates throughout the rest of Salesforce, making it easy to customize emails for team members. For now, the email alerts only support the Opportunity merge fields for Opportunity emails.
Track Workflow Email Alerts in Salesforce
Once emails have been sent through Workflow Process, their status can be tracked. Select the "MassMailer Email Status" list and you can see whether emails are presently: in process, delivered, opened, bounced, spam blocked, clicked, or unsubscribed. These delivery statuses can give you important information regarding whether your email alerts are being effectively engaged with, ignored, or blocked.
Activity history is further tracked on the Opportunity object, to make it easier for employees to easily review email histories and focus on the opportunities with the most engagement.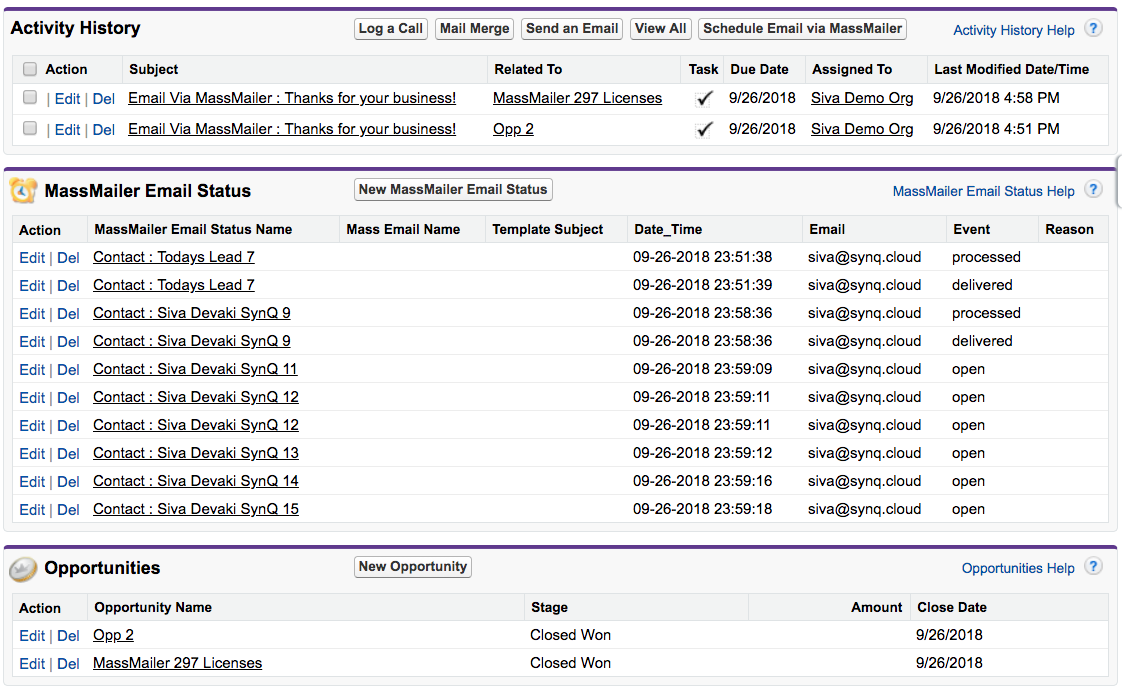 BCC & CC Workflow Email Alerts in Salesforce
When you customize your email alerts, you can add CC and BCC workflow email alerts in Salesforce. CCing and BCCing your email alerts will make it easier for your offices to track them. As email alerts are sent, they can be forwarded to responsible parties. These parties will be aware of when emails are being sent and can consequently follow up on them.
You can find complete instructions on how to  set this up in Salesforce at this link.
You may be interested in learning how to send and track workflow email alerts to leads, contacts, users, accounts, cases in Salesforce as well as how to send mass emails to Opportunity Contact Roles and Opportunity Team Members in Salesforce.
Through Workflow Process and Process Builder, you can build complex triggers for email alerts. Once emails are sent, they can then be tracked based on their status. For more information, sign up for a trial of MassMailer.io