October 22, 2023
7 Tips to Get the Most Out of Salesforce B2C Commerce Cloud
Commerce today banks heavily on collecting accurate, firsthand data and deriving analytics from it for polishing marketing strategies. Especially in the case of B2C companies, it is even more important to work with data-driven insights because such companies sell directly to the consumers.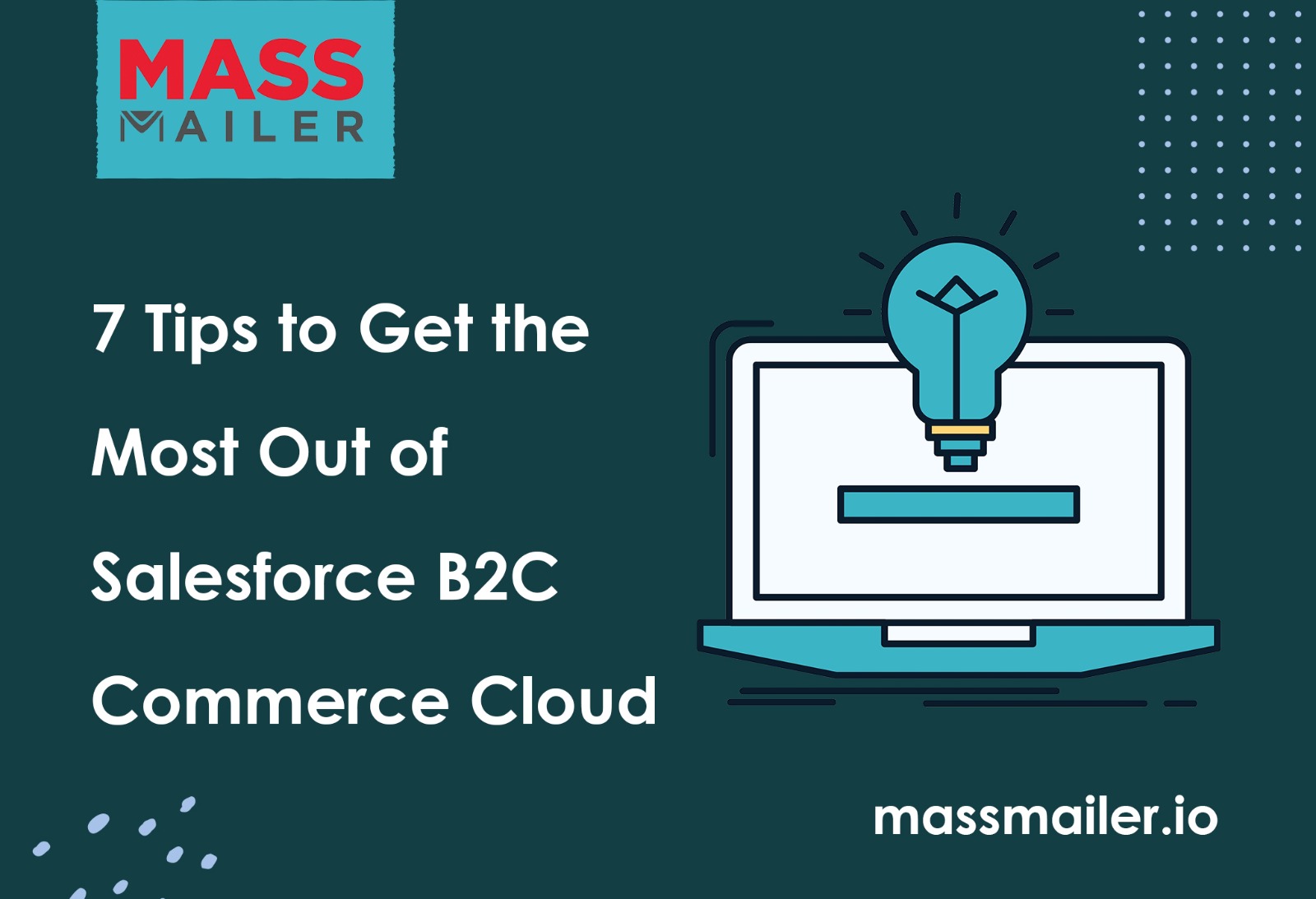 This is what reinforces the requirement for robust B2C commerce platforms like Salesforce, making them an inevitable addition to business tools.
In fact, a Digital Commerce report highlights that 46% of retailers today rate having an eCommerce platform as their top priority. To manage the data that is generated from such platforms, accurate solutions must be implemented.
To that end, let's talk about Salesforce B2C Commerce Cloud and a few tips that you can leverage to make the best out of your investment.
What is Salesforce B2C Commerce Cloud?
Salesforce B2C eCommerce cloud is an end-to-end solution for businesses. It is a platform that provides a complete set of services, tools, and features a business needs to augment its eCommerce operations and keep them running smoothly.
Some of the key functionalities the commerce cloud includes are:
Cloud-based order management
Marketing campaigns
Merchandising tools
Order fulfillment
Social media integration
Overall, Salesforce B2C Commerce Cloud is an excellent addition to the toolset of businesses that have extensive eCommerce operations and are seeking some manner of organization and streamlining of processes.
Let's now take a look at 7 excellent tips using which you can truly derive the maximum benefit out of your Commerce Cloud.

7 Tips to Get The Most Out of Salesforce Commerce Cloud
There are countless features in Salesforce Commerce Cloud – here are seven tips to utilize a few of them to the best extent.
1. Provide Relevant, Quality Product Descriptions
For an eCommerce store, it is important to pursue a robust SEO strategy and leverage the power of relevant and quality product descriptions conforming to NLP and semantics that search engines are using.
Commerce Cloud provides users with two unique features that enhance the outcomes of the above operation:
Product Model: This is a handy feature that enables your customers to browse multiple variations of the same product without navigating away from the current page.
SEO Meta Tags: Search engines prefer information that is structured well and contains the right keywords and relevant information. By using the Meta Tags Rules in the commerce cloud, you can make it happen.
2. Leverage DIS
DIS stands for Dynamic Image Service, which is a key component of enhancing user experience today.
If you are familiar with the concept of responsive websites, you know that search engines now rank businesses that provide high-quality UX for all devices. Salesforce Commerce Cloud provides users with the DIS feature, which helps them scale and deliver high-quality product images at scale.
These pictures are automatically customized for the device that a customer is using through resizing, cropping, or format conversion, improving UX and SEO at the same time.
3. Leverage Intent-Based Words
Not all customers use the same words to search for the same product. For example, one customer may search for "loungewear," whereas someone else may use "sweatpants and sweatshirt" to search for the same product.
Salesforce Commerce Cloud provides several interesting features that help customers reach relevant results:
Common phrases like "onesie for toddlers."
Synonyms and hypernyms help you classify your products either specifically or in a generalized way – both of which would help the product show up in search.
Compound words and suggestion phrases.
Exclusions and stop words.
4. Promotion Capabilities
Salesforce Commerce Cloud provides several tools that help with creating, testing, and launching promotional campaigns for your eCommerce store.
You will find features like coupons, discounts, freebies, shipping incentives, etc., in the toolset to leverage for a sales boost.
You can leverage the planning capabilities of the platform to plan your promotions, the testing tools to test their efficacy, and also make use of the calendar to keep everything on track. There is a workflow builder that allows you to build, preview, and launch your promotions.
5. Leverage Page Designer
Commerce Cloud Salesforce comes with a Page Designer, which is an extremely handy feature. This tool allows users to design a product page or other eCommerce pages using elements like textboxes, link banners, image tiles, product tiles, etc.
You can even place experience-enhancing features on the page, like Shop the Look, or promotional banners and content using this feature.
Just keep in mind not to overcrowd your page, and always test what you have designed before publishing it.
6. Optimize for Local Search
In the end, no commerce platform would be effective in helping boost your sales if your business cannot tap into its local customers. Salesforce Cloud commerce provides several SEO optimization options that help you apply localization to your site.
For example, applying translative tools to your website helps people of different native languages access the content on the website more readily.
Additionally, Salesforce can help your brand provide location-specific shipping and delivery details, making it even more relevant for the customer.
7. Leverage Staging / Sandbox
Salesforce.org comes with a Staging area where you can run wild with all your ideas and experiments without impacting your real website that is currently operational.
Make use of the staging environment to its full extent in creating and testing innovative eCommerce ideas.
Once all the testing yields favorable results, you can push the changes to Production and publish the changes. However, do keep in mind to have a swift rollback plan in place in case the inevitable happens and things go wrong.
Salesforce Commerce Cloud and MassMailer
Commerce is now majorly happening online for B2C businesses. Customers find it convenient and highly accessible. As such, in order to cut through the competition, brands leverage the power of Salesforce Commerce Cloud to provide them with the features to create an impactful customer experience.
Whether you want to design a better website or execute promotional campaigns, Salesforce Cloud Commerce has the features to do it. Especially if you utilize the power of MassMailer in tandem with Salesforce Commerce Cloud, you can augment your marketing efforts with the power of Salesforce-native bulk emails.
Salesforce does provide a limit on bulk emails, which you can easily expand using MassMailer. Several other features, like templating and campaign design, make this platform an extremely effective addition to your Salesforce suite.
For more information, visit MassMailer.