What is Salesforce Engage? – Your Guide | MassMailer
Siva Devaki
2022-09-21T16:08:46+00:00
What is Salesforce Engage? – Your Guide | MassMailer
May 30, 2022 | by
All You Need to Know About Salesforce Engage
Introduction
When it comes to business success, aligning the sales and marketing teams effectively is one area most businesses struggle with.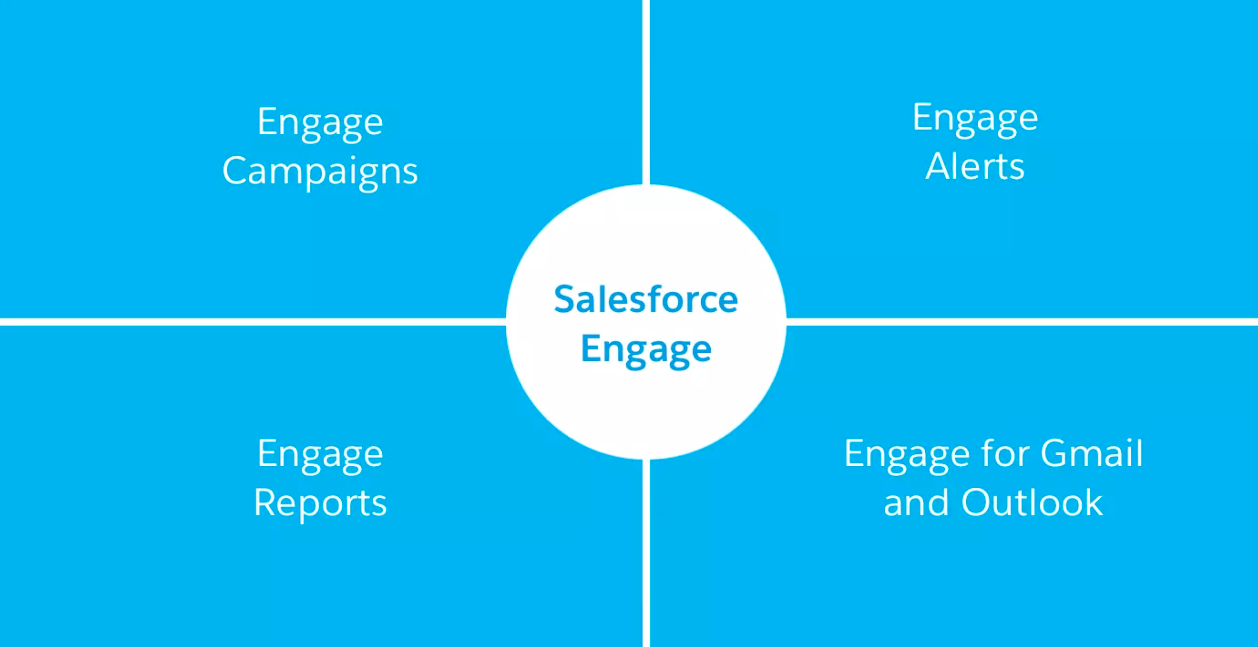 If done the right way, it can help maximize ROI, shorten sales cycles, and bring success to the overall organization.
On the other hand, if not managed well, it can lead to failed conversions, missed business opportunities, and unwanted friction between teams.
This is where Salesforce Engage comes in.
It is a specifically designed product to help align your organization's sales and marketing teams, thus allowing them to collaborate and work together efficiently.
This blog aims to explore more about Salesforce Engage, its components, features, and more.
What is Salesforce Engage and How Can It Help Your Business?
Salesforce Engage is a dedicated solution by Pardot developed with the aim of aligning the sales and marketing teams in your organization.
It allows your marketing team to easily share data with sales representatives, who can then use those insights to identify qualified prospects, make more informed and data-backed decisions, and close deals much faster.
The main aim of Salesforce Engage is to align Pardot Engage and Salesforce more closely together. It acts as a bridge for marketing and sales teams so that they can work in tandem with each other.
Different Components of Salesforce Engage
There are four main components of Salesforce Engage. These are as follows: 
a. Engage Alerts
Engage Alerts is a real-time feed of all your leads or prospects' activities within Salesforce. It helps you keep track of all their engagement activities, including page views, email opens, and link clicks. This equips you to identify the right time to reach out to a prospect.
b. Engage Campaigns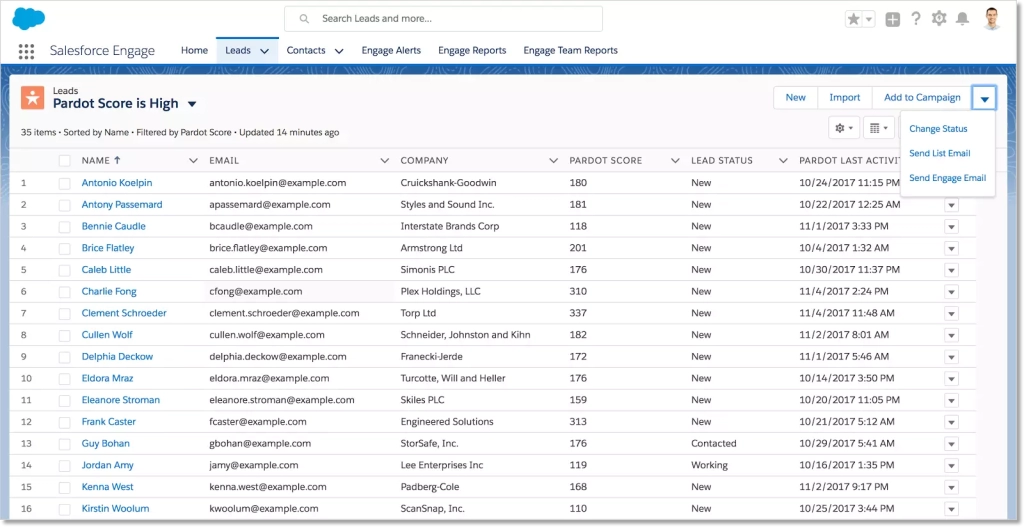 Engage Campaigns is another component of Salesforce Engage that allows you to send either 1:1 or 1:N campaigns from Salesforce to prospects, campaign members, contacts, and more.
It makes it much easier and faster for you to access marketing-related data/information and deliver customized and valuable content in a matter of a few minutes.
c. Engage Reports
Engage Reports offers you easy-to-use, interactive and real-time reports that allow you to keep track of your Engage Campaigns in terms of success or failure.
You can also analyze the factors contributing to success or failure by discovering which emails/templates performed best using metrics like clicks, click-through rates, and more.
d. Engage for Gmail and Outlook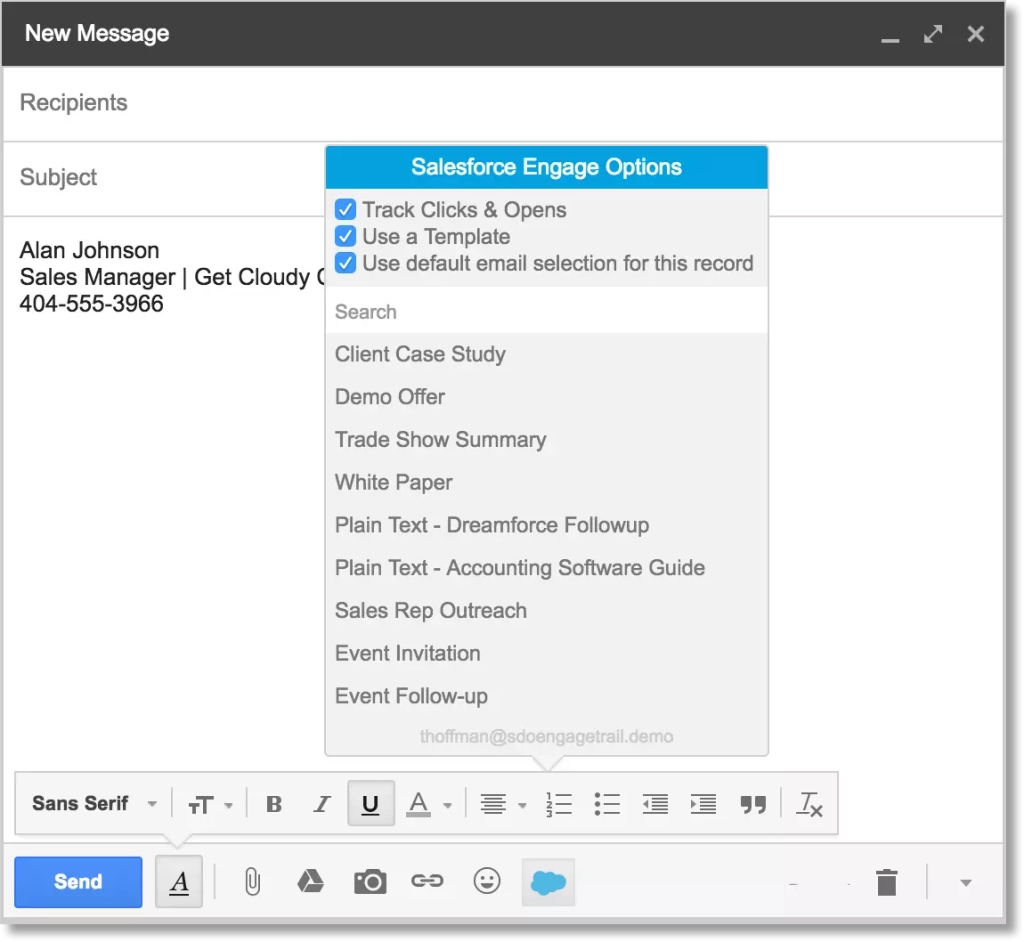 Engage for Gmail and Outlook is an excellent marketing tool and an extension that lets you easily send trackable campaigns to prospects directly from Gmail and Outlook.
Once installed, you can ensure that all your emails sent from Gmail or Outlook accounts are logged in the Prospect/Lead Record synced between Salesforce and Pardot.
Key Features of Salesforce Engage
Among the main features of Salesforce Engage are:
a. Consistent branding across email campaigns 
Using Salesforce engage, your marketing and sales team can create emails using approved email templates and help you represent your company professionally.
b. Easy filtering of prospects 
Based on three different categories – activity, contacts, and geographic – you can conveniently group your prospects in a way that you'll have separate lists and send relevant messaging to your target audience.
c. Well-organised user interface
With Engage alerts, you can collect information about users easily in an intuitive layout.
Besides, you can filter the information by specific criteria, view detailed data on customers' activities, and analyze the same in detail to improve user engagement.
d. Transparent reporting for strategic insights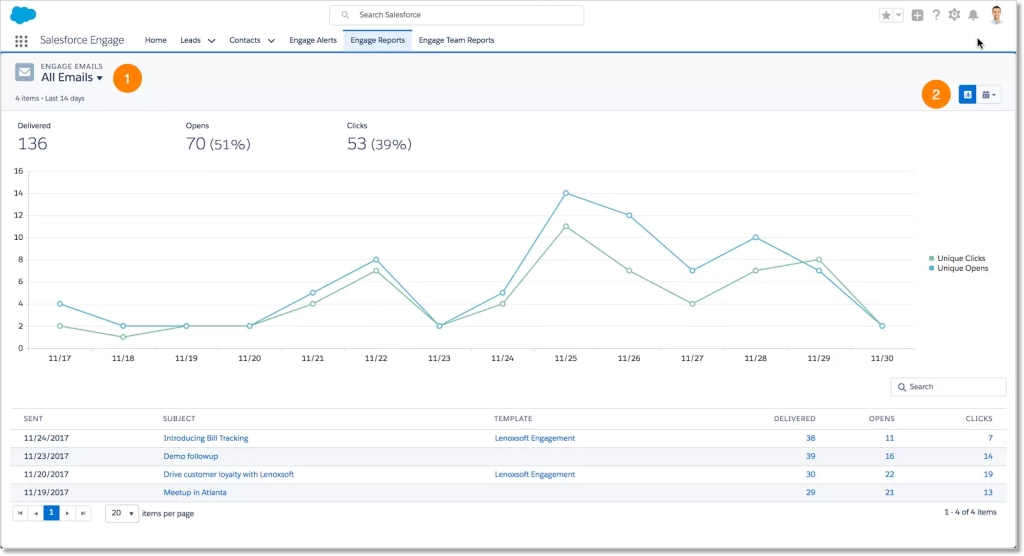 With Salesforce Engage reports, you can build an effective strategy and demonstrate the performance charts of your email campaigns in great detail.
Apart from this, Engage team reports also allow your marketing and sales teams to be well informed about a real situation according to emails sent to leads.
e. On-the-go mobile access
The Salesforce Engage mobile app allows you to view the activities of your prospects in real-time. Through this easy-to-use and user-friendly app, you'll be able to apply different filters, add your leads to mailing lists, and work on queries/issues simply by using your mobile device.
f. Better insights into the activity of prospects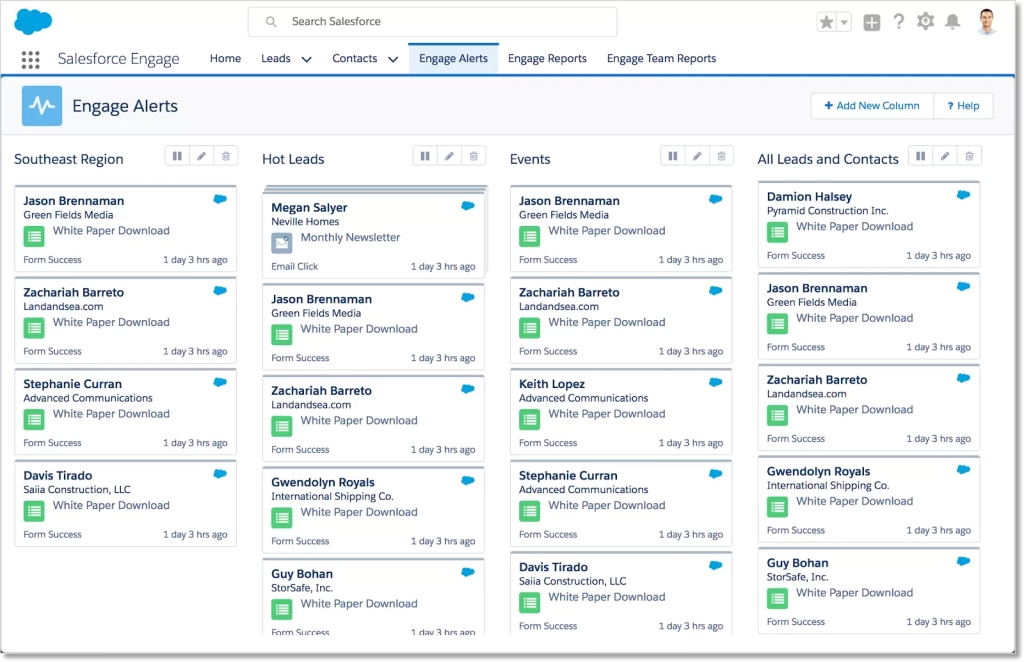 Leveraging Pardot's functionalities, you can easily track users' behavior and interaction on your website. This allows your sales agents to be informed about prospects' activities and preferences by viewing Pardot data in Salesforce Engage. 
How to Use Salesforce Engage?
The Salesforce Engage workflow can essentially be broken down into three main steps:
a. Engagement
This is the step where Engage first comes into the picture and allows you to create different types of campaign templates (e.g., drip campaigns, event-based follow-ups, etc.).
Further, you can also create Engage templates catering to different types of target audiences.
b. Sales
In this step of the Engage workflow, you'll find various tools your sales executives need to drive Engagement with their prospects/leads and nurture them through the sales cycle.
Apart from this, you can also track interactions at this stage using lead scoring and automate various follow-up activities by setting rules based on key milestones in the end-to-end sales process.
c. Marketing
Engage has a lot to offer for marketing professionals at this stage. With unique and out-of-the-box content creation capabilities, marketers in your organization can produce new content within no time and without the need for any design or development talent.
To Conclude
Salesforce Engage is an excellent platform that makes it easy for you to track and manage your Engagement campaigns. Apart from being simple to use, it also shows you all the information you need to be successful.
If you are also a Salesforce customer, MassMailer is an excellent solution trusted by millions of customers to send emails on Salesforce, acquire leads, verify emails, and clean contact databases. Regardless of your industry or role, MassMailer is the one-stop solution for all of your email & prospecting needs.
To know more, start your free trial today.