HubSpot vs. ActiveCampaign: The Answer Might Surprise You 
neerajmaurya03@gmail.com
2023-04-09T01:01:36+00:00
HubSpot vs. ActiveCampaign: The Answer Might Surprise You 
March 13, 2023 | by
HubSpot vs. ActiveCampaign: The Answer Might Surprise You
Choosing a marketing automation software and CRM that suits your company's specific needs can be an overwhelming task. This is especially difficult as the market is flooded with tonnes of email marketing tools with robust features and powerful capabilities.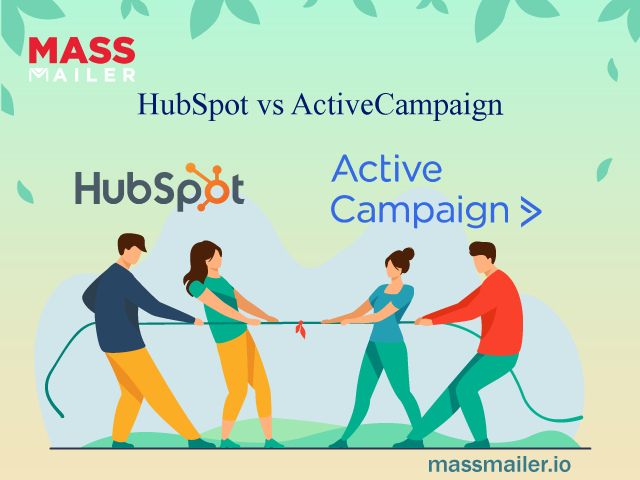 While there is no dearth of options here, two of the industry-leading software with the best features and pricing are HubSpot and ActiveCampaign.
In this post, we will do a thorough comparison between the two in terms of features, capabilities, integrations, pricing, and more to help you make an informed decision.
HubSpot is a robust customer relationship management (CRM) and marketing automation platform that helps a variety of businesses grow by strategically attracting, engaging, and delighting their customers. 
Who is the Platform for?
The platform is used by businesses of almost all sizes, including start-ups, small businesses, and big enterprises. Apart from this, the platform is also used by a range of industries, including healthcare, education, technology, and more.
One of the highlights of HubSpot is that it enables marketers to analyze and manage all their email marketing campaigns in one single place. The platform allows you to quickly create an email, build powerful ad campaigns, add social media posts, and much more.
Apart from this, the platform helps leverage robust automation capabilities to streamline business processes and create insightful reports of campaigns through various analytics tools.
Among the key features of HubSpot are the following-
A. User-Friendly and Intuitive Interface
HubSpot's CRM is quite simple and user-friendly. It also has an intuitive interface which makes it super easy to get started with. The platform allows you to easily create contacts, log a task, edit reports, and much more. 
B. Robust and Flexible
HubSpot CRM is pretty flexible and makes it easy to organize, analyze, and significantly grow your business process.
It automates several tasks that are performed by the sales, marketing, and customer service team and also enables users to close deals without much effort.
C. Free of Cost
Another highlight of HubSpot CRM is that it is 100% free and offers you access to its CRM, sales, marketing, and customer service tools. With HubSpot's free CRM, you can easily track, analyze and store your contacts and close your deals.
D. Links Well with Sales and Marketing Processes
HubSpot CRM links well with your sales and marketing process irrespective of where they are taking place – over the website, phone conversations, emails, or social media.
Active Campaign CRM
ActiveCampaign is primarily a marketing automation platform that marketers use to automate tasks such as email marketing and website messaging.
The platform helps users in sending customized emails, nurture contacts, and seamlessly automate the sales and marketing processes.
Who is the Platform For?
While the platform's CRM options work well for certain businesses, it cannot be considered a full-featured CRM in the same league as Salesforce, HubSpot, and others.
The key features of ActiveCampaign include the following:
A. Email Segmentation
ActiveCampaign comes with a detailed and in-depth email segmentation feature. It allows you to break down and segment your entire contact list based on a wide range of categories, such as contact details, background, email opens, etc.
Besides, there are various advanced conditions, such as segmenting users based on the page they were referred from.
B. Marketing Automation
Marketing automation is one of the key unique selling points (USPs) of ActiveCampaign.
To fit the varying automation needs of businesses, the platform offers an automation builder to help you personalize your enter automation process in sync with your specific business goals and objectives.
Easy-To-Use and Intuitive API
One of the key features of ActiveCampaign CRM is the simplicity and ease of use of its API. The feature allows users to easily and completely integrate the system with their existing app ecosystem and extend their capabilities as well, if required.
D. Website Monitoring
Website monitoring and tracking is another interesting feature of ActiveCampaign that connect marketing to a certain contact's behavior. The feature allows users to respond to clients based on what they are doing on the website.
Summary of Key Differences: ActiveCampaign vs. HubSpot
Differences
HubSpot
ActiveCampaign
Ease of use
Although the platform has a slight learning curve, you can easily navigate through HubSpot even as a beginner
The tool is relatively easy to use, with an average learning curve. Boasts a very user-friendly design and easy navigation
Platforms supported

Web-based
iPhone app
Android app

Web-based
iPhone app
Android app

Key features

Mobile optimization
Tools for blog and content creation
Performance monitoring dashboard
Email templates, tracking, and scheduling
Social media monitoring tools

Personalized email marketing
Website tracking
Advanced reporting
Email campaign templates
Extensive integrations
Robust training and support
Integrations: HubSpot vs. ActiveCampaign
HubSpot features more than 1,000 third-party app integrations, including several popular platforms such as Outlook, Facebook,  Google Suites, and more.
Besides, it offers a Salesforce integration, which allows users to utilize both CRM software instead of having to decide between the two.
Similar to HubSpot, ActiveCampaign also offers a decent amount of integration, with more than 800 apps available for the same.
The main difference with the nature of several of Active Campaign's popular third-party integrations is that most of the CRM's automation is targeted towards lead generation and analytics, thus allowing you to track and nurture the customer journey along the way.
On the contrary, HubSpot's integrations are more targeted towards actions on sales, customer service, and finance.
Pricing: HubSpot vs. ActiveCampaign
Here is a quick snapshot of the pricing details for the two platforms:
HubSpot pricing

(Marketing)

ActiveCampaign pricing
Free plan
Allows you to add unlimited users and up to 1M contacts with limited features

No free plan is available

Free trial available

Starter/Lite plan
Starts at approximately $50/month
Prices start at $15/month for 500 contacts and unlimited emails
Plus plan
NA
Pricing starts at $70/month for 500 contacts and unlimited emails
Professional plan
Pricing starts at $890/month
Pricing starts at $150/month for 500 contacts and an unlimited number of emails
The Bottom Line
While HubSpot and ActiveCampaiare are two different and competing platforms, they are basically catered to varied needs and users. HubSpot is a better option to go with if you have a large marketing or sales team.
ActiveCampaign, on the contrary, is a good option for entrepreneurs and small businesses due to its affordable pricing and powerful email marketing features that let you grow your business even on a small budget.
However, if you are looking for an alternative to both these platforms, one of the best options you have is MassMailer. The platform is trusted by an increasing number of customers to send emails on Salesforce, acquire leads, verify emails, and clean contact databases.
To know more about MassMailer,start your free trial today.