October 10, 2023
Your Handy Guide to Salesforce Forecasting: A Surefire Path to Success
For any business today, it is nearly impossible to strategize for growth effectively without looking at some numbers or estimates of future revenue. These numbers are represented in various metrics and figures, for example, sales or marketing forecasts.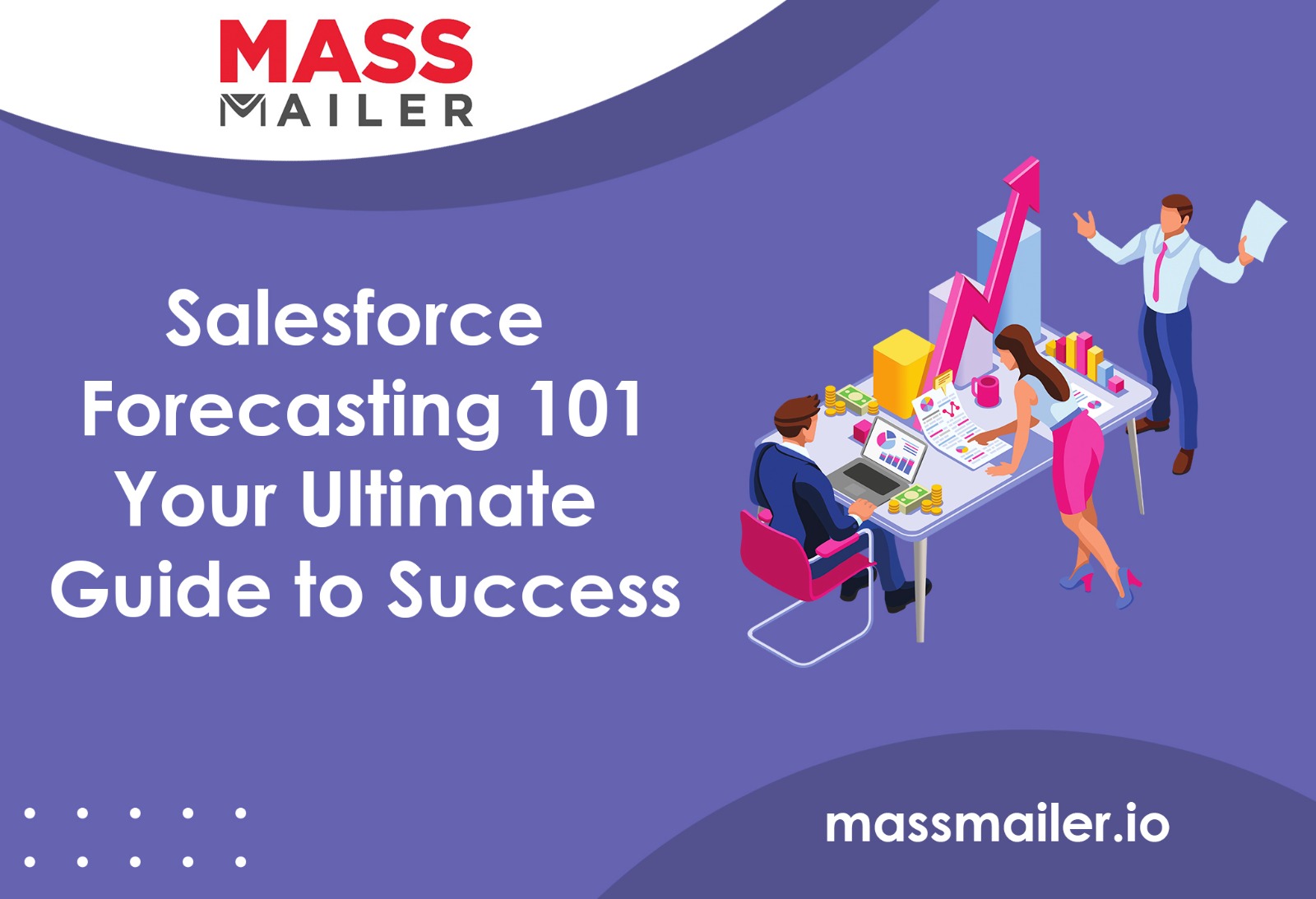 Forecasting has become so essential to business strategy that reports estimate there would be a growth in sales forecasting software to reach a market value of $142.97 billion by 2030.
Salesforce offers its users a comprehensive and robust forecasting tool that is extensive but simple enough to use to get a good idea of where a business is headed. Through this blog, let's understand everything there is to know about Salesforce forecasting, company sales cycle, and more.
What Is Salesforce Forecasting?
Salesforce is a holistic and robust platform that helps sales and marketing teams achieve their goals. It has a highly efficient and elaborate sales forecasting tool that enables sales teams to estimate both – long-term and short-term performance of sales or marketing strategies to improve business decisions and outcomes.
Salesforce forecasting can provide near-accurate estimates to sales teams to help establish sales quotas, track sales progress, or revise targets based on new estimations.
If your organization is already on board with Salesforce, learning the forecasting methods can help big-time with improving sales strategies.
What Is a Forecast Category?
Salesforce's forecasting feature works through customizations, allowing users to create custom fields or to change the settings of a forecast as and when required. The forecasts page in Salesforce then displays the total forecast amounts depending on the bottom-line figures obtained from opportunity stages.
Along these lines, Salesforce categories are like labels or tags that help users identify the type of sales opportunities. These opportunities are, in turn, dependent on the judgment and confidence of the sales team that they would convert.
Salesforce offers several types of forecast categories and two major forecasting methods for sales teams.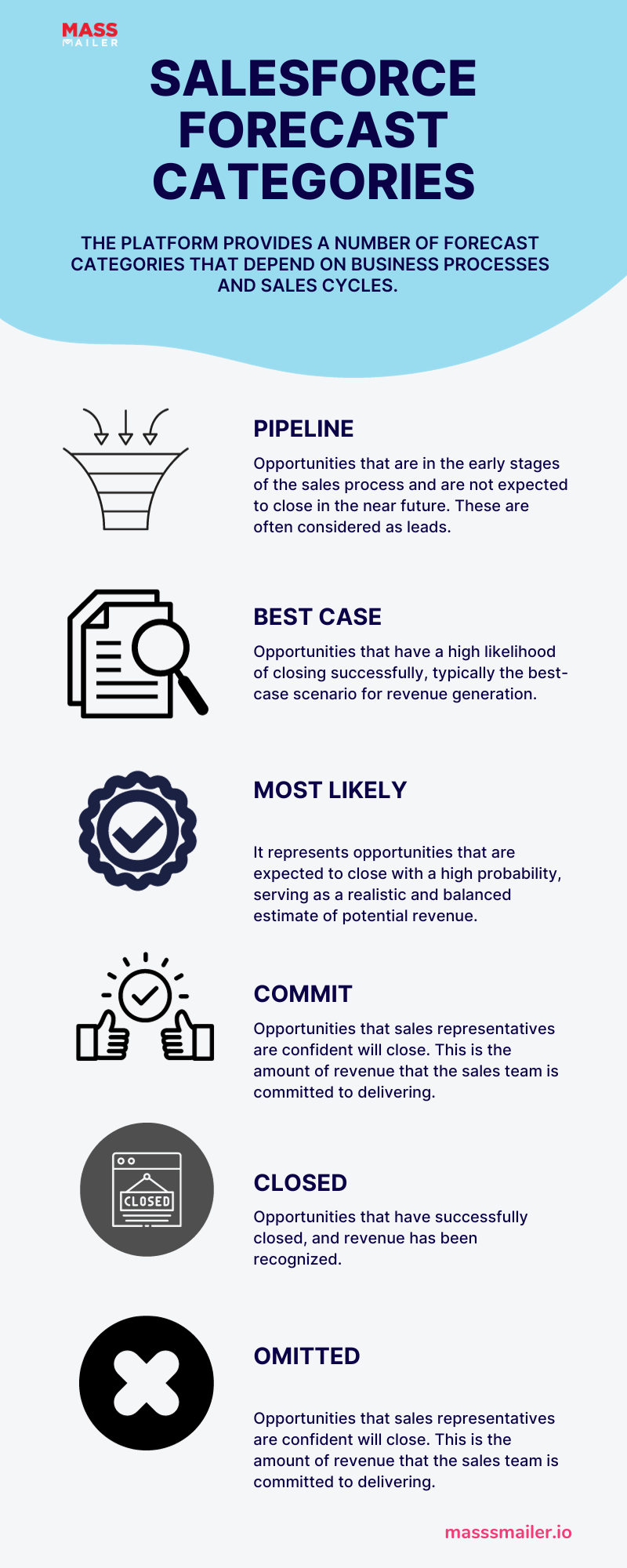 Types of Salesforce Forecasting
There are two major types of Salesforce forecasting: pipeline and customizable forecasting.
Pipeline Forecasting
Users often confuse pipeline forecasting with pipeline management in Salesforce. This type of forecasting helps representatives estimate the performance of sales by utilizing essential data from sales pipelines.
Although this forecasting does not help significantly in improving sales, it helps establish standards and benchmarks through which sales quotas and other sales strategies can be planned conveniently. Forecasting using this method is an excellent way to improve the visibility of progress made through the sales pipelines, the deficits, or extra sales closed compared to the estimated values.
It is also helpful in assisting businesses with estimating a sales volume to prepare inventories or line up the supply chain for critical periods, such as festive sales or other events.
Customizable Forecasting
Customizable forecasting is an extremely flexible method of forecasting that Salesforce provides. It enables organizations to estimate – to some extent – their total revenue at the end of the forecast period.
This method allows organizations to customize various parameters to narrow down or expand the prediction scope according to the estimates required. Using this method, organizations can predict the number of sales across a variety of product or service ranges, individual revenue from each, cumulative revenue from all sales, or the total revenue from all types of sales by the end of the quarter or any other time period.
Working with Forecast Categories
In order to work with Salesforce forecasting, you need to know how to work with forecasting categories in Salesforce.
The platform provides a number of forecast categories that depend on business processes and sales cycles:
Pipeline
Best case
Most likely
Commit
Closed
Omitted
Users have the freedom to explicitly define what each category means according to their operations and requirements. However, it is important to communicate this definition with every user leveraging Salesforce categories for forecasting.
Let's understand it step-by-step.
Adjusting Forecast Categories
Adjusting a category requires users to work on (sales) Opportunities. Each Opportunity has a different stage (like prospecting) and forecasting category depending on the confidence level of the sales team.
In order to adjust the forecast category for an Opportunity, the users need to open the Opportunity Stage page and locate the "Forecast category" dropdown list. From this list, it is then possible to change the forecast category. It isn't necessary to change the Opportunity stage while changing the category.
For example, if, for an Opportunity, the stage changes from Prospect to Investigating, the forecast category can still remain the same depending on the sales team's confidence or probability of conversion.
Viewing Forecast Categories
There are two places where users can view forecast categories:
As discussed earlier, the Opportunity stages page displays the forecast categories for each Opportunity in a dropdown menu.
Users can also view the forecast category in the Forecast tab. Under each category, the user will be able to see the total Opportunity amount that is predicted for the period selected. The default setting for this forecast is displayed in months.
Forecast Category Rollups
Forecasts can be estimated from either a single category or from combining multiple categories together. Forecast category rollups are just another term for labeling the cumulative forecast result of multiple categories.
Here are a few examples of forecast category rollups:
Closed – Closed Only
Open pipeline – pipeline + Best case + Commit
Commit – Commit + Closed
Wrapping Up
Forecasting helps businesses understand how their current strategies are panning out and whether they need to change certain aspects of their company's sales cycle to achieve desired targets or sales quotas.
To that end, Salesforce is an excellent tool to use for forecasting. If you wish to boost your sales, consider leveraging the flexibility MassMailer brings to your marketing campaigns. MassMailer is a Salesforce native bulk email app that can tremendously improve your email marketing capabilities.
In combination with forecasting, MassMailer enables you to set up effective email campaigns backed by robust data. Utilize the handy knowledge in this blog to understand the scope and utility of Salesforce forecasting using categories and other customizations and apply the data to MassMailer email campaigns.