March 11, 2023
What You Need to Know About iContact Prices and Packages
iContact: Features, Pricing, Packages, and More
Introduction
Email marketing never ran out of efficiency. In fact, with the advent of process improvement and automation tools in marketing, brands have begun to reimagine their email marketing campaigns. When it comes to small businesses, it is especially essential to capitalize on every resource available and channel it toward growth.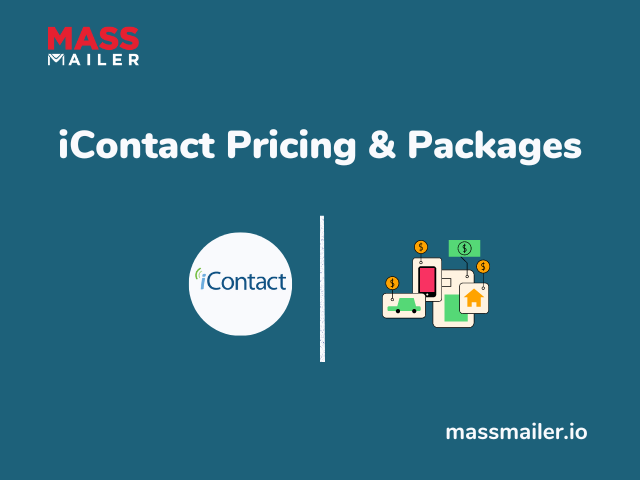 In this situation, iContact is the perfect email marketing solution to adopt. It is straightforward, simple to use, and provides you with all the necessary functionalities you need from email marketing software.
After reading this blog, you will be able to understand the scope of iContact pricing, marketing, and packages in great detail.
What is iContact?
iContact is an email marketing solution designed for growing small businesses to help them achieve organization and efficiency in their email marketing efforts.
The tools it provides are easy to use and catalyze operations like email personalization, campaign automation, and managing communications.
It has quite an impressive rating of 4.1 on 5 stars on G2. In fact, this software has also won the G2 Leader (Winter) 2023 award. The software doesn't disappoint in other aspects of performance and user satisfaction either:
It scores an average rating of 8.3 on 10 for ease of use
It scores an average rating of 8.4 on 10 for ease of setup
Let's now take a look at some amazing features that make this platform one of the best email marketing software on offer.
iContact Features
iContact features everything a small business would need to mobilize an email campaign. The interface is neat, and the tools are straightforward to use, making them a no-nonsense affair and helping you save time.
1. Bulk Email Campaign
iContact allows you to import all your contacts into the database in a hassle-free way. You can quickly personalize the emails and initiate bulk email campaigns to your imported contacts in a few clicks. It doesn't require you to write any code, which is an added benefit.
2. Drag-and-Drop Email Builder
Personalizing an email or creating custom templates is extremely simple with iContact. You get a drag-and-drop email builder with widgets like videos, interlinks, images, collages, captions, and more.
3. Email Templates
iContact also provides you with ready-to-go email templates for your marketing campaigns. They can be customized according to your needs.
4. Personalization
iContact offers personalization tools to design customer emails that achieve a high level of engagement. The software has tools for segmentation to help you see past engagement patterns. You can also use custom fields to further personalize every message you send.
5. Email Scheduling
Every business needs to keep track of several important dates, like client and customer birthdays, payment reminders, subscription expiry or renewal notifications, etc.
iContact lets you schedule all your emails and sends them out automatically, saving you countless manhours and missed deadlines along the way.
6. Remarketing/Re-engagement Emails
There is no need to set up any manual lists for disengaged cohorts. With iContact, you can handle the remarketing emails automatically by initiating targeted emails to this customer group.
7. Email Autoresponders
Customers today expect to see some sort of communication initiated by a brand that they have subscribed to. Autoresponder emails help you send onboarding, thank you, and other auto emails to offer a proper welcome to new customers.
8. Trigger Campaigns
Trigger campaigns are a necessary driver of better marketing efficiencies, and they also allow for customized and targeted marketing toward customers. iContact lets you monitor the engagement events and design email triggers according to your KPIs.
9. Email Automation
You can create custom engagement rules and design your own email marketing automation without using any code with iContact.
10. Outreach, Leads, Performance
iContact has features like subscription forms, landing pages, and custom APIs that let you work with leads and outreach effectively.
Furthermore, the A/B testing toolkit, campaign reports, and analytics help you understand your performance more comprehensively.
iContact Pricing and Packages
iContact offers well-designed pricing and packages that are suited for small and growing businesses. You can choose the package based on the number of contacts your business handles, from between 750 to 50,000 contacts. For high-volume businesses with more than 50,000 contacts, iContact offer custom packages.
They also offer two ready-to-go packages – Free and Advanced. The table below shows the highlights of both:
| | | |
| --- | --- | --- |
| Feature | Free | Advanced |
| Pricing | Free | Starting at $14 for 750 contacts |
| Email marketing | Yes | Yes |
| Automation | Only automation editor and automated follow-ups available. | Full automation suite – smart sending, event promotions, audience segmentation, contact record updates, and more. |
| Landing pages | 1 page | Unlimited |
| Social blocks | No | Yes |
| Integrations | API and directory | API and directory |
| Client folders | No | Yes |
| Multiple users | No | Yes |
| List segmentation | No | Yes |
| Landing page creation/hosting | 1 page | Unlimited |
| Audience segmentation | No | Yes |
| Drag and drop editor | Yes | Yes |
| Stock image library | Yes | Yes |
| Event promotion emails | No | Yes |
The table below shows the iContact pricing of the Advanced package for the various number of contacts that your business handles:
| | |
| --- | --- |
| Number of contacts | Advanced Package Pricing |
| 750 | $14 per month |
| 1,500 | $23 per month |
| 2,500 | $36 per month |
| 5,000 | $65 per month |
| 10,000 | $95 per month |
| 15,000 | $140 per month |
| 25,000 | $199 per month |
| 35,000 | $275 per month |
| 50,000 | $350 per month |
| 50,000+ | Custom |
Wrapping Up
Out of the countless email marketing tools available in the market, iContact has managed to make its mark because of the painless simplicity it offers. The functionalities revolve around emails and campaigns and remove all the bells and whistles from the deal.
However, if you think your business needs more email marketing capabilities and integrations, you can consider MassMailer, which is one of the best email marketing software today. It is a Salesforce-native bulk email campaign tool that lets you quickly mobilize your email campaigns without wasting time.
To learn about MassMailer's interesting features,get on a trial today.