March 10, 2023
Mailchimp vs. ActiveCampaign: What's Best for Email Marketing 
Whether you are looking to improve your customer service or want a comprehensive solution to automate your business processes, MailChimp and ActiveCampaign are two of the top name in the email marketing space.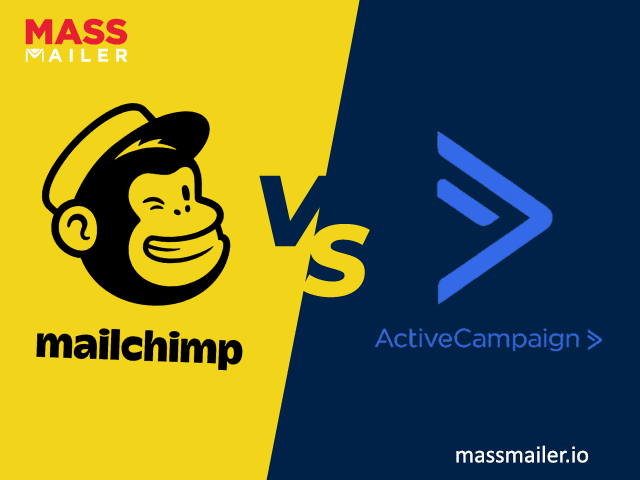 Both of these email marketing software are known for features ranging from robust automation workflows, contact management, drag-and-drop functionality, opt-in forms, etc., for small businesses.
This post aims to compare the two options in detail to help you make an informed decision about choosing the right platform for your email marketing needs.
Mailchimp is a popular web-based email marketing platform. Apart from email marketing, the software also specializes in sending, monitoring, and personalizing your email communications.
With the availability of a free version and affordable pricing overall, it's a good ActiveCampaign alternative and tool for small or medium businesses looking for a fully-featured email marketing implementation.
Some of the key features and advantages of Mailchimp are as follows:
A. Rich Feature Set
Mailchimp boasts of a rich feature set that includes an intuitive website builder with a powerful drag-and-drop interface, landing page builders for web/social media traffic, and an integrated database, among others.
B. Multivariate Campaign
The tool allows users to test up to eight campaign variations, along with sending improvised emails every time. Apart from this, users can also view the impact of small changes to their respective email campaigns on subscriber engagement.
C. Powerful Website Builder
Mailchimp has a powerful website builder that you can use to build websites for free without coding skills, thus saving a great deal of time, money, and resources.
D. Availability of a Free Version
The free version of Mailchimp includes a range of features, such as an audience dashboard, segmentation, tags, and more.
E. Robust Account Security
Mailchimp offers powerful account security where users can leverage two-factor authentication that includes both Mailchimp's login credentials and a one-time passcode via text message to ensure better system security and authentication.
F. 24/7 Support
Another highlight of MailChimp is the 24/7 availability of a support team and resources, along with unlimited access to various user tutorials and marketing guides.
The platform also offers consistent assistance in areas such as template design and contact management.
ActiveCampaign
ActiveCampaign is another well-known email marketing platform and MailChimp alternative that provides cloud-based marketing services with a range of exciting capabilities such as automation, contact segmentation, reporting, and lead scoring.
Among the key features and advantages of ActiveCampaign are the following:
A. Marketing Automation
ActiveCampaign allows you to use automation to manage almost all parts of your business, including contact onboarding, welcome messages, sales follow-ups, and more.
With a powerful drag-and-drop visual automation builder, ActiveCampaign makes automated marketing much simple and fast.
B. Segmentation
Segmentation is one of the highlights of ActiveCampaign that makes it a market leader in the email marketing space.
The software allows you to easily create specific segments based on a wide range of criteria where you can add multiple conditions, such as location, page views, source, and purchasing behavior.
C. Powerful Support
ActiveCampaign offers round-the-clock support to users with live chat and email support options for all of its paid plans. You can also access phone support in its Enterprise plan.
Overall, ActiveCampaign makes it super simple to get support through the contact us button on the main navigation panel.
D. Advanced Reporting
Another highlight of ActiveCampaign is its advanced reporting. Features such as geo-mapping, website visit trackers, and click mapping are available from the dashboard.
D. Customizable Facebook Ads
The platform allows you to manage Facebook ads and help you decide what your users/customers see and how they will be displayed in their feeds.
E. Free Migration and Support
ActiveCampaign allows for complementary transition from other platforms for new users. Apart from this, the platform offers various tutorials and video instructions to offer support to users.
ActiveCampaign vs. Mailchimp Quick Comparison Table
| | | |
| --- | --- | --- |
| Feature | Mailchimp | ActiveCampaign |
|  Email templates |  10+ |  125+ |
|  Automation |  Offers advanced automation options and multiple automation templates |  Good automation tools |
|  Personalization |  Good |  Advanced |
|  Reporting & analytics |  Good analytics suite |  Advanced analytics suite |
|  Pricing |  Affordable with a free version |  Pricey, but the cost decreases with more subscribers |
|  Support |  Average |  Advanced support options |
|  Ease of use |  Beginner-friendly |  Super simple to use |
MailChimp vs. ActiveCampaign: Pricing Comparison
MailChimp has split its pricing model into three plan ranges, with several additional features available to users for the higher price plans.
Here is the pricing breakdown of the two tools:
| | | |
| --- | --- | --- |
| | Mailchimp (Essentials plan) | ActiveCampaign(Lite plan) |
|  The free plan |  Comes with 500 contacts for free and 2,500 emails per month |  A free plan is not available |
|  style="border: 1px solid rgb(0, 0, 0); border-collapse: collapse;"5,000 subscribers |  Available at $59 |  Available at $99 (discounted yearly plan- $69) |
|  10,000 subscribers |  Available at $87 |  Available at $174 (discounted yearly plan: $111) |
|  50,000 subscribers |  Available at $299 |  Available at $424 (discounted yearly plan: $239) |
ActiveCampaign vs. Mailchimp: Integration with other software
In terms of integration, email marketing with ActiveCampaign offers more than 250 integrations with several business software. This includes:
Salesforce
Typeform
Shopify
Facebook
Google Analytics
Unbounce
WooCommerce
Apart from that, ActiveCampaign also has an API that allows you to integrate the email marketing platform with any other business software.
On the other hand, Mailchimp offers more than 200 integrations to several software in different categories, including content management, e-commerce, and productivity. Among these integrations include:
Facebook
WooCommerce
Canva
Chargify
Eventbrite
ShopSync
PayPal
Acuity Scheduling
Google Analytics
Mailchimp also offers an API to allow you to build your own integrations to software.
MailChimp vs. ActiveCampaign: Which One Should You Pick?
When it comes to choosing between Mailchimp and ActiveCampaign as your email marketing tool, the most important thing to consider is your specific business needs and which tool will be more efficient in getting the job done faster.
Choosing Mailchimp from these two makes sense if you are looking for a free plan with simple and basic features just to start your email marketing efforts.
ActiveCampiagn, on the contrary, makes a great choice if you're looking for aspects such as customization, a detailed view of your subscribers, and automation beyond emails, such as quick website notifications or SMS.
However, if you are looking for an alternative to these email marketing services, the best option you have is MassMailer. An excellent solution for Salesforce CRM users, MassMailer is perfect for surpassing Salesforce CRM email limitations for sending mass emails and building powerful email campaigns.
To know more about MassMailer, start our free trial today.