March 14, 2023
Learn About the Different Salesforce Roles and Profiles
Salesforce Roles and Profiles: What are They, and How Can You Use Them?
Introduction
Salesforce is a revolutionary customer management tool that enables businesses to serve their customers better. It helps manage all consumer data efficiently.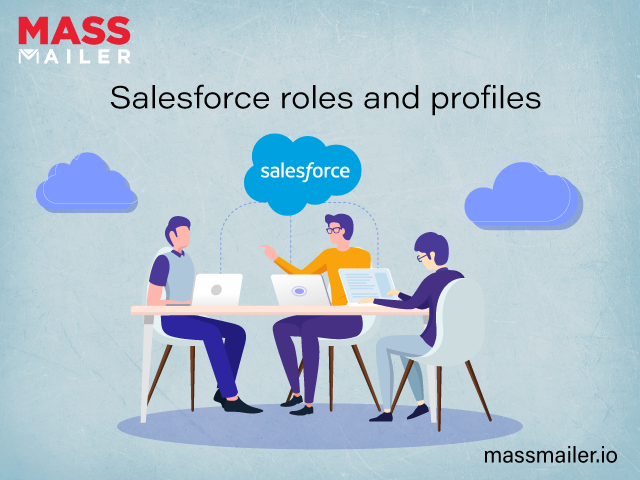 With that said, not all the information and data are open to access for all the employees of an organization – there is a hierarchy and access regulations that need to be followed. This is precisely what Salesforce roles and profiles help you manage.
By setting up roles and profiles in Salesforce, you will be able to control how customer data and various functions of this platform are viewed and used. Let's understand everything there is to know about Salesforce profiles and roles.
What is a Salesforce Profile?
Every organization has different employee profiles, much like there are roles. The objects and data available for perusal in Salesforce depend on the kind of profile a user has and the access parameters set for it.
Salesforce profiles work on the CRED action:
For example, certain employees may have access to Read an object but not Edit it; some users may Edit it to a limit but not Delete it. These are the actions that are dependent on Salesforce profiles.
Every Salesforce profile can be created with a mix and match of these actions depending on the nature of data use intended for it.
Some user profiles require greater functionality with the data and should be allowed to modify it, while others can function just fine with only viewing it.
Some examples of Salesforce profiles are Sales,Marketing, Support, and Administrator. Since Salesforce is a customer solution, the profiles also correspond to the employees' roles in their respective departments.
For example, in the Sales profile, your staff may have different roles, like Sales representative or Sales Manager. Let's move on to understanding Salesforce roles to get a better idea of how this works.
What is a Salesforce Role?
Salesforce objects contain records (data) pertaining to the attributes, classification, segmentation, and categorization done to them. Salesforce roles allow employees access to these records depending on what role they have been assigned.
It is a system of hierarchy that allows control over the records that can be universally viewed across the enterprise, records that are exclusive to the higher roles, private records, etc.
A good example is to consider the role of a sales representative and that of a VP of Sales. The VP of Sales is a senior position, and this role enjoys a greater level of access to the records as compared to sales reps.
While the sales reps can only see their own data, the VP of Sales needs to manage the department and drive efficiencies, for which a greater extent of access to the records is needed.
When configured strategically, roles in Salesforce can help your enterprise manage consumer data well, avoid leaks and breaches, and ensure that all the employees have access to the data they need to work well.
Salesforce roles also allow you to flexibly set the sharing and visibility rules, allowing more control over how data is accessed and used across departments and over the organization.
Difference Between Salesforce Profiles and Salesforce Roles
Although roles and profiles in Salesforce appear to be similar, there are several points of distinction between the two that work to enhance how your organization can manage the data in Salesforce.
The table below highlights just how different Salesforce roles and profiles are.
| | | |
| --- | --- | --- |
| Characteristic | Salesforce Roles | Salesforce Profiles |
| Type of Access | Roles provide access to view the records for users who are permitted to. | Profiles provide access to control the objects and records for users who are permitted to. |
| Structure | Roles follow the structure of a hierarchy. | There are no hierarchies in Salesforce profiles. They are independent. |
| Behavior | Since roles follow a hierarchy, the user with a role higher up on the organizational chart gets a higher level of access to the records. | Since profiles are independent, all the users in a profile get the same level of access to records. |
| Dependency | Roles are dependent on profiles. | Profiles are independent of roles. |
| User mandate | It is not mandatory for all users to have a Salesforce role. | It is mandatory for all the users on Salesforce to have a profile. |
| Data ambit | Roles provide access only to records and fields. | Profiles provide access to objects, page layouts, types of records, apps, and field-level security. |
How to Create Roles and Profiles in Salesforce?
Creating profiles and roles in Salesforce is a straightforward job. Follow the steps detailed below to get started:
Creating Salesforce Roles
Launch Salesforce, and navigate to the Setup icon in the top right corner.
In the left sidebar, you will see "Users" – click on it.
In the drop-down menu that appears, you will see "Roles" – click on it. A page showing roles will appear. On the bottom right corner, locate "Set Up Roles" and click on it.
Click on "Add Role" on the screen that appears.
On the subsequent page that appears, enter the role label, the name, access, and other parameters for the new role.
Once this is done, save your new role.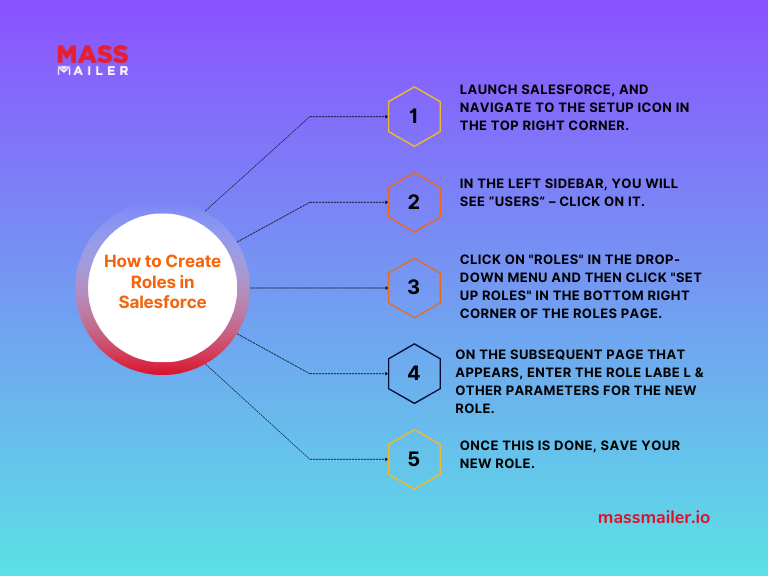 Creating Salesforce Profiles
In the same place where you found Roles in the Users drop-down, you will also locate Profiles. Navigate to that section and click on "Profiles."
In the screen that loads, locate "New" and click on it.
The interface will then ask you to determine the profile you are creating, the license for it, and the name of the new profile. Enter all of these details.
Once done, save the new profile.
Wrapping Up
Salesforce roles and profiles actually work together – for example, a Marketing profile in Salesforce would have various roles like Marketing Manager, Marketing Analyst, etc. Depending on these roles, the accessibility of the records would be set for the objects in Salesforce.
Knowing how to work with these Salesforce features helps drastically improve the suite's functionality for your enterprise. You can also consider adding bulk email functionality to Salesforce using MassMailer to enhance how various teams in your department interact with consumers.
MassMailer is a Salesforce-native bulk email solution that helps you streamline your campaigns and reduce the steps between creating and sending emails to consumers. To understand just how well MassMailer can help you, get on a trial today.