Marketing Automation Tools: What Is Pardot Used For?
Siva Devaki
2023-01-15T16:41:21+00:00
Marketing Automation Tools: What Is Pardot Used For?
October 16, 2022 | by
Marketing Automation Tools: What Is Pardot Used For?
A large part of any business's growth depends on how successful it is in getting new clients and retaining the old ones. However, the process of nurturing leads can take a lot of time, effort, and resources.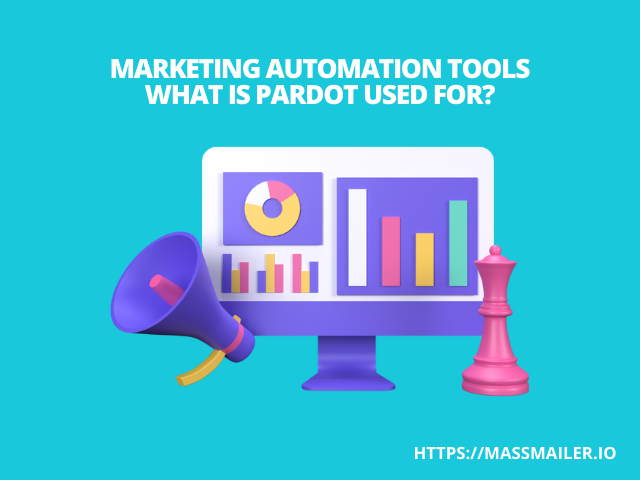 One of the excellent solutions here is marketing automation software – a tool that helps you seamlessly automate all of your marketing tasks and effectively measure the overall success of your campaigns.
Data also suggests that over 80% of users leveraging marketing automation were able to increase their leads and conversions successfully.
While a number of marketing automation software are available out there, one of the most powerful ones dominating the market today is Salesforce Pardot.
This blog explores the various aspects of Pardot, including what Pardot is, how it works, what it is used for, and more, to help organizations leverage this intuitive tool with a minimal learning curve.
What is Salesforce Pardot?
Pardot (also known as Salesforce Marketing Cloud Account Engagement) is a great option for Salesforce customers looking for a powerful B2B marketing automation tool.

Apart from being well integrated with several Salesforce core functions, Pardot is also known for its affordable pricing plans that make it easily accessible to an increasing number of users and organizations.
At its core, Salesforce Pardot is a marketing automation and lead generation tool to help marketers identify prospects and convert them into real customers.
Pardot is used for a range of purposes, including routing leads to sales, analyzing prospect activity, creating automated marketing campaigns, and guiding prospects through their end-to-end buying journey.
One of the other key highlights of Pardot is that it considers each prospective customer as an individual while they undergo their buying journey with your organization, products, and services.
What Do You Get With Pardot?
Pardot is a powerful tool that allows you to automate mundane, time-consuming marketing tasks so that you can focus on other strategic tasks.
Based on the specific requirements of the business, organizations can use this B2B marketing automation tool for the following purposes:
A. Lead Generation
With Pardot, you can use various marketing tools such as lead capture forms, landing pages, and form handlers to bring in a steady flow of prospects. The tool simplifies the overall process of high-quality lead generation.
Apart from that, it also offers key statistics about keyword performance and organic/paid search, thus allowing you to analyze them and improve your SEO efforts in the best possible manner.
B. Prospect Segmentation and Management
Pardot allows you to effortlessly segment your prospects with lead grading (ones who are of interest to your organization) and lead scoring (ones who are interested in your products/services).
Moreover, using Pardot, you can easily discover and segregate prospects and customers who are engaging with your content the most and connect with them on a personalized level.
C. Email Marketing
You can use Salesforce Pardot to create, schedule, and send personalized emails to your prospects. Pardot enables you to perform all your email marketing campaigns efficiently and effectively.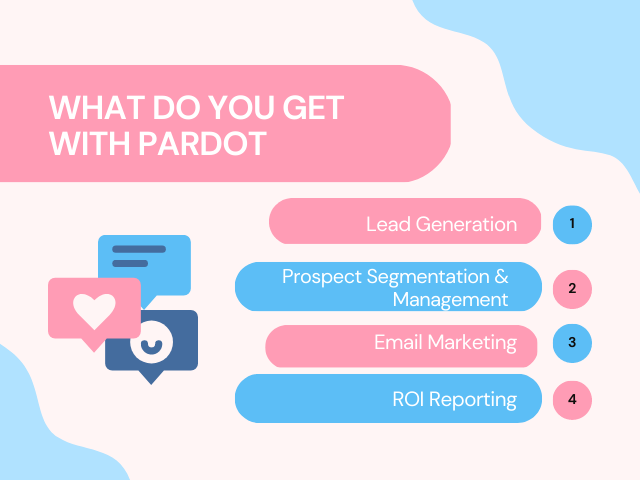 With an intuitive, visual, and user-friendly email builder and Pardot email templates, you can build excellent and responsive emails customized as per your customers' requirements.
Further, Pardot has several useful features, such as a schedule option, autoresponder, and a visual nurturing canvas to automate the customer engagement process.
D. ROI Reporting
One of the best Salesforce B2B marketing automation tools, Pardot allows you to analyze the impact of your overall marketing and sales efforts on business revenue.
It helps you engage in different types of reporting, such as ROI reporting, advanced email reporting, and lifecycle reporting.
Apart from this, Pardot lets you connect the various marketing tools you use and effortlessly manage interaction with customers across channels.
Advantages of Salesforce Pardot
While Salesforce Pardot offers a range of benefits to businesses, everything comes down primarily to cater to the following areas of marketing:
Sales Lead Generation
Sales Lead Management
Return On Investment (ROI) Reporting
Sales Alignment
To this end, some of the key benefits of Salesforce Pardot are:
a. Helps you estimate the accurate ROI of all the marketing campaigns put together with intelligent reporting and allows you to gain deeper business insights to enhance your marketing efforts further.
b. Offers a comprehensive view of the organization's overall sales and marketing efforts to help you identify where exactly your prospects are dropping off in the sales funnel.
c. Gives you the opportunity to connect with both prospects and actual customers on a personalized level and help optimize efforts using a range of features such as A/B testing.
d. Helps you effortlessly align and integrate your sales and marketing campaigns to nurture leads effectively.
Pardot Pricing 
Salesforce Pardot has various marketing automation plans to cater to different business needs, as mentioned below:
| | | |
| --- | --- | --- |
| Plan | Pricing | Features |
| Pardot Growth Plan | Available at $1,250/month | The plan contains all the basic features, including email marketing tools, ROI reporting, and more. Besides, you can also integrate Pardot Growth with your native CRM. |
| Pardot Plus plan | Available at $2,500/month | The Pardot Plus plan covers all the features of the above plan and much more. |
| Pardot Advanced plan | Available at $4,000/month | Salesforce Pardot Advanced is another popular plan that contains all the key features. |
| Pardot Premium plan | Available at $15,000/month | It is one of the most premium Pardot plans with a comprehensive set of features. |
To Summarize
Today, B2B marketers worldwide spend a huge chunk of their budget on marketing automation tools. It helps them increase their revenue and qualified leads, improve their lead nurturing tactics, and more.
Pardot marketing automation developed on the Salesforce CRM platform is one of the best marketing automation tools that can help you manage your marketing and sales processes efficiently. Leveraging its capabilities, you can increase customer engagement, unify the view of customer data sources, and improve your overall marketing activities.
For Salesforce customers, MassMailer is another powerful and trusted solution to send emails on Salesforce, acquire leads, verify emails, and contact databases. It is the one-stop solution for all your email and prospecting needs, irrespective of which industry you belong to.
Learn more about the benefits of MassMailer by starting your free trial today.