What Is HubSpot? | Guide to Inbound Marketing
Siva Devaki
2023-04-16T10:19:49+00:00
What Is HubSpot? | Guide to Inbound Marketing
November 1, 2022 | by
What Is HubSpot and How Can It Help Your Business?
For any inbound marketing strategy to be successful, the importance of having the right set of tools is immense. In the absence of this, your information can be distributed across multiple websites, requiring you to manually manage the leads.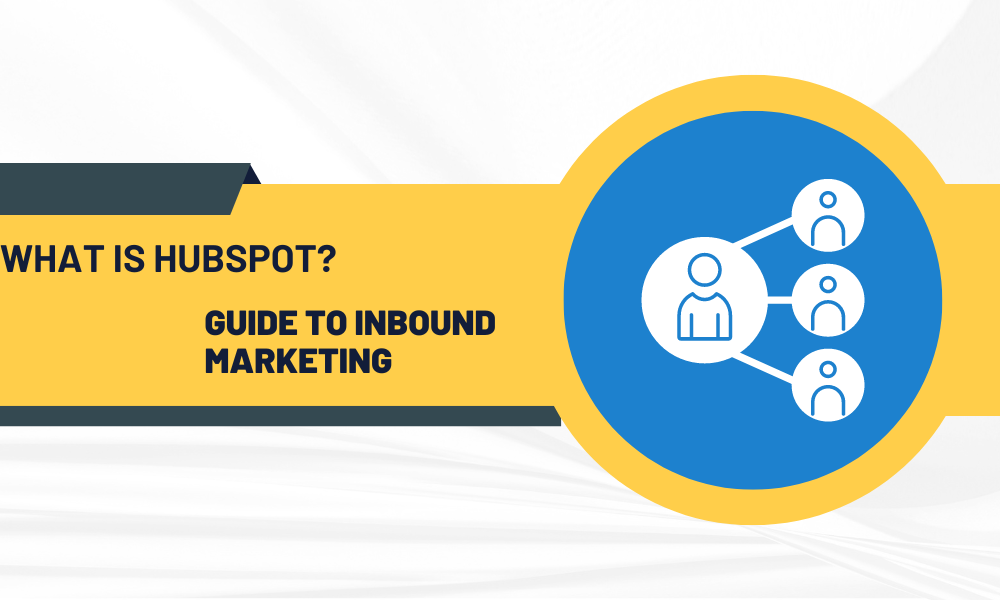 This could waste several productive business hours that otherwise could be used for other strategic tasks. HubSpot is an excellent tool to help you navigate this challenge and fuel your inbound marketing tactics.
As a powerful marketing, sales, and customer relationship management software, HubSpot allows you to accelerate your business's growth by utilizing all three aspects and integrating with multiple different applications and third-party programs.
In this post, we explore what is HubSpot CRM and how it can help your business's digital marketing strategy. Let's begin.
What is HubSpot?
HubSpot is an inbound marketing and sales software that helps businesses in multiple areas, such as attracting visitors, converting leads, and closing deals.
As a leading sales, marketing, and customer service software company, HubSpot helps companies generate leads, maximize sales and grow with time.
The software offers a range of resources to achieve these objectives, including the four main Hubs (to be discussed later).
How Does HubSpot Work?
HubSpot works primarily by being connected to the organization's website. Using the many tools that it has in its Hubs, the software help attracts, engage, and delight leads and customers. This is accomplished by:
Using the platform to create optimized website content
Driving the traffic to the website
Converting the traffic to leads, nurturing the leads into customers, and offering exceptional customer support.
The best part is that HubSpot is a cloud-based CRM technology. This allows users in an organization to utilize the platform from anywhere, anytime.
Who is HubSpot for? 
HubSpot, owing to its wide set of tools, can be useful for anyone running their own business or working as a marketing or sales personnel.
Some of the examples of who uses HubSpot include:
Salespeople who wish to identify prospective leads to enhance sales
Marketing personnel who wish to assess the performance of their marketing campaigns
Customer service professionals who want to follow up and act on customer issues quickly
Why Should You Use HubSpot for Your Business?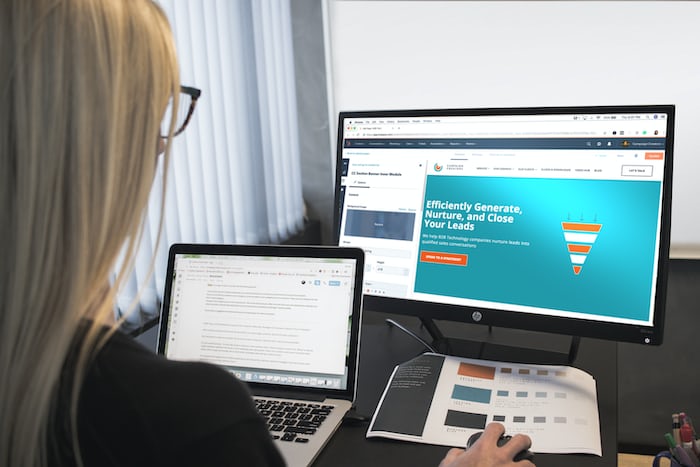 Here are some of the reasons why you should use HubSpot for your business:
a. Ease of Use 
The platform was built from scratch to create an easy and seamless user experience.
Being built specifically for inbound marketing ease, HubSpot gives you a unified experience across all its four main hubs. This ease of use and seamless adoption results in better business insights and satisfactory customer experiences.
b. Quick Growth
As one of the best CRM platforms out there, HubSpot has grown tremendously in recent times. The platform works as per customer requirements, thus reaching the top within no time.
c. Consistent Support 
With HubSpot, you can get the most out of your CRM implementation by conveniently accessing the wide array of resources available in HubSpot Academy and a massive online community.
Core HubSpot Hubs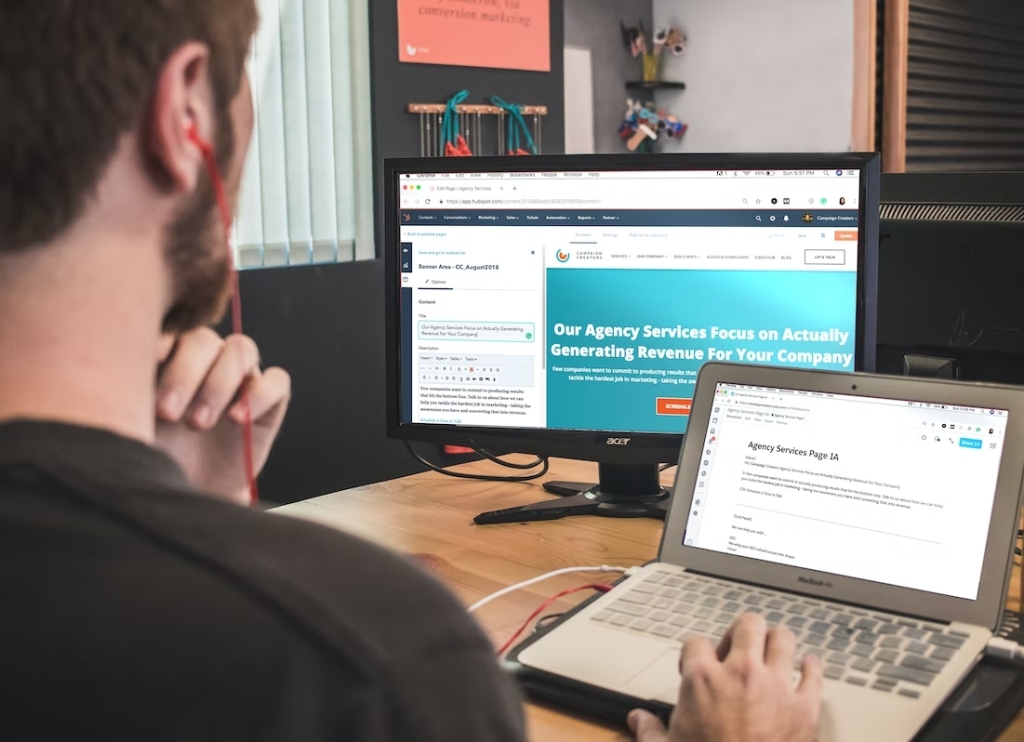 The four main functions of HubSpot are known as Hubs, and each of these Hubs comes with its suite of tools discussed below:
1. HubSpot Service Hub 
As the name indicates, HubSpot's service hub revolves around customer service. It has everything you need to support your customers and create a seamless experience for them.
Some of the main HubSpot service tools include:
Robust knowledge base support
Easy to access and streamlined helpdesk
1:1 video messaging, live chat support
Detailed customer feedback surveys
Conversational intelligence features
Reporting and analytics to assess customer satisfaction and team performance
2. HubSpot Marketing Hub 
HubSpot's marketing hub allows you to boost your website traffic, increase conversions, and display the ROI.
It is an all-encompassing tool that allows you to automate the time-consuming processes of segmenting, nurturing, and qualifying your leads within the HubSpot CRM.
Some of the main HubSpot marketing tools include:
Lead capturing forms
Live chat support and chatbots
Email automation
Lead nurturing
Lead scoring
Lead qualification
Audience segmentation
3. HubSpot Sales Hub 
Similar to HubSpot's marketing hub, the sales hub gives businesses the advantage of various advanced tools, such as automating different processes based on your sales pipeline.
Some of the main HubSpot sales tools include:
Detailed sales dashboards
Automated email sequences
Managing multiple sales pipelines at a time
Integrated emails
Account-based powerful marketing tools
Task management
Centralized view of prospects
4. HubSpot CMS (Content Management System) Hub 
CMS hub is the latest addition to the HubSpot team that allows you to manage your website while making the most of the various inbound marketing tools the platform offers.
It's primarily content management software that has something for everyone and offers a customized, safe experience for customers.
Key HubSpot CMS tools:
Build and maintain custom website pages and SEO recommendations
Multi-language content creation, Drag-and-drop editor
Contact attribution reporting
Adaptive testing
To Conclude
Inbound marketing has proven to be one of the most effective options in the business world. Yet, many companies hesitate to use it because of concerns about having to use different software and/or applications simultaneously.
HubSpot helps marketers effectively navigate these challenges and simplify their inbound marketing efforts. As one of the best marketing platforms, it consolidates all your current sales, marketing software, services, support systems, etc., and puts everything into one place, on one platform.
If you are looking to maximize and simplify your inbound marketing efforts, HubSpot is your single-stop solution to help you grow your business and delight your customers.
Further, if you are looking for a robust email solution for Salesforce CRM, MassMailer is an excellent choice. The platform enables you to send unlimited emails and email alerts, verify mailing lists, start drip campaigns, build email templates, and more using the Salesforce-friendly interface.
To learn more about MassMailer, get on a free trial today.