October 5, 2023
Salesforce Licenses: Everything You Need to Know
Salesforce is the leading CRM in the market today. In fact, according to IDC, Salesforce commands 23% of the market share in 2023. The company has earned the top spot for the 10th consecutive year, making it extremely competitive in the niche.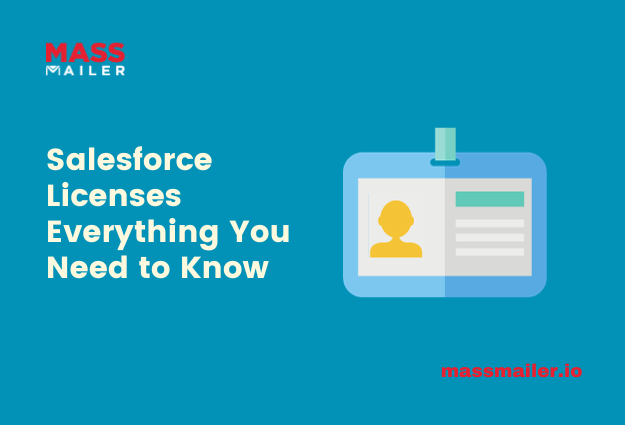 With that said Salesforce does have a plethora of different licenses that equip users with different types of accesses and capabilities depending on the nature of their business needs.
Each type of license has a different set of features and controls. Through this article, let's break down the significance of Salesforce license types for better understanding.
Salesforce License Types
Before getting into the details of Salesforce licenses, let's get the basics sorted out first – the difference between Salesforce Editions and Salesforce Licenses.
Salesforce Edition is the version of the platform that your enterprise has purchased. It comes with its own set of products and features that can be accessed by the users.
On the other hand, Salesforce licenses are user-specific and correspond to the organizational hierarchical structure and control the access to specific features or products depending on the role/designation of the user.
1. User License
As the name suggests, these licenses are provided to Salesforce users to give them access to features. One user can only have one user license.
These licenses allow the organization to determine data access and permissions for each specific user on Salesforce. For example, a sales executive would have a different set of access than a marketing lead.
2. Feature License
Feature licenses can be considered as an extension of the user license.
In case an organization wishes for employees in specific roles to have access to a Salesforce feature not originally included in their Salesforce User License, a feature license can be leveraged that allows them to access that particular feature (or a set of features.)
3. Platform License
If you are running either the Enterprise or the Unlimited edition of Salesforce, you would have to understand what Platform licenses are. These licenses include access to Accounts, Reports, Contacts, and other features of automation like Apex and Flow.
Salesforce platform licenses are most suitable for employees who require access only to Salesforce custom apps and not the entire functionality of the CRM platform. It allows flexible access to handy Salesforce apps while restricting access to the core features or functionalities that may have no relevance for specific job roles.
The Platform Starter license provides access to 10 custom objects, while the Platform Plus offers access to 110 custom objects.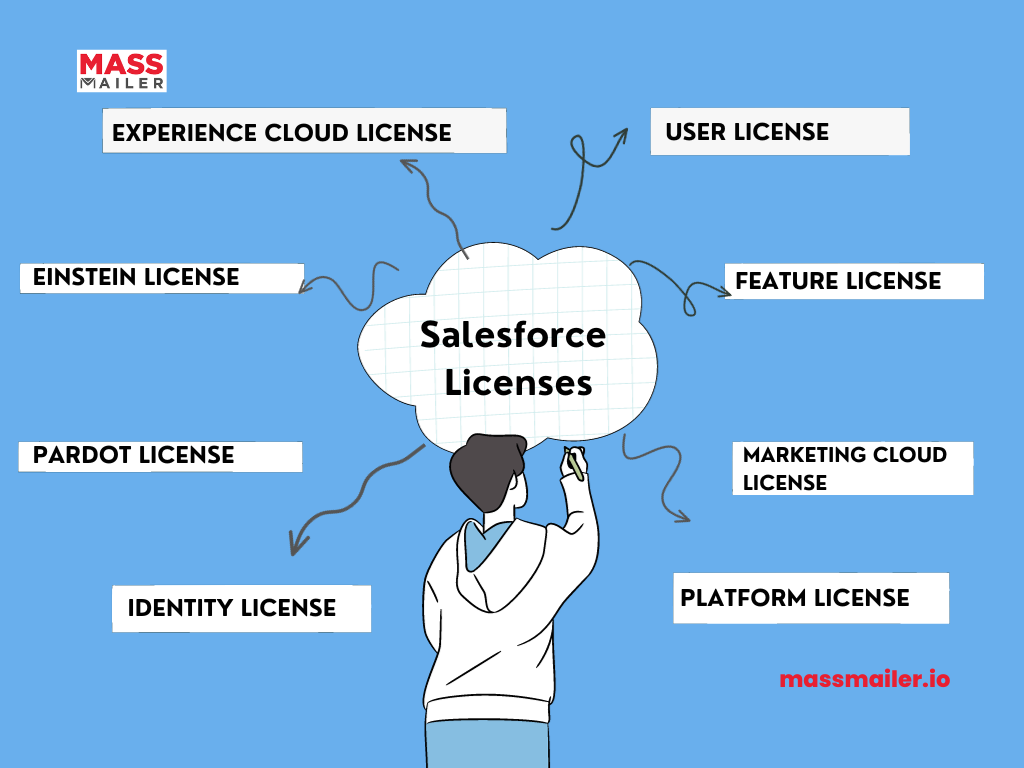 4. Identity License
Before getting on to Identity licenses, it is important to understand what a Single Sign On (SSO) is. SSO login credentials are a single set of credentials that enable users to access multiple apps within the same ecosystem.
A Salesforce Identity license is a type of SSO that allows non-Salesforce users to access specific functions inside it – for example, Pardot. This app requires users to mandatorily log in to Salesforce before they can access it.
However, for job profiles that don't need to have full access to Salesforce, they can access Pardot and all its features conveniently using an Identity license.
5. Einstein License
Salesforce Einstein is a revolutionary AI-powered layer of advanced technology that is enmeshed in most of the features and products inside Salesforce, its apps, and editions. It is thus difficult to classify with specificity what Einstein licenses provide to the users.
However, depending on the features, products, and services of Salesforce enabled in your organization, Einstein licenses may or may not be automatically included.
For example, you get Einstein Search and Opportunity Scoring by default if you have Salesforce Enterprise Edition (or higher).
If you have the Salesforce Unlimited edition, most of the Einstein features will be automatically accessible. If you need Einstein features with lower editions of Salesforce, there is a fee for every feature.
6. Salesforce Experience Cloud License
Salesforce Experience Cloud is basically a portal for external users (users not belonging to your organization, like your clients or associates). Also better known as a Community License, this enables external users to take a peek into your brand.
There are several types of Community licenses that your organization can leverage for better control and branding:
Customer community and Customer community plus

Channel license

Partner community license

External app license
Each license type allows a different set of external users access to your organization's Salesforce org and with a different set of accesses and controls.
7. Pardot License
Pardot license can be considered as an add-on to your Salesforce Edition. In simpler terms, one Pardot license will fetch you access to the app for as many users as required by your organization with a single purchase.
There are, however, certain exceptions to this license. The exceptions are:
This license is not applicable to non-Salesforce users who can leverage an Identity license to access Pardot.

The B2B Marketing Analytics requires separate licenses specific to each user – the Pardot license will not apply to them.
For every other user aside from the ones mentioned above, a Pardot license can be used to access this app.
8. Marketing Cloud License
It is tricky to understand the licensing pattern for Marketing Cloud. This is because this suite is available in five variations (or bundles) – and each variation has its own Editions.
Depending on the variant and the edition you have purchased, the Marketing Cloud license works similarly to the Pardot license – only one license is required per edition of Salesforce.
Depending on the variant and edition you subscribe to, the license would fetch a different set of accesses and controls.
Wrapping Up
Salesforce org is a massive ecosystem that helps organizations streamline a major part of their customer-centric operations. This inherently makes it a complex platform with respect to licenses and their functionality.
Leverage this blog to understand how each license works differently and which type of licenses your organization can benefit from acquiring.