October 30, 2023
Learn Salesforce Flow With These 9 Trailhead Badges
Salesforce Flow stands out as a heavily invested no/low-code automation solution. Simply put, it is a workflow automation tool that you can use to build complex business processes without having to write down a single piece of code.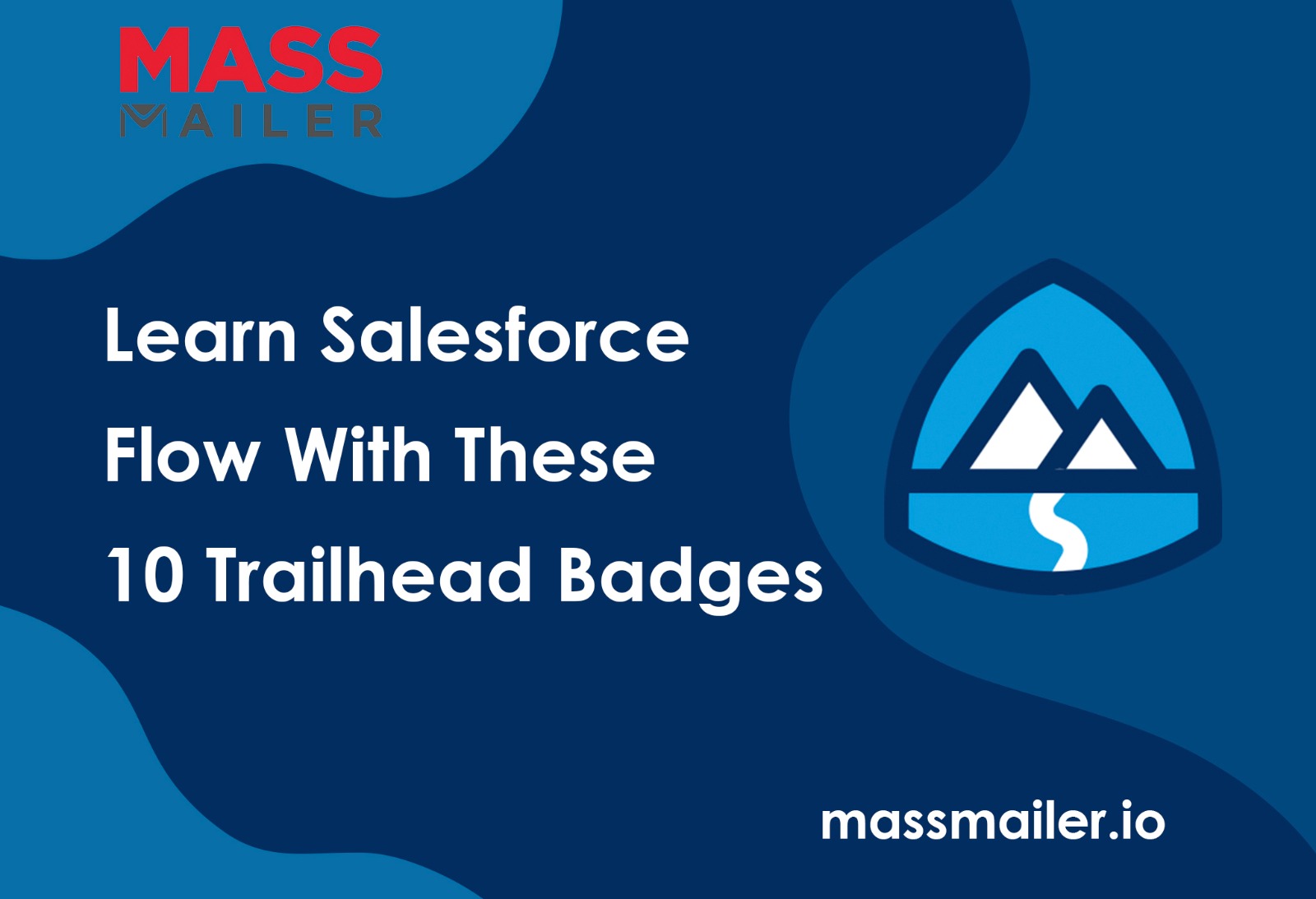 In this regard, note that the know-how of Salesforce Flow is going to be in heavy demand in the upcoming years. This especially stands true because workflow rules and process builders are due to be retired by the winter of 2024.
Ready to dive into Salesforce Flow? We've got you covered. In this post, we will explore nine trailhead badges you need to focus on achieving to start working toward mastering Salesforce Flow.
Read on!
9 Trailhead Badges to target to learn Salesforce Flow
Trailhead is a free learning platform that Salesforce has been operating since 2014. It is a place to learn all things Salesforce, and these are the Badges you need to earn to learn Salesforce Flow. 
Below are the nine Trailhead badges that are essential for mastering Salesforce Flow:
1. Flow Builder Basics
As the name suggests, the Flow Builder Basics is the first module you must complete to start your Salesforce Flow learning journey. It is broken down into four sections. 
Get started with automation.
Go with the Flow
Meet Flow Builder
Learn about Flow variables
A good 45 minutes is all you will need to cover this module.
2. Data Actions And Flows
Once you have the basics covered, The Data Actions and Flows module should be your next stop. This module covers how to use data and action in Salesforce Flow to automate business processes using Salesforce records. This module is broken down into:
Work with Salesforce records in Flow
Combine variables and data elements
Communicate using the action element
Make the most of global variables and actions
You will need to set aside about 2 hours to get through this module and earn the Trailhead Badge. 
3. Flow Builder Logic
The Flow Builder Logic Module builds on the knowledge you have gained from the previous ones and shows you how to add more complexity and flexibility to your flows. This module covers the following:
Define multiple paths in a flow
Set and change variable values
Calculate values in variables and formulas
Run a flow within a flow
Route and reorder Flow elements
You will need about 2 hours and 10 minutes to cover this module post, in which you will be able to handle different scenarios, manipulate data, invoke other flows, and organize your flow elements more efficiently.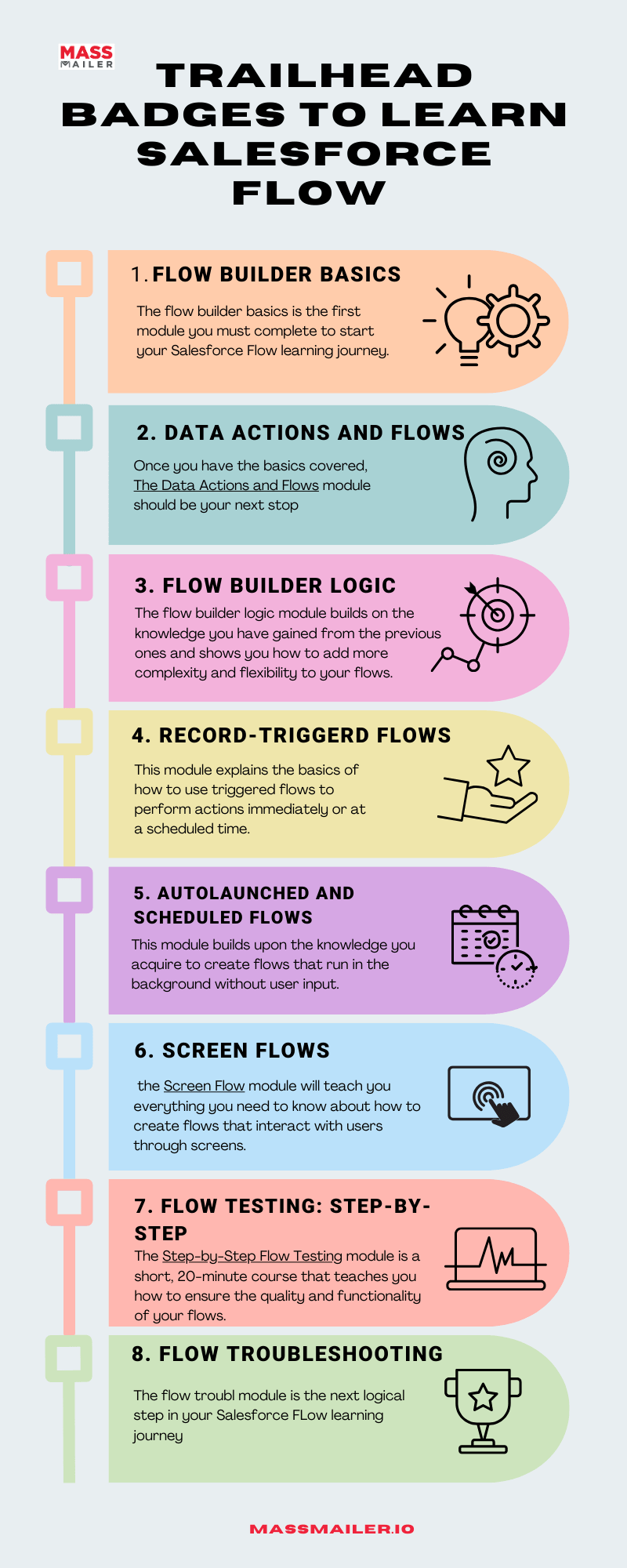 4. Record-Triggerd Flows
This module explains the basics of how to use triggered flows to perform actions immediately or at a scheduled time.
You will have to cover the following sections to earn this badge and should be able to do so in about 70 minutes.
Get started with triggered flows
Build a record-triggered flow
Add a scheduled task to your flow
Meet Flow Trigger Explorer
5. Autolaunched And Scheduled Flows
The  Autolaunched And Scheduled Flows module builds upon the knowledge you have acquired thus far and teaches you how to create flows that run in the background without user input. It is divided into the following sections:
Get started with auto-launched flows
Build an auto-launched flow
Run an auto-launched flow from a Custom Button
Schedule a flow
You will have to set aside about 1 hour and 45 minutes to earn this badge, and once you do, you will also know how to will also learn how to use input variables, custom buttons, and scheduled paths in your flows.
6. Screen Flows
While the previous module focussed on screenless flows, the Screen Flow module will teach you everything you need to know about how to create flows that interact with users through screens. It covers the following sections:
Get started with screen flows
Build a screen flow
Give users a choice
Add more options to your screens
Improve the look and feel of your flow
Upon earning this badge, you know how to use screen elements, components, themes, and validation rules in your flows.
7. Flow Testing: Step-By-Step
The Step-by-Step Flow Testing module is a short, 20-minute course that teaches you how to ensure the quality and functionality of your flows. It tells you everything you need to know about
How to test your flows in different scenarios
Distribute your flows to the right users
Debug your flows when problems arise and
Monitor your flows for improvement.
8. Flow Troubleshooting
The Flow Troubleshooting module is the next logical step in your Salesforce FLow learning journey. Until the previous badge, you learned how to test your workflows; this module focuses on troubleshooting them. It is divided into the following sections:
Review Flow terminology and sign up for a special org
Fix access issues in a flow
Fix issues caused by a null value in a flow
You will need about 45 minutes to earn this badge. Once you do, you will know how to use the debug mode, the debug log, interpret the flow interview report, the flow usage report, and the flow performance report to find and fix errors in your flows.
9. Use External Services With a Flow
This module takes things up a notch and teaches you how to use external services, which are a declarative way to connect to any REST-based web service without writing code. It is broken down into the following sections.
Register an external service.
Access external business actions
Create a flow using external service actions
Earning this badge will now make you a master of able to use external services to access business processes and data from other applications and systems within your flows, along with how to use named credentials, API specifications, and external service actions in them.
Summing It Up
Salesforce Flow is the future of workflow automation and is a must-have skill for Salesforce professionals. If you're new to Salesforce Flow or if you want to learn more about the platform, these 9 Trailhead badges are a great place to start.
Once you master the basics of Salesforce Flow, you might want to implement workflow automation in a number of different ways.
If you are looking for a reliable email marketing solution for Salesforce that helps you send unlimited emails, track results, and create email drip campaigns, MassMailer is here to help. With it, you can not only save time and effort but also enhance your marketing strategies by integrating Salesforce Flow with email campaigns.
Sign up for a free trial today!