April 14, 2023
ConvertKit vs ActiveCampaign: Choose the Right Email Marketing Services
Find Out If ConvertKit vs ActiveCampaign Are Best for You
Did you know that email marketing has an ROI of 3600%?
For every dollar you spend towards this campaign, you earn $36 in return. It is no wonder that businesses tirelessly research to get the best email marketing solutions on board. In order to tap into this metric and benefit from it, though, mere research isn't enough.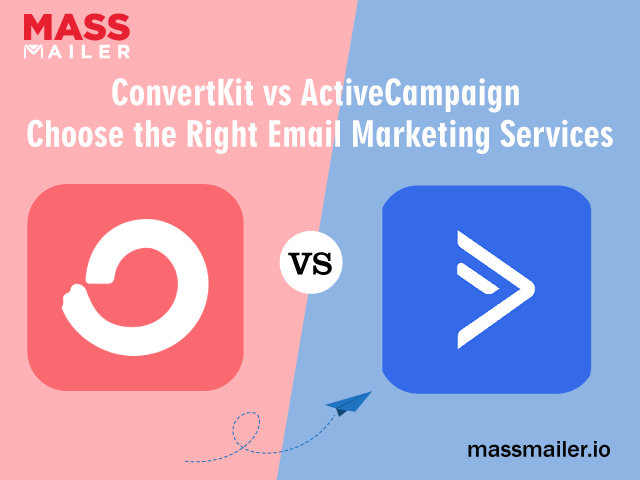 You need to compare various tools not just on the basis of the features they provide but the quality and scope of those features as well.
In this blog, you will understand the differences, similarities, and highlights of ConvertKit and ActiveCampaign – the two popular email tools on the market today.
Overview: ConvertKit and ActiveCampaign
Amongst the most popular tools on the market for email campaigning is ActiveCampaign – a platform that has been hiding in the shadows for over a decade.
They have re-emerged with a new load of efficient tools and amazing functionality, getting them a 250% increase in users and an almost similar hike in their staff.
The newer email lists and campaign features seem more inclined towards the eCommerce industry, supporting features like lead scoring and funnel progress. You could almost say that ActiveCampaign has transformed into a multiutility marketing solution with a focus on email.
All in all, ActiveCampaign is better today than it was before.
On the other hand, ConvertKit has a completely different spectrum of operationalizing its features for the modern business.
It is a fairly new email marketing tool with a team that works remotely across 17 countries. The solutions they bring to the table are extremely niche-specific, targeting professional bloggers and their email lists.
They make their niche known fairly well, so unless you are a professional blogger yourself, it remains to be seen of what utility this email marketing tool would be for you. However, given that it can handle emails and lists, there should be something for the start-up, right?
Feature Face-off
Let's dive straight into the feature comparison of ConvertKit vs ActiveCampaign. Some of the major features that these tools offer are automations, registration forms, and integrations.
Discussed below are the factors you should consider between the two tools to empower your business or start-up with the right email marketing tool.
1. Ease of Use
Adopting a new software or solution is never easy – which is what makes ease of use the prime consideration for making a selection. It helps reduce downtime and inaccuracies.
ActiveCampaign, being the more feature-rich option between the two, offers a full menu of options that gives you more to navigate. That, however, makes ConvertKit relatively easier to use with its niche-specific features.
With that said, ActiveCampaign does offer a drag-drop editor making things simple for the user. This isn't available with ConvertKit, which takes a slightly different approach with its twin editor mode with plain text and some content options. It is a bit dated when you want to quickly put together a good email.
2. Design and Flexibility
In terms of email design and flexibility, ActiveCampaign wins the round with over 125 responsive email templates that allow coding in HTML as well. They are easy to customize to business branding. In case you don't want to design a branded mail, someone from ActiveCampaign can do it for you as a service.
On the other hand, ConvertKit is agonizingly basic with only three templates that are limiting and difficult to customize. This makes it extremely difficult for businesses to use.
3. Email and Automations
Both the tools offer email automation capabilities that are good. ConvertKit allows you to create automated, segmented email campaigns using tagging and conditional rules. Their automation workflows are easy to understand and use, so that is a plus.
With that said, ActiveCampaign provides a more robust and holistic email automation setup that is oriented towards business use.
From setting up follow-up emails and cart abandonment reminders to subscriber tagging – you get the full deal. Despite being loaded with automation features, ActiveCampaign automation is pretty easy to set up.
4. Registration forms
Both ConvertKit and ActiveCampaign offer registration forms. You will find four types of forms with both tools – the only difference is that only ConvertKit provides them templatized. With ActiveCampaign, you would need to work with the formatting options provided to customize it for use.
This makes ConvertKit a good option (since there is less work to do with templates), however, ActiveCampaign does provide a plethora of easy-to-incorporate custom fields which saves more time than it takes.
If your registration forms are going to be basic, ConvertKit is the answer. If not, choose ActiveCampaign.
5. Testing
When it comes to checking for email deliverability, testing assumes high importance. ConvertKit doesn't give you any spam or testing tools. It does let you preview your emails before they go out – however, as a business, you would require more reliability than just that.
ActiveCampaign, on the other hand, does provide basic testing that is dubious at best. The catch is that you will be charged a fee for every test per client.
It is safe to say that neither of these tools really do much for email testing.
6. Support and Price Point
For all the problems with testing and templates with both the tools, they do provide good support, no matter which tool you choose. ActiveCampaign goes a bit further by offer three one-on-one sessions for training – but that is with the Professional plan.
ActiveCampaign provides a free trial, and its basic plan begins at $29 per month per user. On the other hand, ConvertKit is much more economical starting at $9 a month and a free plan.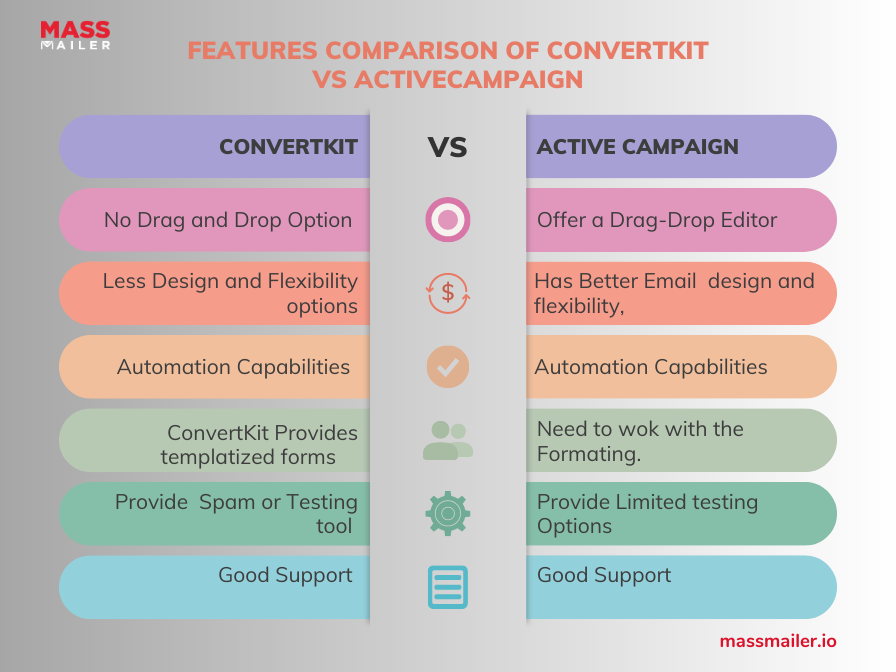 The Best Email Marketing Tool for Your Business
It is evident that ActiveCampaign is best suited for use by businesses with a host of useful features and time-saving capabilities. If you are planning to expand your operations in the future, this should be your choice.
n the other hand, for professionals who plan on remaining bloggers or content masters, ConvertKit provides an economical and quick email solution that has everything they would need.
If you would rather go with a scalable solution that grows with your business and provides stellar integration capabilities, consider MassMailer instead.
This is a Salesforce-native bulk email platform that allows you customizations, reporting, automations and a collection of other useful features for powering up your campaigns. To know more, get on a trial today.
To know how you can benefit from MassMailer, get on a trial today.