MARKETING, SALES March 24, 2023
Explore iContact Reviews From Real People (2023)
one of the well-known email marketing software companies available in the market today, iContact remains a preferred service provider with some excellent offerings for successful email campaigns.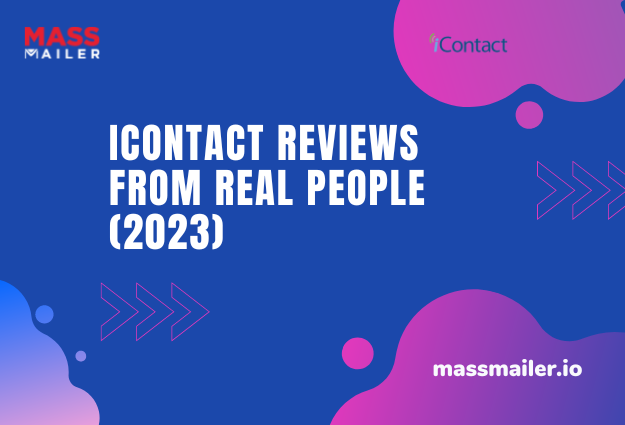 A simple and easy-to-use email marketing solution, iContact allows you to easily build and track an effective email campaign, complete with surveys, autoresponders, a drag-and-drop builder, and more.
This post aims to share iContact reviews from real people (2023 update) to help you make an informed decision if you wish to invest in iContact or an alternative.
About iContact
iContact is a web-based email marketing service that helps small and mid-sized businesses strengthen their email marketing efforts, engage with their customers and grow their bottom line.
Among some of the key features of iContact are the following:
Features a range of exciting  solutions, including list management, campaign management, email design, landing pages, segmentation, and automation.
The platform allows businesses to develop and manage their email campaigns all from within a single solution.
Intuitive interface with a customer-friendly dashboard that enables you to conveniently monitor all your campaigns.
Robust features include scheduled message delivery, customizable email templates, and split A/B testing.
Other Highlights Of iContact
Among the other highlights of iContact are the following:
A. Drag-and-Drop Editor
The iContact platform has a robust drag-and-drop editor that is specially designed to make it easy to customize email templates to your company's unique needs.
B. Automation Features
iContact's Pro plan uses the power of marketing automation to strengthen your email campaigns.
Individualized workflows in the platform allow you to target your customers with the right content at the right time based on aspects such as activity, customer type, and geography.
C. Help and Support
iContact offers robust help and support in the form of personal advisory services, webinars, chats, and more to assist prospective customers in understanding their email marketing application better.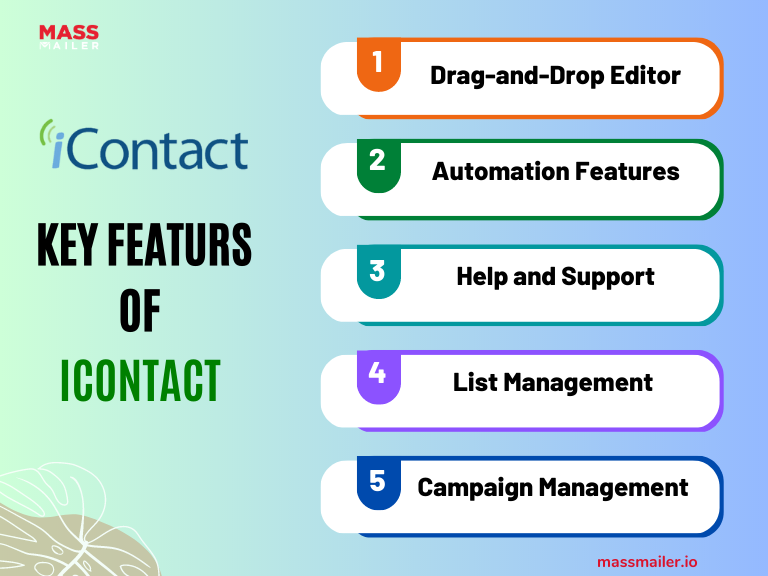 iContact Pricing
Similar to other email marketing tools, the subscription fee of iContact is based primarily on the number of contacts in a business's marketing database.
Here are the highlights of iContact pricing
The pricing of the iContact platform begins at $15 per month for 500 subscribers or email contacts.
If you sign up for an annual plan, the pricing comes down to $12.75 per month in the base plan.
The Pro plan for iContact starts at $28 per month (or $23.80 on a yearly subscription)
Top Reviews of iContact By Real Users
1. Reviewer – Senior Software Analyst of an IT firm
Firm Size: 50M – 250M USD
Deployment Architecture: On-premises

Review Source – Invited by Gartner (email, event, account rep) Community Guidelines
Review summary – "iContact is quite a useful tool for our email marketing needs. The platform is especially helpful for users who do not have advanced computer or email skills to implement basic campaigns within this platform. By simply signing up and taking a brief tour of its features, you can create good email campaigns relatively easily".
Things you like about iContact
Friendly customer service
Excellent tools to manage subscribers and classify them into groups for different purposes
Availability of various content blocks to create your own personalized emails.
Things you did not like about iContact
While the tool is quite easy to use, flexible, and manageable for any user, some features could be implemented, such as multiple logins so that two people can work on things at the same time
2. Reviewer – Senior Data Analyst of an IT services firm
Firm Size: 50M – 250M USD
Deployment Architecture: On-premises

Review Source – Invited by Gartner (email, event, account rep) Community Guidelines
Review summary-" iContact is a powerful full-service email marketing company offering services at a lower cost. Apart from providing good basic tools to check the spelling, the platform also has a built-in spam checker.
There are also preview options for mobile devices and computers that are relatively accurate. The tool is quite easy-to-use with a friendly interface and robust tools to facilitate email marketing management and customer channeling".
Things you like about iContact 
Powerful integration with social networks
The ease of creating solid email marketing campaigns and executing them
Easy generation of personalized reports and easy scheduling, changing, or updating of emails as needed
Ease of reusing and updating templates
Continuous development of new features and availability of discounts to non-profits
Easy-to-use message builder with simple and straightforward contact management
Things you did not like about iContact
The platform does not have the ability to handle light background images
Templates available are limited
Sometimes the formatting and fonts change from the previews to the physical emails that are sent out
3. Reviewer – Designer from the Sales and Business Development team
Firm Size: Gov't/PS/ED 5,000 – 50,000 Employees
Review Source – Invited by Gartner (email, event, account rep) Community Guidelines
Review summary-"iContact is an excellent email marketing software. It is very easy to log in and quickly set up an email campaign. The platform also allows you to create thematic templates to create email communications".
Things you like about iContact
Ease of use even for non-tech savvy users.
Things you do not like about iContact
Limited features as compared to other platforms such as MailChimp and MassMailer.
Less third-party integrations
To Summarize
Overall, iContact is a powerful email-marketing program for both beginners and advanced users.
Apart from offering all the fundamental features needed to manage an email campaign and a free trial for new users, one of the platform's highlights is its premier service which includes personal advisers to help clients create effective marketing campaigns.
However, similar to other products, iContact also has certain shortcomings. If you are looking for an iContact alternative, MassMailer is a good option to explore.
MassMailer is an excellent email marketing tool that allows you to send emails to all your campaign members, contacts, and leads from within Salesforce. The platform lets you create, send, and schedule emails with an email Wizard within Salesforce.
To know more about MassMailer, start your free trial today.