February 26, 2023
What Types of Salesforce Templates Does MassMailer Support?
Email templates are excellent tools that allow Salesforce users to be more productive by spending much less time writing emails.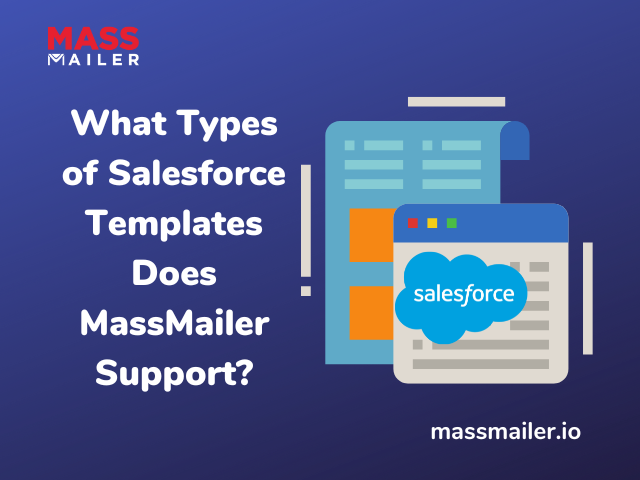 Still, an increasing number of businesses today struggle with finding the right templates to send emails to their clients and other stakeholders. This often leads to them either using an old or previously used email template for sending a new email or drafting the same email over and again.
This is where Salesforce templates come in.
If built and structured correctly, Salesforce email templates can play a key role in saving time and resources for sales teams. These email templates are useful for several applications, such as sales automation, customer support, sales management, and more.
In this post, we will learn more about Salesforce email templates and the specific types of templates that MassMailer supports out of these.
Different Types of Templates You Can Create in Salesforce
There are four types of email templates that can be created in Salesforce Classics. These are discussed below:
1. Text Template
Almost anyone can create this type of easy-to-use template in Salesforce, and it is commonly used for sending internal notifications.
Highlights of text templates
Lack any HTML coding due to which images cannot be included in such templates.
Can be easily incorporated into automated business emails.
2. HTML with Letterhead Template
HTML with letterheads is another popular email template that you can create in Salesforce. This type of template is based on standard HTML letterheads that let you highlight aspects such as your company's brand, logo, and colors.
Highlights of HTML with letterhead template 
You can edit these templates before sending any email
This type of template does not require you to have knowledge of HTML code to create it.
To build this template, you first need to create a standard letterhead, and using that letterhead, you can create HTML templates.
3. Custom HTML Templates
As the name suggests, Custom HTML templates in Salesforce do not make use of letterheads and require you to either have knowledge of HTML or have an HTML code that you can use in the template.
Highlights of custom HTML templates
You cannot edit this type of Salesforce template before sending
Best suited for brochures, flyers, etc., where you need to send mass emails to multiple people
4. Visualforce Templates
Visualforce templates in Salesforce work quite similarly to custom HTML templates. However, unlike custom templates, they allow you to create code so the content can have information from various records.
Highlights of Visualforce templates
Requires you to know Visualforce code to be able to create such a template
Used primarily by developers and administrators to create templates and allow for advanced merging with a recipient's data.
What Types of Salesforce Templates Does MassMailer Support?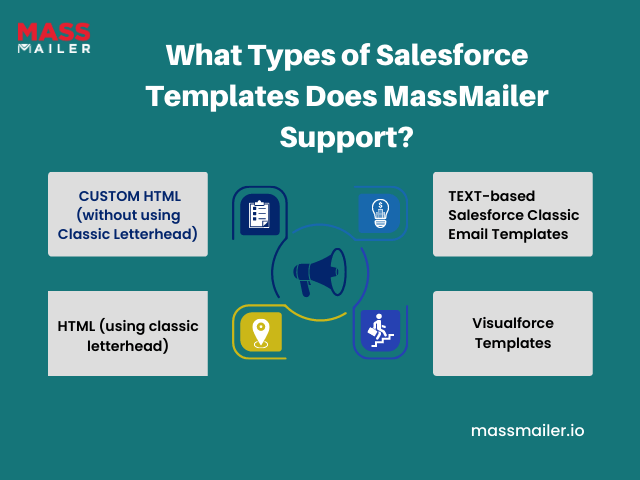 MassMailer is a native Salesforce app that allows you to surpass or go over the email-sending limitations set by Salesforce CRM and send unlimited emails.
Perfect for companies/businesses of any size, MassMailer for Salesforce simplifies email marketing for businesses with a range of powerful features, such as sending mass emails, creating email templates, real-time monitoring, improved email deliverability, and more.
Wondering which of the above-mentioned templates are Salesforce templates for MassMailer?
MassMailer typically supports the following types of Salesforce templates:
a. CUSTOM HTML (without using Classic Letterhead)
Note – MassMailer advanced templates are stored in this.
b. TEXT-based Salesforce Classic Email Templates
c. HTML (using classic letterhead)
Note – MassMailer does not guarantee the formatting in this case.
d. Visualforce Templates
MassMailer also supports inserting Visualforce Email Templates into any
MassMailer Advanced Template.
Note – You can leverage either templates you have stored in Salesforce or create brand new templates using your preferred editor or MassMailer Template Builder.
Apart from this, you can also leverage MassMailer's email Template Builder to create email templates in Salesforce natively.
The Email Template Builder from MassMailer is quite an advanced tool with features such as drag and drop, mobile responsiveness, images, and social links.
To Wrap
The success of any email marketing campaign depends heavily on the quality of the content used. However, creating effective business emails is no mean feat, and that is where Salesforce email templates come in handy.
These templates allow you to create custom emails in just a few clicks, thus giving you more time to focus on other business priorities while still delivering relevant and useful content to your audience.
When it comes to Salesforcee templates for MassMailer specifically, MassMailer supports Salesforce classic templates in general. However, whenever Salesforce opens up the lightning template API, MassMailer supports those as well. Besides, MassMailer advanced templates are stored in the CUSTOM type of salesforce classic email template.
In this post, we have shared the types of these Salesforce templates that MassMailer support to help you build more powerful mass email campaigns.
Get started with your MassMailer trial today.