FEATURES, HOW TO, MARKETING, SALES May 25, 2016
How Do I Send More Than Five Thousand Emails a Day in Salesforce?
Salesforce is a powerful customer resource manager, but you can make it even more powerful by adding custom applications from the Salesforce Appexchange. One example of this is that the default mass email limitations can be overcome with integrated apps. If your company engages in high volume email campaigns, or just has a lot of customers to keep in touch with, then adding something like MassMailer can give your company a visible boost to sales.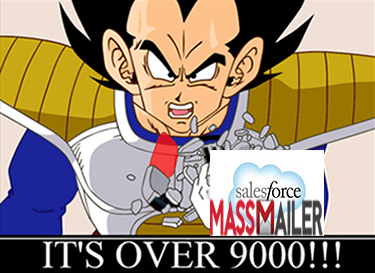 Bypass Salesforce Email Limitations
One of the major attractions of Salesforce is the ability to send mass emails, but that ability is still limited in all editions. For companies that have more than 5000 contacts to stay in touch with, there are a number of apps available to give you more power. The problem is, most of these apps are designed for purposes other than extending the mass email capabilities. To address that issue, MassMailer, Inc created the MassMailer app on Salesforce AppExchange.
How MassMailer Stands Apart
Other apps can be integrated with Salesforce, but most were not created exclusively for it. MassMailer is a truly native Salesforce app that was designed for use within Salesforce from the ground up. It seamlessly eliminates mass and daily email limits, which means your employees can get more done in less time.
A few of the features of MassMailer include:
Affordably priced
Uses a simple wizard to create batch mailings
Email campaigns to unlimited contacts
Eliminates daily email limits
Automatic logging and reporting functions
Try It Before You Buy It!
The mass mailer app is available for a 30 day test drive to let you see the benefits. Where most apps require you to buy the app before you can verify its usefulness, this one can be installed on a trial basis. You can let your best reps put it to a field test and then purchase the app later for all of your high-volume users.