EMAIL BEST PRACTICES, MARKETING April 23, 2019
11 tips for political email campaigns to win the elections
It's that time again: time for political campaigns to reach full swing. Email marketing for political campaigns is an extremely effective method of reaching out to potential donors and constituents. Yet because many campaigners aren't expert marketing professionals, it's easy to make mistakes. Here are a few best practices and tips for political email campaigns that should be followed.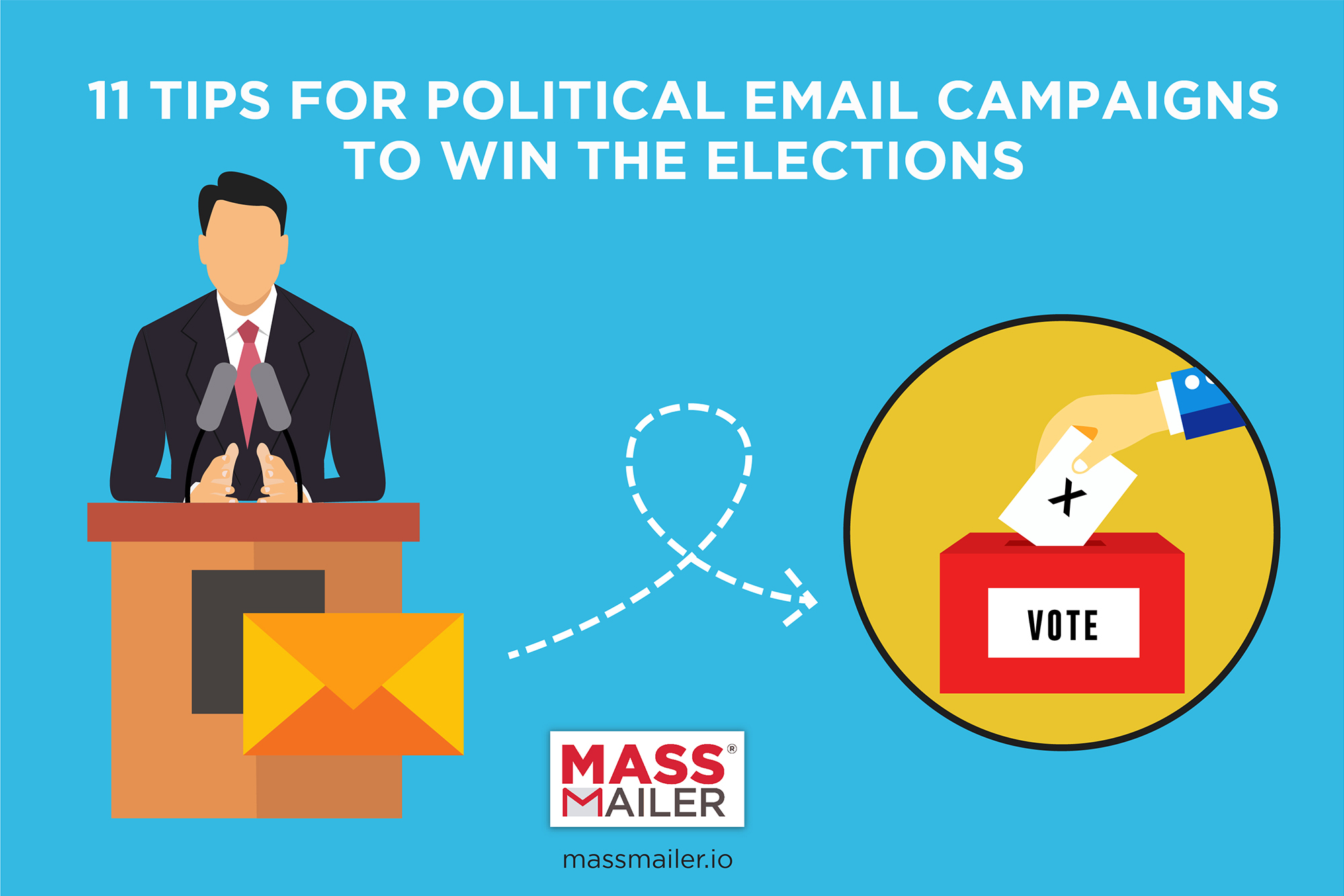 1. Validate your email lists.
Invalid email addresses can lead to a lower click ratio and a higher bounce/spam ratio. Use tools to make sure your email lists only include valid, active, and opt-in emails.
2. Personalize your communications.
Keep databases of your contacts in a customer relationship management suite, so your emails can address your contacts by name and be personalized to their districts or interests. Personalization is a critical component of email engagement.
3. Time your emails correctly.
Sending emails too frequently will lead to them being ignored or (worse) marked as spam. Send emails frequently enough for fundraising and campaigns but not too often.
4. Pay attention to your marketing metrics.
As a campaign develops, you should collect marketing data regarding whether your emails are still being interacted with and responded to. These metrics will tell you whether you're moving in the right direction.
5. Proof your emails before they're sent.
Spammy keywords (overly promotional phrases) and typos can send your emails to junk mail. Proof your emails before they're sent or run them through an email validation system.
6. Build your email reputation.
Don't start sending a lot of emails at once, often an email server needs to be seasoned slowly by ramping up your sending over time. Build your email reputation over time by sending emails slowly on a schedule.
7. Get past Salesforce email limitations.
Salesforce and some other CRM solutions may limit the number of emails you can send per day. You can use MassMailer to get past these email limitations and send emails out to all your constituents and volunteers as needed.
8. Segment your audience demographics.
Different audiences are concerned about different things during a political campaign. Collect information about leads as they are collected and use it to create separate email lists. These email lists can be used to send targeted, relevant information that will engage each audience.
9. Use split-testing to identify the best strategies.
In split-testing, you run multiple campaigns at once to see which are more effective. In your email campaign, you might run multiple headlines to see which is more effective, and then distribute the most successful headline to a larger audience.
10. Integrate it into your social media accounts.
Make sure your email strategy is linked to your social campaigns and website, as you want to expand your audience's exposure to your campaign and your message. Include a clear call to action to connect with you further, either by following your page or doing something more active such as donating.
11. Use the right subject lines.
A compelling subject line is the best way to get someone to open an email, but make sure the subject line adequately reflects your email content. If it doesn't, many people are likely to ignore the email entirely rather than interact with it. They may even be compelled to mark it as spam.
It's critical that you make the most out of your email marketing campaign if you want to build your reputation. MassMailer can help. MassMailer provides ways to validate emails, create professional emails, and protect your campaign reputation. For more information sign up for a free demo today.