July 20, 2023
How To Send Mass Emails In Salesforce Experience Cloud Using MassMailer
The success of any business hinges on its ability to communicate effectively. Be it communicating crucial data and analytics to stakeholders or partners or sending accurate messaging about your business or brand to customers. Mass email campaigns are the most effective mode of getting the word out quickly, and this is where MassMailer comes in.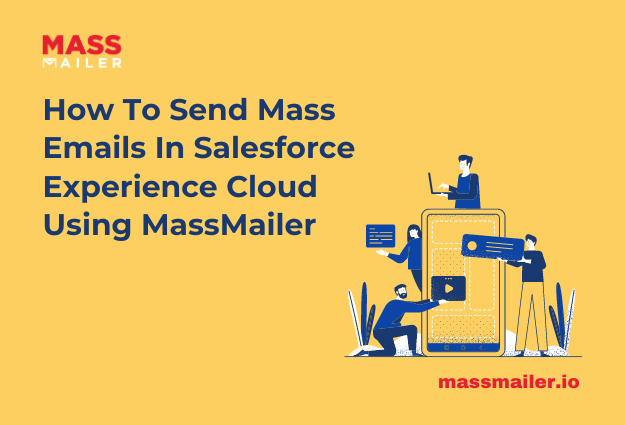 MassMailer offers a range of powerful features designed to enhance your email communication processes. It is a native Salesforce solution that allows you to effortlessly manage and send out mass email campaigns, ensuring your messaging reaches the right audience exactly how and when you want it to.
This platform also provides valuable insights into the performance of your email campaigns, thus equipping you with all the information you need to fine-tune your strategies for optimal engagement. The good news is that MassMailer is now supported within the Salesforce experience cloud.
In this detailed guide, we will walk you through how to send mass emails within the Salesforce Experience Cloud via mass mailer.
How To Send Mass Emails In Salesforce Experience Cloud Using MassMailer
Sending an email via the Salesforce Experience Center using a mass mailer is a straightforward and uncomplicated process. If you are already familiar with MassMailer, then this process would not be alien to you.
That said, the look and feel may vary slightly as the Salesforce Experience Center may render it differently. The functionality has no change whatsoever.
You can log into the Salesforce Experience Cloud by clicking the "Log in to Experience as User" button in the Mass Mailer Portal.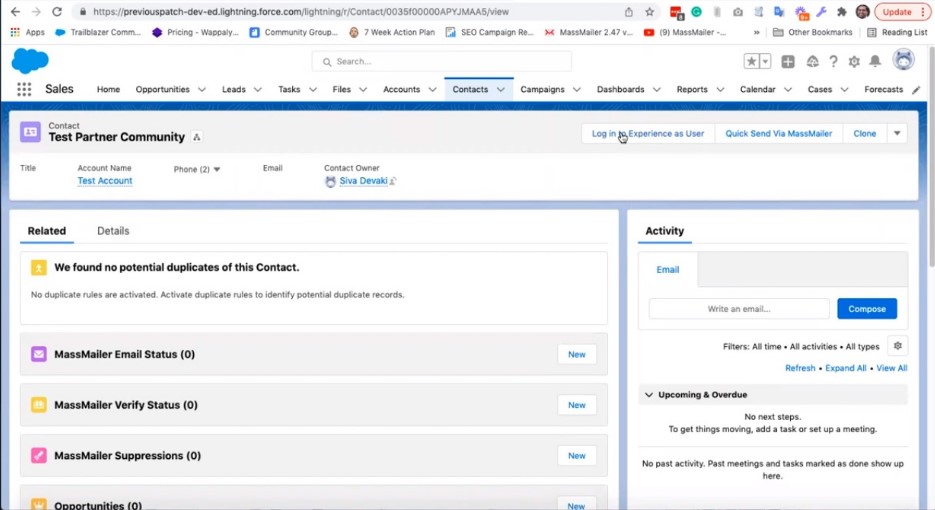 Doing so will take you directly to the Home Page of MassMailer inside the Sales Force Experience Center,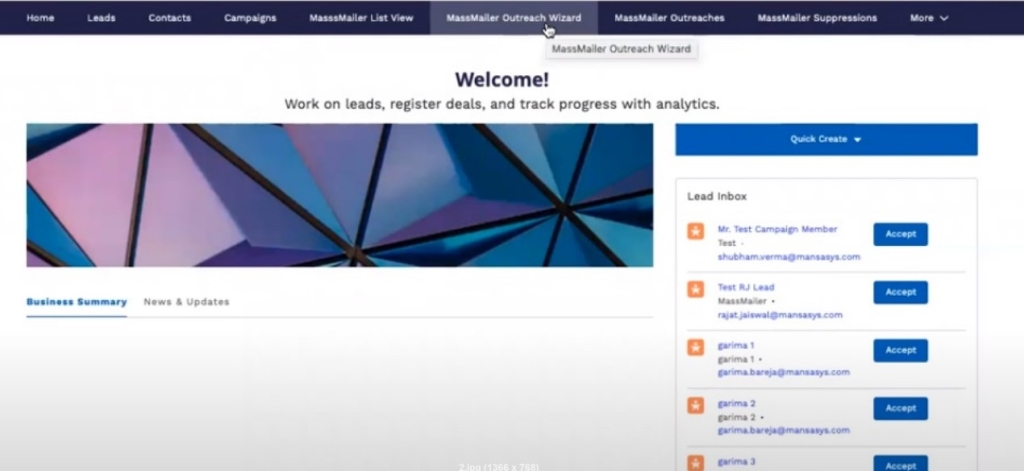 Please note that the menu option is configurable and may vary based on which account you are using login (Partner, customer, and so on). To send a test email, click the "Mass Mailer Outreach Wizard" button.
This takes you to the home page of the Outreach Wizard within the Salesforce experience cloud.
This is where you can name your outreach campaign and select your preferred channel. In this case, it's going to be via email. Once you are done, click Next.
This next tab lets you select the objects that will be your target audience for this email campaign.

Once done, click next again, and you will then be taken to the Email Template Tab will give you all the options you need to set up an email template for this email campaign.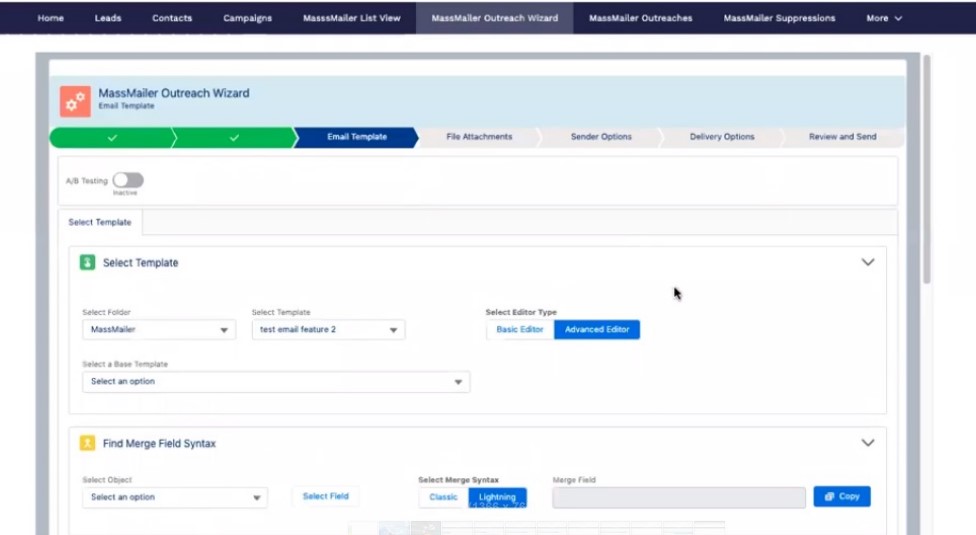 As always, MassMailer has given you two versions of an editor; a basic and an advanced version for further customizability. Once you are satisfied with the template of your email, hit next again.
You should now be in the "Sender Options" tab, which allows you to configure a number of parameters, such as the
From Name
From Address
A "reply to" email address
CC and BCC options.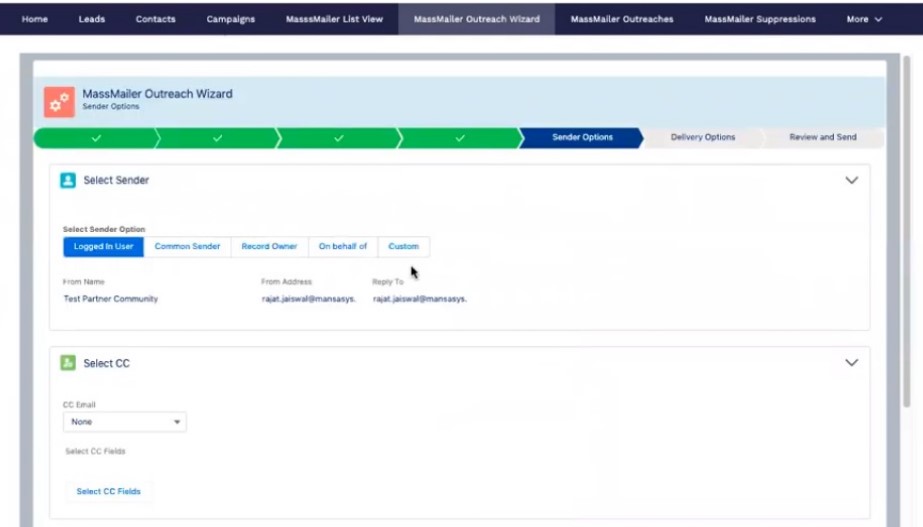 MassMail also gives you the option to Suppress Duplicate emails. Once you are satisfied and have double-checked all your inputs, hit the next button again.
You will now be taken to the delivery options tab. Here you can configure parameters such as
If you want the send the campaign out immediately or later.
Select the type of email. (Transactional or non-transactional)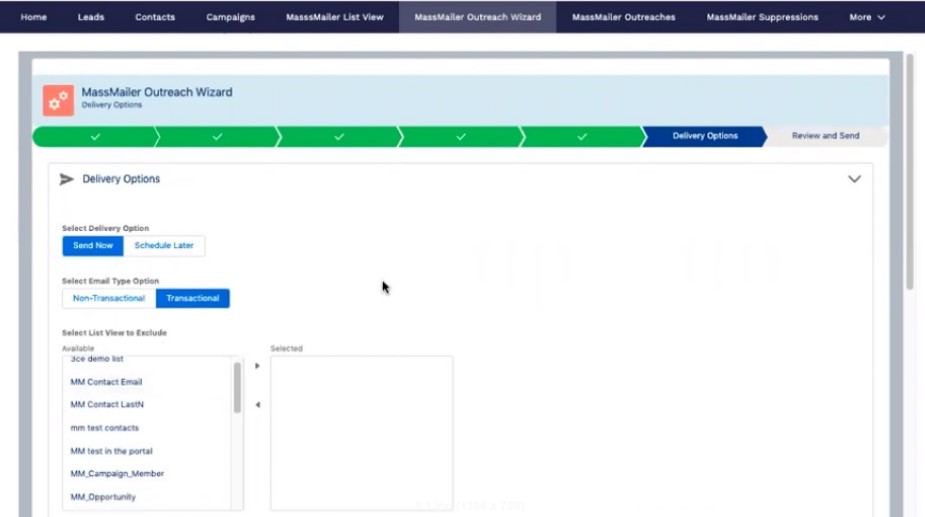 Scroll down further, and you can turn to enable or disable Salesforce's Activity logging and if you want to Auto Test Email Deliverability.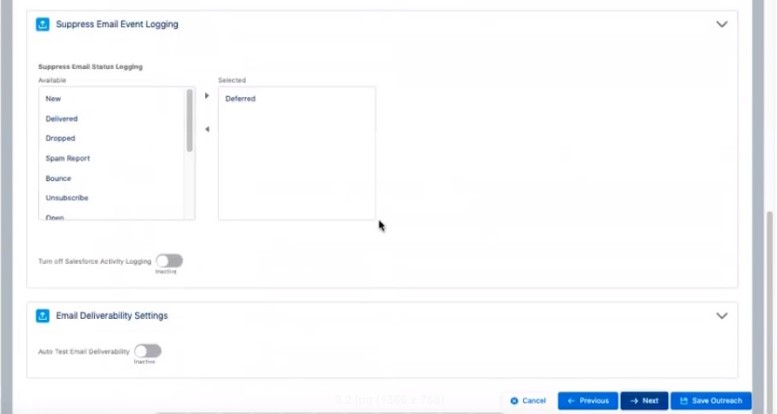 Once you are done, hit next again, and you will be taken to the final tab of the MassMailer Outreach Wizard, which is the Review and Send tab that lets you verify all your parameters for the mass campaign before you launch it.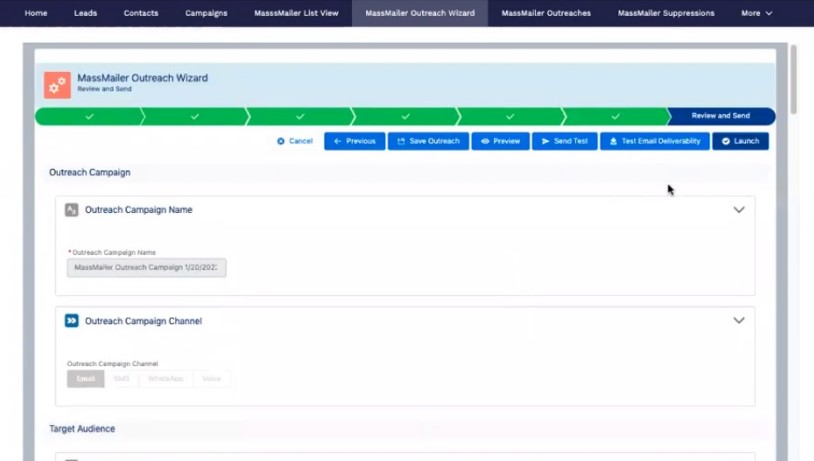 While the process of sending emails is the same here, there are a few limitations when using mass mailers within the Salesforce Experience Cloud. A few of the mass mailer-specific Salesforce List View buttons will not work in the Experience Cloud.
Conclusion
Managing and launching mass email campaigns has never been easier. Now with the ability to launch them from within the Salesforce Experience Cloud using MassMailer, you can take your email campaigns to the next level.
Ready to supercharge your email marketing with MassMailer? Take action today by visiting our website and signing up for a free trial. Don't miss out on the opportunity to streamline your mass email communication and unlock the full potential of MassMailer.
FAQs
1. Can I use MassMailer in Salesforce Experience Cloud without any additional configuration? 
No, using MassMailer in Salesforce Experience Cloud does require an additional configuration to ensure seamless integration. 
2. How much does the MassMailer Experience Cloud User cost? 
The MassMailer Experience Cloud User is priced at $12.49 per monthly user. However, this figure can be reworked based on the volumes you are looking at. 
3. What are the limitations of MassMailer in the Salesforce Experience Cloud?
While MassMailer has many features, there are certain limits when utilizing it with the Salesforce Experience Cloud. One example is that Salesforce List View buttons related to MassMailer will not work within the Experience Cloud.