May 15, 2023
How To Send A Test Email In MassMailer
 How To Send Test Emails In MassMailer For Better Results
Blanket mass advertising is a marketing strategy of yester years. Today, targeted online marketing has become the primary battleground for businesses to stand out, and mass email campaigns have emerged as a vital weapon in the marketing arsenal.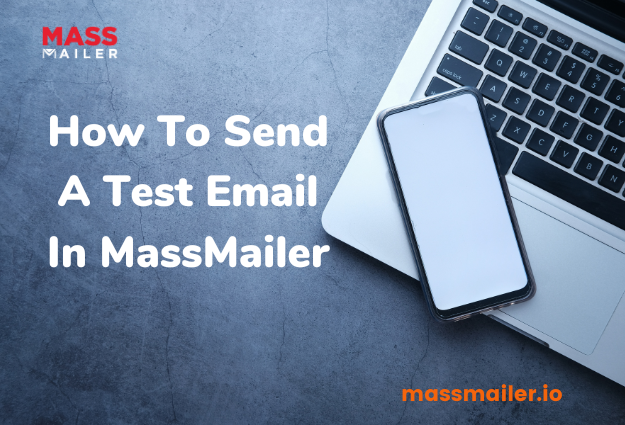 With the potential to reach a sizeable audience cost-effectively and efficiently, it's no wonder that businesses across various industries have prioritized email marketing.
`
That being said, crafting a successful mass email campaign can be challenging, and the last thing any marketer wants is for their email to be caught in a spam filter or fail to reach its intended audience. But before sending out an email campaign, testing it to ensure it's effective and error-free is essential.
In this guide, we'll walk you through how to send a test email using MassMailer, post which you will have the confidence of knowing that your email campaign will land in your subscribers' inboxes, enabling you to achieve the desired results.
Your First Impressions Matter
As the old adage goes, "You never get a second chance to make a first impression." This statement succinctly describes the world of email marketing in a nutshell, where the success of your campaign often hinges on the recipient's initial impression of your email.
When a subscriber opens your email, it takes them mere seconds to make a judgment on its relevance, value, and overall quality. If your email fails to meet their expectations, it will likely end up in the trash folder or, worse, be marked as spam.
A negative first impression can have long-lasting effects on your email campaign, damaging your sender's reputation and hindering future email deliverability.
This is why testing your emails before sending them out is critical. A test email lets you preview how your email will appear to your subscribers, allowing you to catch any errors, formatting issues, or broken links before they become a problem.
Conversely, a poorly formatted or error-laden email can leave a negative first impression, turning off subscribers and resulting in a high unsubscribe rate.
In addition to catching technical issues, testing your emails can help ensure your content is on-brand, relevant, and engaging. Testing your email with a small group of subscribers or coworkers can give you valuable feedback, allowing you to improve and tailor your email to meet your subscribers' needs and expectations and your organization's goals.
How To Send A Test Email With MassMailer?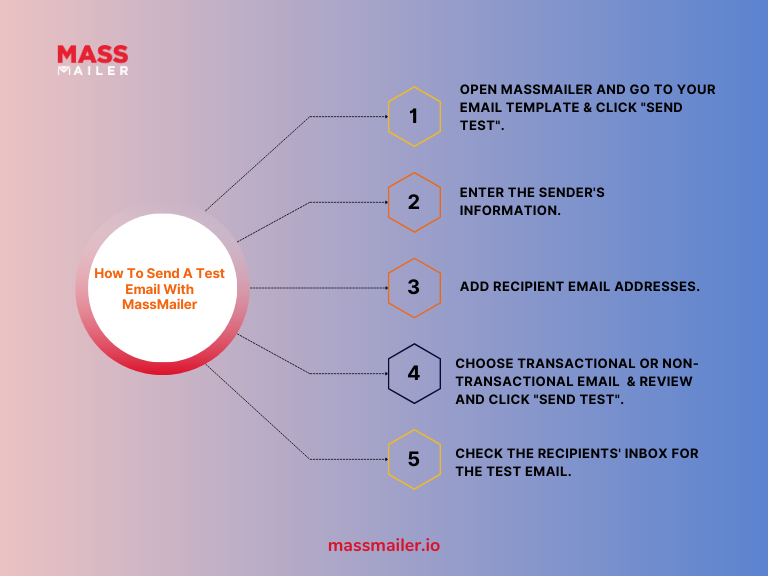 If you are a MassMailer power user, you have options available to you when if you want to send out a test email before launching a mass campaign which is via:
The MassMailer Template Builder and the
The MassMailer Outreach Wizard
The primary dialog that allows you to enter all the relevant information to send out a test email is as the image shows below, and it's the same, no matter if you are using the MassMailer Template Builder or the Outreach Wizard.
You can access this dialog box when using the Template builder by clicking on the "Send Test" button at the bottom of the screen.
Once you are here, sending a test email via the template builder in MassMailer is a straightforward process that can help ensure your email campaign is effective and error-free. Here's a step-by-step guide on how to do it:
Enter the sender's information for your test campaign. MassMailer allows you to enter the sender's name, the email id, and the reply to the email address.
In the next section of this window, enter the recipients' email addresses you want to send the test email. You can enter multiple email addresses by separating them with a comma.
Now under the delivery options section, you can choose whether you want to email to be Transactional or Non-Transactional. If you are unfamiliar with this option, selecting the Non-Transaction option will add a link to give the sense of the option to unsubscribe from future emails.
Once you have verified all the information added, just hit the Send Test button, and you are done.
You can also send a test email via the MassMailer Outreach Wizard just before you send out a campaign. You will find the send test option under the "Review and send" tab of the Outreach Wizard.
Same as before, you need to verify the information and click on the Send Test button, and viola, you are done.
Conclusion
Sending test emails is an essential step that should never be overlooked in email marketing campaigns. They allow marketers to thoroughly test their email campaigns before sending them to their entire subscriber list.
This approach can save time, money, and reputation as it can help catch errors and ensure the emails are functional across different devices and platforms. In the end, investing time in testing emails before sending them out can improve the performance of email campaigns, reducing the likelihood of errors and increasing the chances of reaching marketing goals.
If you're looking for a reliable and efficient tool to streamline your email marketing campaigns, MassMailer is an excellent option to consider. Sign up for MassMailer's free trial today and see how it can help you take your marketing to the next level!
FAQs
1. What is MassMailer, and how can it help my email marketing campaigns? 
MassMailer is a powerful email marketing tool that allows businesses to launch and track high-quality email campaigns. Its features include drag-and-drop email builders, email tracking, list management, and reporting, which can help companies to optimize their email marketing campaigns.
2. Can I send test emails using MassMailer?
Yes, MassMailer allows you to send a test email before launching a campaign, thus allowing businesses to test their email campaigns thoroughly before sending them out to their entire subscriber list.
3. Is MassMailer easy to use, even for those with limited technical knowledge?
Yes, MassMailer's user-friendly interface makes creating and sending email campaigns easy, even for those with limited technical knowledge. In addition, MassMailer offers customer support and resources to help users navigate the platform and get the most out of its features.