EMAIL MARKETING, INDUSTRY, MARKETING October 21, 2021
7 Tips for Successful Ecommerce Email Marketing Campaigns
Any well-executed marketing plans involve aligning the right message that catches your customers at the right time in their buying journey. That holds especially true for email marketing campaigns in e-commerce.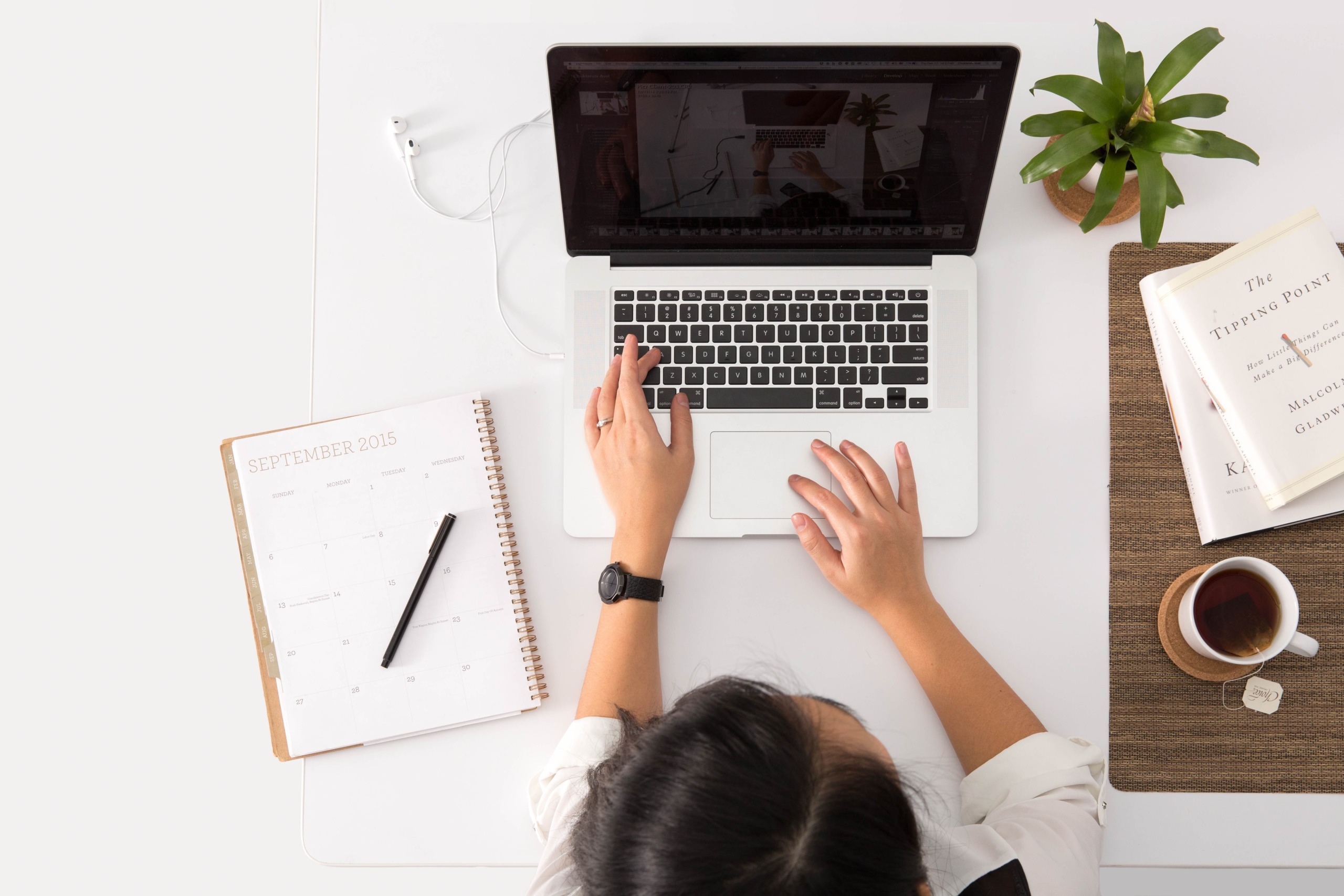 With e-commerce, you're often dealing with a wide range of active and prospective customers. People conduct research, browse, price shop, are in need of something right now, or they may just be doing some online window shopping when they come across your storefront. Each of these profiles has a different motivation and land in different parts of your sales funnel. That doesn't mean each can't be valuable in its own way.
Successful email campaigns have one thing in common. They effectively work to familiarize themselves with their contact lists. They segment and personalize messaging and remain flexible in how much and with whom they engage with. In time, an email effort should help you better understand motivations and buyer needs, and you should be able to better align your products with those needs.
Email marketing is still one of the most effective marketing tactics out there. Researchers have found it generates $36 for every $1 spent. If you're in the e-commerce space, here are 7 email marketing campaign tips to try.
Tip #1: Use a Welcome Series
When someone signs up for your email, getting that introductory note to them fast is critical. You know that it's important to catch that new customer while your brand is top of mind. When they sign up for a newsletter or hand over their email for new product updates or news about upcoming sales, you need to strike while the iron is hot.
Some like to send a small discount, maybe 10%, or cover shipping on the first order, on that first email. Regardless, you'll want to make sure your welcome effort is not one and done. Extend the conversation at least for several days to keep your brand in front of them and to gauge interest. Some companies send emails daily for as many as 10 days in a row. Some may only send a note for five days straight. You can do it every other day for a string of four or five emails. Experiment with frequency and find out what works best.
You'll also want to make sure your first welcome email informs the recipient of your intention to send them more than one email. And use the call to action (CTA) to tease what's coming next. A special offer? Company story? Let them know.
Tip #2 Diversify Content Types
You'll also want to set a schedule for the type of content you'll cover in each of those welcome emails. Yes, you can highlight sales and specials, even new products, but you can also offer an email that tells the founding story of your brand. You can have another focus on a customer testimonial. A simple newsletter piece that covers typical customer pain points can further engagement, too. Conduct a survey to learn more about your customers and offer an incentive for completion.
Keep your schedule flexible for your welcome series, too. This will allow you to insert a current special going on or some other current news that might be relevant. In this example, Caseco sends an email that focuses on the rollout of the iPhone 13. They sell the cases for this product and piggyback on the hype. This is an email that can probably be launched to everyone on their email list, but it can also be woven in with a welcome series if the person signs on while this promotion is going on.
Tip #3: Segment Your Audience Early and Often
Email list building is critical to any e-commerce business. But as you build, it's important to segment your list into different types of customers and prospects. The sooner you know if a person has any likelihood of becoming a loyal patron of your e-commerce business the better. Segmented campaigns can generate as much as a 760% increase in revenues.
Segmented campaigns allow for the personalization of messaging and help assure that you're sending the recipient a message he or she wants. For example, a person who came across your website while browsing a product type may be more at the top of the sales funnel. But that doesn't mean he or she can't learn more about your brand. So, they may be open to content about company history and how you serve your community sprinkled in with some new product launch content, even an occasional discount code to test their willingness to buy.
A repeat customer, on the other hand, who purchases consistently can receive emails about product recommendations, personalized messages about discounts specifically for them, and opportunities for in-store demos to get them to further engage with the brand and even enjoy the brick-and-mortar experience.
You must start segmenting early and study your buckets of customers often. In fact, start segmenting on your landing page where you ask for emails, if possible. Simply ask, "how did you hear about us?" Give as many options as possible for them to answer. You can even ask how often they would be open to hearing from you and the types of content they prefer. You're learning a lot about them with a few simple questions. You can then build other questions into the welcome series to learn more about customers.
Companies segment their email lists in many different ways. Some of the typical categories include:
Demographics
Age, gender, marital status
Specific product interests
Rates/levels of engagement
Browsing and purchasing price points
Purchase history
Cart abandonment
Position in the sales funnel (top, middle, or bottom)
Breaking email contacts into segments also helps you with costs. You send fewer emails but are more likely to align the right message with the right person.
Tip #4: You Need an Abandoned Cart Strategy
We already mentioned it as a potential way to segment your audience, but abandoned carts are always a great opportunity for sales. Think about it. Someone almost bought from you, so now you need to learn more about why they didn't.
Nearly 70% of e-commerce shoppers abandon their carts. Researchers have found that nearly two-thirds of those who abandon a cart do so because of shipping costs. Shipping has always been a bottleneck in e-commerce. If you know it deters your customers, consider an abandoned cart strategy that addresses the issue directly. You can simply offer free shipping in a follow-up email, but do it for a limited time. Make them act within a few days. Then, if they don't act right away, you can send follow-up emails each day to let them know the offer expires soon.
For some, they may have just been looking for a better deal or maybe they were distracted. This Overstock abandonment email cleverly follows up with a discount that could work. If shipping costs were an issue or if a little better price is enough of a nudge to make the sale, this strategy can work.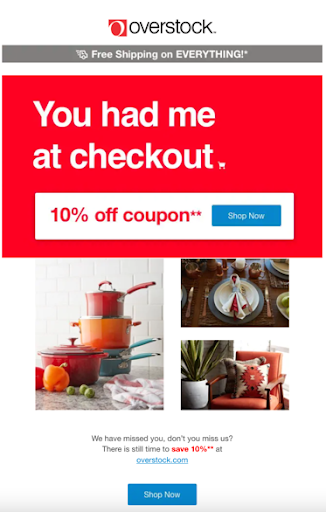 Some cart abandonments work by simply reminding the customer they're missing out on something. Question copywriting formats with phrases like "Remember this?" or "Thinking of this?" or being upfront and simply asking the customer why they changed their mind can work, too.
When you follow-up, make sure the customer has easy access, with the click of a button, to their abandoned cart, so that they can pick up where they left off. And don't forget to remind them there are other great products available or a sale they can take advantage of right now, too.
Tip #5: Don't Underestimate the Power of a Good Deal 
Discounts are still a great way to get people to act. In fact, discounts are still a big reason people sign up for an email list in the first place. They simply want to know more about upcoming deals and new products you carry going forward. One study found that 49% of customers would like to see a promotion from their favorite brands each week.
This email from Old Navy used the subject line: "$12 joggers confirmed for today" using the time to convey urgency since the deal is only for one day. It also includes other items on sale and pull-down tabs for further browsing and engagement.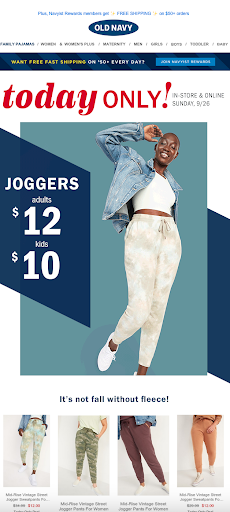 The email also nurtures the in-store experience by mentioning "in-store," which can deepen someone's tie with your brand, too.You can personalize and tie discounts to a birthday as well as a season or holiday. And if you're going to send a discount email, tap a segment in your list you know likes a particular type of product. Research has found that 59.4% of adults surveyed were more likely to act on an email with a product suggestion based on their purchase history.
Tip #6: Study Deliverability
You already know that your email's best chance of being opened comes when it lands in the recipient's inbox. Email deliverability is something that requires consistent checking. A simple formula many e-commerce merchants use is to calculate the total number of emails sent and subtract the number that landed in spam, the promotions folder, or bounced. That's your deliverability rate, and you should aim for a 95% rate.
Emails can fail to make it to the inbox because of high-security email accounts that send unfamiliar emails to spam, blacklists, non-engagement from recipients, and a whole host of other reasons. Email databases naturally degrade about 22.5% per year. So, it's critical to stay on top of deliverability.
Best practices you can execute to help your deliverability include:
Have a strong brand identity with consistent design
Use a company domain over a generic Gmail account
Try to re-engage unengaged contacts, and if they don't respond, consider eliminating them; use subject lines to ask them if they still want to engage with you
Use proper authentication protocols, such as Sender Policy Framework (SPF), Domain Keys Identified Mail (DKIM), Domain-based Message Authentication, Reporting, and Conformance (DMARC), and Indicators for Message Identification (BIMI)
Don't be afraid to prune your list of contacts you suspect have no business potential, usually those who haven't engaged with you in over a year
Make unsubscribing easier
Tip #7: Use Confirmation Emails to Boost Sales
Your customer has taken a leap of faith to purchase something from you. They want to know their order has been processed, and it's your responsibility to let them know that. Confirmation emails enjoy the highest open rates, and 64% of customers consider them to be the most important.
They also present the opportunity to remind customers that others who bought what they did also liked other specific items. If they're open to scrolling further, current specials can be added. If they take further action on anything in the email, they can potentially be segmented to other areas of your email list for further engagement. And don't forget confirmation emails are also a great time to reward their loyalty with a 10% discount on their next purchase.
Conclusion
Successful email marketing in the commerce space requires consistent effort. As you grow your list and gather more information about customers and prospects, your messages can become more targeted, personalized, and successful.  Above all, email marketing brings the opportunity to learn more about your customers and how you can better serve them. And those are the winning ingredients in a recipe for increased sales.