EMAIL TOOLS April 21, 2023
Learn How to Use the Account Contact Relationship Object in MassMailer
Introduction
Contact management is one of the most important aspects of maintaining a good relationship with customers. It is also a crucial activity that enables your organization to avoid duplicity in the contact information you store and helps locate the right contact information at the right time.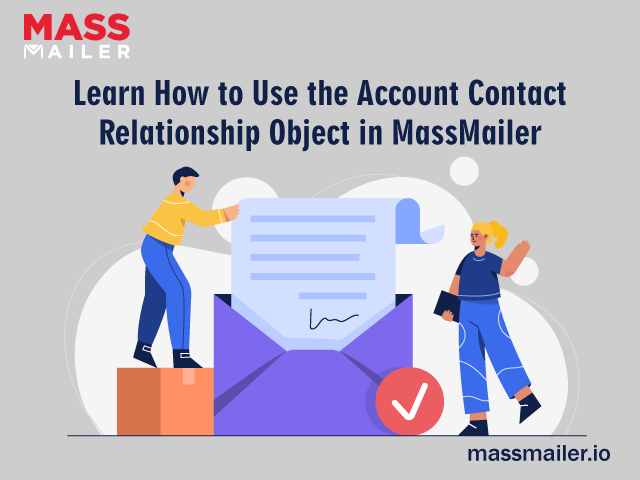 To aid this process, MassMailer provides the creation of account and contact relationships from within your Salesforce console. Since MassMailer is a Salesforce native tool, you can conveniently set up account contact relationship objects from within the dashboard and use them for email campaigns.
To get started, you need to have the new release of MassMailer – version 2.5x installed on your system and plugged into Salesforce. Let's understand account contact relationship objects in detail.
What is an Account Contact Relationship?
The relationship between an account and contact acts like a junction object between these two entities. These relationships help your enterprise tackles three key contact management issues:
Understanding the relationship between companies and people who work there.
Understanding relationships between the customers of your business.
Understanding relationships between customers and your employees.
Understanding these relationships helps you understand your customers better. For example, by knowing which other companies your customers are considering for the same products, you can design or improvise your sales pitches accordingly.
It also helps understand the correspondence each customer has with your business, regardless of which ID or channel they use to get in touch with you.
Three Key Relationships Between Accounts and Contacts
Three key relationships can exist between an account and a contact. Let's understand them with the help of an analogy. Let's say you work at Acme Inc and are planning to meet with John and Jane from Random Consulting for potential business.
By protocol, your business would establish certain accounts under 'Random Consulting' in order to track how the deals are progressing, much like you would with any customer of your business.
To help your business get a better view of the deal, account contact relationships offer three different perspectives to look at it:
The 'Contact to Multiple Accounts' relationship helps you see which of your customers are also working with other companies. Finding common ground between your contacts and other companies can help to close deals faster or move deals forward favorably.
Relationships that exist between a company and its staff, and the relationship that exists between your customers and their customers.
Relationships between your users and customers, showing specifically which of your staff members are engaged with a specific deal right now.
Account contact relationships help your business see whether any particular customers or clients have already initiated a touchpoint with your business before. They also highlight the people at your company who have been in touch with potential clients.
Establishing relationships between accounts and contacts also helps distinguish your opportunities for the best approach.
For example, Random Consulting may have several branch offices, all of which have found their way into your database. Establishing one parent account for Random Consulting can then help you differentiate between the entity you want to pursue a business opportunity with, helping you save time.
If all your accounts and contacts have been classified and related as they should be, you can even generate relationship trees or family trees to see the hierarchy clearly.
Easy Step-by-Step Guide to Use the Account Contact Relationship Object in MassMailer
MassMailer makes it extremely simple and straightforward to use account contact relationship objects. Follow the step-by-step guide detailed below to get started:
You need to first launch your Salesforce dashboard. Since MassMailer is Salesforce native, it can be accessed from within that console easily.
When the dashboard loads, go to the top-right corner of the screen and select Setup.
In the Setup interface, to the left, you will see a sidebar menu. Go to the Quick Find box and type "Account settings."
From the menu that appears, select "Account Settings." A new page will now load with general and specific settings for Accounts. Scroll down to the section that is labeled "Contacts to Multiple Accounts Settings."
Under this section, you will see an option called "Allow users to relate a contact to multiple accounts" – this option has a checkbox with it. Enable this checkbox.
Once the checkbox is enabled, you need to navigate to your MassMailer Lightning console. From this dashboard, open the MassMailer Setup tab.
You will see a number of subtabs in the Setup window. Select the Email Settings subtab.
Once the page has loaded, scroll down toward the bottom. You will notice that under the table labeled "Enable Objects for MassMailer," you will see a field called Account Contact Relationship.
At the bottom right corner of this table, you will see a "+" symbol. Click on it.
After clicking the "+" sign, select 'Account Contact Relationship' from the same table to add a new one.
The interface would then ask you to select a contact email to populate the Account Contact Relationship field. This would be the email that your business needs to send emails to.
Once this email is set, you are ready to send emails from the Account Object itself.
Open the Accounts tab of MassMailer. Once the interface loads, you will see a dropdown menu at the top left corner under Accounts. This dropdown menu displays the categories using which you have organized your accounts. For the account contact relationship you just created, select the category that it falls under from this dropdown menu.
Once you select the filter/category, the table below will display all the records that fall under that account.
On the top right side of the same table, you will see a button, "Send Via MassMailer." Click on this button to send emails to all records in that account with MassMailer directly.
Clicking on the button will take you to the email builder template, where you would then be required to specify details for outreach campaigns, target audience, email template, attachments, sender options, and delivery options, and review the mail before sending.
To Summarize
Account contact relationships make it easy to understand how your customers are interacting with your business. For example, John Doe may contact your representatives using three different channels, each with a different user ID. An account linked to John Doe would, therefore, store all these records of his user IDs for future reference by establishing a relationship between them.
MassMailer makes it extremely simple to use these account contact relationships to launch an email marketing campaign. Think about the time you would save when emailing in bulk. To know about other ways that MassMailer can help your business, get on a free trial today.