June 20, 2023
How To Sign In And Navigate SendGrid For MassMailer
Email plays an important role in modern-day business communication. Apart from ease of use and simplicity, there are several other reasons to use email services over other modes of business communication.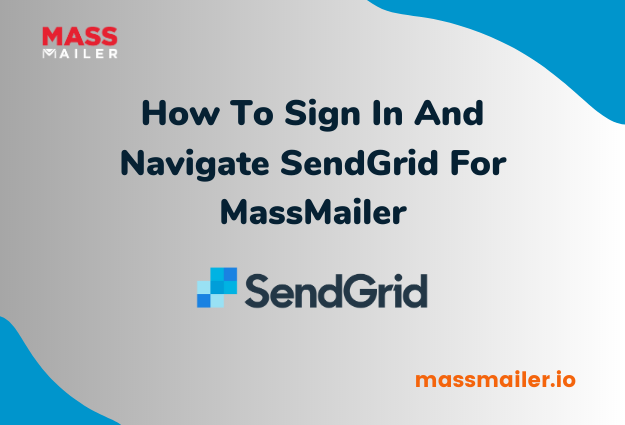 Businesses can use various good email service providers for their email marketing needs. SendGrid is one such powerful platform for managing transactional and marketing or sales emails.
In this post, we will explore more about the SendGrid email marketing platform and how you can sign in and navigate SendGrid for MassMailer.
What Is SendGrid?
SendGrid is a well-known cloud-based email service platform that offers businesses high email deliverability, reliability, and better scalability when it comes to seamless email management.
Also known as Twilio Sendgrid, SendGrid's cloud platform boasts aggressive marketing campaigns and is quite useful for marketers of every experience level (new or experienced).
SendGrid Features
SendGrid offers several important features that you may want to learn to navigate. Among these are-
Seamless Email Management
SendGrid helps businesses with various transactional email management needs while also fulfilling all anti-spam regulations at the same time.
Unique Offerings
The well-known tool helps you manage various things, including sender policy framework (SPF),  Internet service provider (ISP) monitoring, domain keys, feedback loops, and more.
Custom API Integration SendGrid had established itself as an API company that has been specifically built to serve developers and make it fast for businesses to send emails.Apart from these, SendGrid has several other interesting features, including the following –

Account Settings
API Keys
SMTP Service
Open & Click Tracking
Email Template Engine
File attachment
Custom API Integration
SMTP API
ISP Monitoring
SPAM Filter Testing
24/7 Support (Phone and Chat)
Mail Settings
Suppression
Activities
How To Sign In And Navigate SendGrid For MassMailer?
MassMailer is one of the best solutions to eliminate the typical email limitations in Salesforce for sending Mass Emails via mass Email Wizard or Campaigns.
The platform also allows you to send mass emails to request updated contact information (for staying in touch) from the contacts without worrying about any Salesforce email limitations.
You can also use SendGrid in the MassMailer platform to make the most of the platform. Here is how you can sign in and navigate SendGrid for MassMailer in two simple steps-
Find Account Details
The first step here is to find account details. SendGrid for MassMailer account details can be easily found by going to the below path-
MassMailer Setup > Account Settings > Login.
Request For The Password
Once done, you must go to https://app.sendgrid.com/login and request a password for your SendGrid account.
In Conclusion
SendGrid is a great platform offering various features to strengthen your email marketing campaign manifolds. The highlight of the platform is its simple, intuitive, and easy-to-use interface that helps to create and design excellent emails for all your business needs.
You can also use the platform to build catchy yet responsive emails using the intuitive design editor or choose from various pre-installed templates available.
In this post, we have shared how you can sign in and navigate SendGrid for MassMailer to keep track of all your emails sent, bounced emails, link clicks, email delivery rates, email spam reports, and a lot more.
Overall, SendGrid in MassMailer helps you simplify how you connect/engage your audience and also helps you in sending relevant and targeted emails for profitable email campaigns.