March 27, 2023
How to Send a Quick Email from Any Salesforce Object in Mass Mailer 
MassMailer is a simple yet powerful email solution for Salesforce CRM. The platform allows you to send mass emails via the Mass Email Wizard or create campaigns without having to worry about any Salesforce email limitations.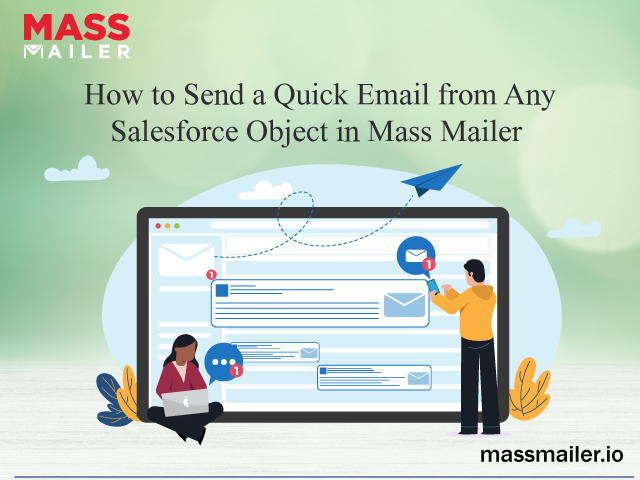 While there are several distinct features that MassMailer has, one of the prominent ones is the advantage it offers in sending a quick email from any Salesforce object.
In this blog, we will discuss more Salesforce objects and how you can send emails from any of these objects in MassMailer to further strengthen your email campaigns.
What are Objects in Salesforce?
Salesforce objects are nothing but distinct database tables that allow you to store your data (organization specific).
Primarily, objects in Salesforce are of two different types: 
1. Standard Salesforce Objects 
As the name suggests, standard Salesforce objects are those given by Salesforce.com, like contracts, users, reports, and dashboards.
2. Custom Salesforce Objects 
Custom Salesforce objects, on the contrary, are objects that are made by users and are used to provide information that is unique to their organization.
Custom objects are central to any application and offer a unique structure for sharing data. Among some of the highlights of custom Salesforce objects are page layouts, custom fields, and relationships to other objects.
How to Send a Quick Email from Any Salesforce Object in MassMailer 
You can send a quick email from any Salesforce object in MassMailer; this is how you go about it
Use the Simple Send Feature
You can use the 'Simple Send' feature available in the MassMailer app to send emails from any object. The feature is available for any object that is supported in MassMailer and does have an email field on that object.
Make Use of Lightning Components
You can also use a 'lightning component' provided by MassMailer that can be added to any object (those supported in MassMailer).
It is important to keep in mind that MassMailer's 'Simple Send' feature works similarly to Salesforce's 'Send Email' feature at an object level.
MassMailer's Simple Send Features 
You can do multiple things using MassMailer's simple send feature. Among these are the following:
Use CC, BCC in your emails
Select the email field of your choice
Enter the email subject
Select the IP pool
Select if Transactional
Send Now or Schedule
Find Merge Fields 
How to Set up a Quick Email from Any Salesforce Object in MassMailer?
Here is how you can do it:
A. Go to the Lightning Page Layout of any Object in Salesforce 
A lightning page in Salesforce refers to a tailored or custom page layout that allows you to design pages for use in the Salesforce mobile app.
The key highlights of a lightning page are that they let you add custom items to a page. Further, irrespective of the device it is being viewed on, the structure of a lightning page adapts as per the template you choose when creating the page controls
b. Add a Component
Once there, you have to add a component, SimpleSendviaMassMailer, wherever it is appropriate for your respective organization.
To Conclude
If you are also looking to build your email marketing strategy and send quick emails from any Salesforce object in MassMailer, follow the steps mentioned in this blog.
MassMailer offers powerful email marketing solutions to help you create, send, and track emails that your customers look forward to. Get started with MassMailer for free.