July 15, 2023
How to Increase the Speed of A High-Volume Campaign
The success of any business hinges on its ability to communicate effectively. Be it communicating crucial data and analytics to stakeholders or partners or sending accurate messaging about your business or brand to customers. Mass email campaigns are the most effective mode of getting the word out quickly, and this is where MassMailer comes in.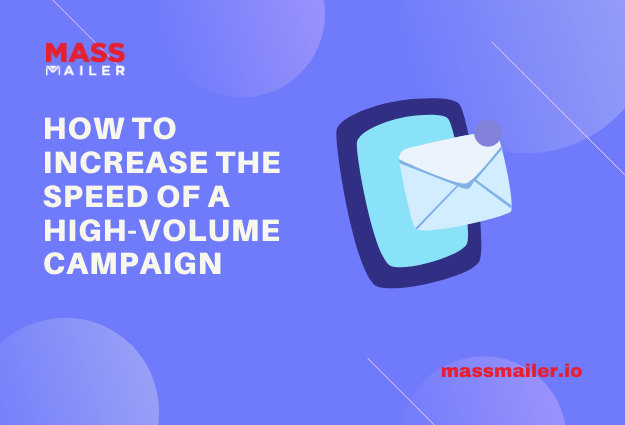 MassMailer offers a range of powerful features designed to enhance your email communication processes. It is a native Salesforce solution that allows you to effortlessly manage and send out mass email campaigns, ensuring your messaging reaches the right audience exactly how and when you want it to.
This platform also provides valuable insights into the performance of your email campaigns, thus equipping you with all the information you need to fine-tune your strategies for optimal engagement. The good news is that MassMailer is now supported within the Salesforce experience cloud.
In this detailed guide, we will walk you through how to send mass emails within the Salesforce Experience Cloud via mass mailer.
What is high-volume email marketing? 
High-volume email marketing essentially means sending a very high number of emails, usually to your entire user list, in one go. This means not dividing or breaking down the list into different segments or sending it to various sets of lists at different times.
In MassMailer specifically, if you want to increase the speed of a high-volume email campaign, you need a powerful emailing infrastructure with a high email deliverability rate.
However, MassMailer usually takes around 1.5 hours to process and send emails to about 10K recipients. This has become a constraint in receiving emails, and many customers have started asking about ways to improve the processing and delivery speed. 
MassMailer's dependency on the Salesforce and SendGrid processing speeds and resource availability is challenging. Therefore, MassMailer decided to develop a pilot feature that enables users to reduce the overall delivery time for a high-volume email campaign. 
The solution
To navigate the issue effectively, the MassMailer team has designed custom components. These components can effectively split a high-volume campaign into sub-campaigns of 10K each. Additionally, they can process all of them parallelly based on the Salesforce resources availability.
Pricing
Currently, the feature works for Salesforce Campaign and Campaign members. Here are the key price points for this feature:
One-time payment of $999 to deploy the base components
Additional customization needed will be $100 per hour
The feature also includes a one-hour-long training session for an additional support cost of $100 per hour
How to design custom components in MassMailer 
As soon as the custom Apex Flows are deployed, the team at MassMailer will make the customization necessary as per your requirements. Here is how we do it-
The campaign details page will have a button called 'Split Campaign.'

Once the campaign is loaded with the campaign members, you only need to click on the Split Campaign button to split the main campaign into sub-campaigns.

For example, if you have 100K campaign members in the main email campaign, you can break it into ten sub-campaigns to speed up the process of sending emails to all users.
Once the sub-campaigns are created, you can set up any other fields such as Email Template Id, IP Pool, From Name, From Address, Reply-To, Campaign Type, Campaign Status, and more. 

Here the Flow gets triggered based on the Flow conditions and the criteria set up.

Sub-campaigns would get processed parallelly to speed up the email delivery.

The ultimate processing speeds depend primarily upon the Salesforce and SendGrid processing times and the availability of resources.
In Conclusion 
MassMailer is an excellent email marketing solution trusted by customers to send emails on Salesforce, verify quick emails, and much more. MassMailer is the one-stop solution for all your email and prospecting needs, regardless of your industry or role.
The good news is that email marketers looking to execute bulk email sends can enjoy various tools to help them do this, rather than simply picking between bulk mailing or good emails. 
In this post, we have covered one such solution offered by MassMailer and outlined how you can increase the speed of your high-volume email campaigns with MassMailer in a few simple steps. 
Adopting the solution we've mentioned here will help you succeed against your business's unique needs and in delivering what your target audience wants to receive.
To know more about MassMailer, start your free trial today.