EMAIL DELIVERABILITY, EMAIL MARKETING, EMAIL TRACKING January 5, 2023
What Does Suspended Mean in Constant Contact and What to Do
What Does 'Suspended' Mean in Constant Contact and What to Do?
When it comes to email marketing, it is very important to keep your contact list updated and clean to improve both the email deliverability rates and open rates. One of the ideal ways to do this is to keep a check on the bounces for each email campaign that you send out.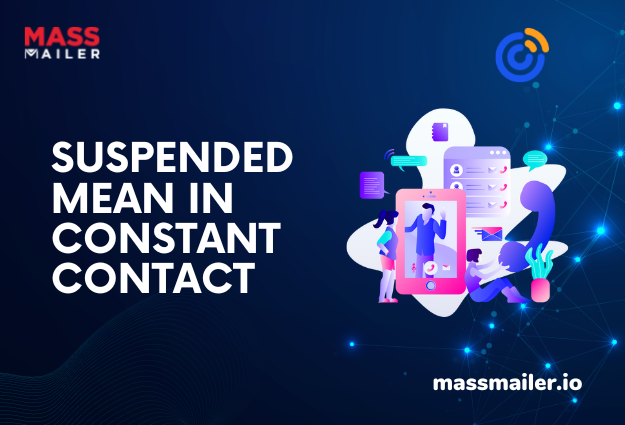 Constant Contact account holders can navigate this better as the platform notifies them with a reason when a particular contact bounces. While some are common reasons, such as non-existent or vacation/auto-replies, others are more specific, such as suspended accounts.
In this post, we explore the Constant Contact suspended bounces, including what they mean and what to do if this happens.
What Does 'Suspended' Mean in Constant Contact?
'Suspended' in Constant Contact essentially refers to when an email address that has continually bounced is deemed non-existent. This is done to protect the delivery rate for both Constant Contact and customers.
So, in case your Constant Contact emails go to spam continually, it will result in your account being automatically suspended. It is important to note here that although you'll still be able to log in to your account, you wouldn't be able to send any emails till the time the issue is fixed.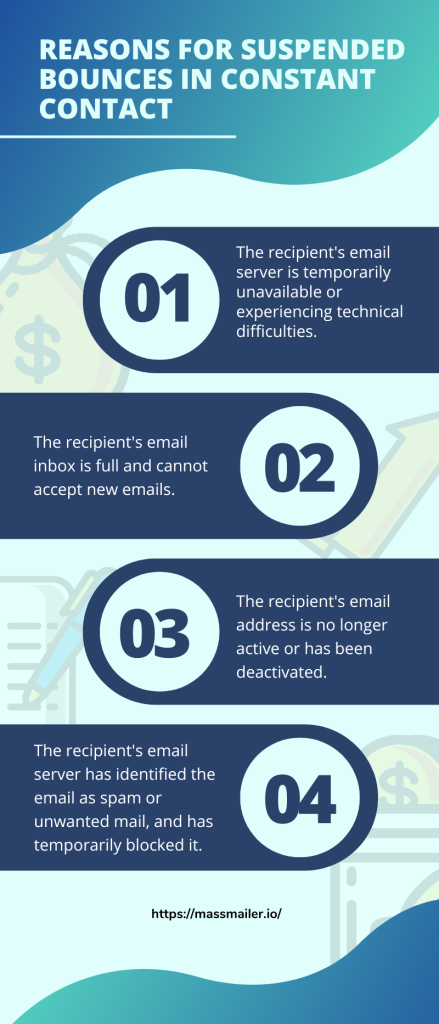 Since repeatedly sending emails to such non-existent email addresses can hurt your sender reputation, Constant Contact ensures to suppress these addresses and marks them as "suspended" in your email reporting.
It is also important to note that when an email address gets suspended, it isn't just suspended in the user account. Any Constant Contact customer who has the same email address on their list is also barred from sending emails to it.
How Does an Email Address Get Suspended in Constant Contact?
Email addresses listed as "Suspended" in Constant Contact should be removed from your email contact lists as the chances of them becoming active again are quite low.
Here is the quick process to remove suspended email addresses from the suspended report for each individual email in Constant Contact:
Check the box in the top left to select all the suspended contacts.
Once done, click Actions > Delete.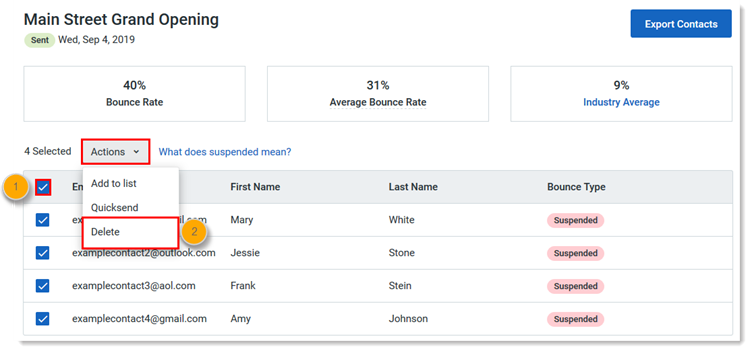 Lastly, click Delete and Unsubscribe.
How to Unsuspend an Address in Constant Contact?
If you think a valid email address has been marked as 'suspended' by a Constant Contact account, you also have the option to either unsuspend it from your account or contact Constant Contact help to check and discuss your options for emailing that person again.
Here is how you can unsuspend an address in Constant Contact:
Click on the right corner next to the email address you wish to unsuspend and choose one of the below options:
Edit – You need to select edit or check if there's either a typo/error with the email address, followed by updating the contact information. As soon as the address is changed, it will be automatically unsuspended.
Unsuspend – Here, you need to select the "Unsuspend" option if the email address appears to be valid.
Why Does Constant Contact Care About Bounces?
Constant Contact uses a shared IP environment with several IP addresses through which all customers send their mail.
To ensure effortless email delivery in such a case, the platform takes strict measures so that the reputation of these IP addresses remains intact and there is no chance of ISPs and domains rejecting the mail.
Emailing continually to contacts or addresses that bounce as non-existent is looked down upon in the industry and could significantly impact Constant Contact's ability to deliver emails to the inbox. This is why the platform takes suspended contacts or Constant Contact bounces very seriously.
If you are looking for an alternative to Constant Contact, MassMailer is one of the best solutions to eliminate both the risk of suspended contacts and Salesforce email limitations for sending bulk emails via the Mass Email Wizard or Campaigns.