FEATURES, MARKETING, SALES October 31, 2017
How Linkedln prospecting is helpful in generating B2B leads for all your needs ?
LinkedIn is an amazing tool for engagement and prospecting, but LinkedIn lead generation can be a bit challenging to those who aren't tech savvy. A LinkedIn lead generation tool or LinkedIn lead generation software can be an invaluable tool for the purposes of augmenting social selling.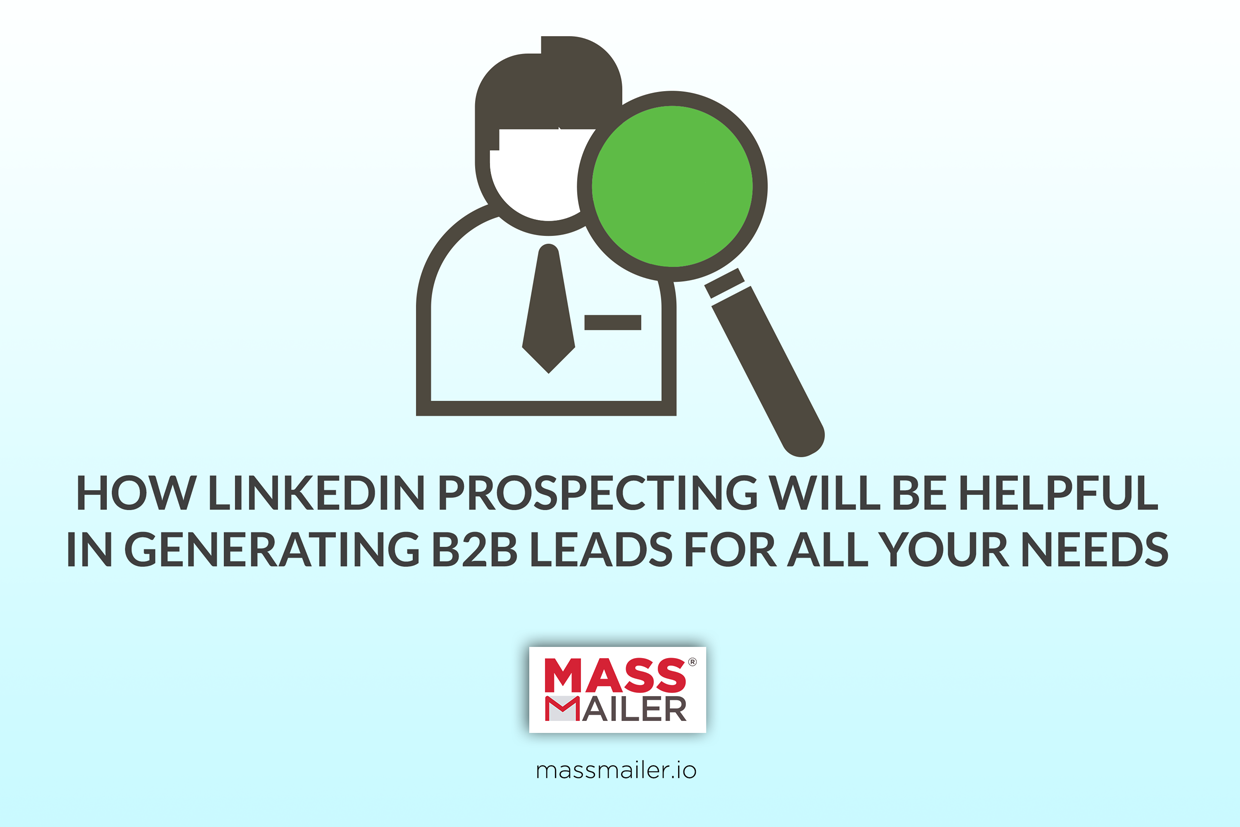 LinkedIn's Prospecting Value
LinkedIn provides one of the most valuable databases for company and employee information in the world. When Microsoft acquired LinkedIn earlier this year, much of the value lay not only in the platform itself but also in the information available. But you don't need direct access to a database to take advantage of LinkedIn's information.
In the old days, prospecting was often done through cold calling. This wasted a lot of time. Now, prospecting can be done by looking directly at users that are on LinkedIn. These users are already essentially scored: employees have their positions visible and will connect directly with businesses and services that interest them. They may even advertise their need for specific services and products.
Modern prospecting puts the emphasis on a consumer. Especially in business to business sales, the contemporary consumer will usually do a significant amount of research through social media marketing.
LinkedIn Prospecting Techniques
Selling in a digital age often requires that companies become creative with the data that they have. They may need to look for certain patterns when they are scoring their leads. Prospecting on LinkedIn means having a comprehensive strategy.
Leads that interact directly with the company. Marketing on LinkedIn for business often means posting content and making it clear that you are pursuing leads. Leads that interact with your business through your social media will already be engaged.
Buyers for related companies. LinkedIn makes it easy for sales prospecting; you can see exactly who is in the position to make decisions at related organizations.
Employees that have just been on-boarded. Employees who have just been promoted or hired into a position may be solid B2B prospecting leads, as they may be looking to change buying patterns.
Users that interact with your business. The more users interact, the more likely they are to commit. Interact more with users to improve your chances of conversion.
By identifying patterns, top sales performers can improve sales performance and ensure that they follow up on only the best leads.
Integrating LinkedIn and CRM
Alone, LinkedIn selling is already quite effective. But when paired with customer relationship management suites, sales training, and experienced sales advice, it becomes an exceptionally formidable tool. Sales masters can integrate LinkedIn with their CRM, which provides complete pictures of customer behavior and interaction. When cold calling, LinkedIn gives all the information that a sales professional may need.
When calling other prospective leads, a CRM solution can collect LinkedIn data and combine it with previous customer interactions for additional sales gravy. B2B sales staff can see which employees at a company have connected with them and focus specifically on the employees that have already engaged. This enables the sales staff to concentrate on the leads that are most likely to give them positive results.
Altogether, using LinkedIn and its data, in conjunction with a customer relationship management suite or advertising platform, creates a solid all around sales solution. By following technologically  oriented sales tips and a data-oriented strategy, companies can improve the efficiency of their sales and their ROI. LinkedIn gives sales departments the information that they need to identify the best leads and the best approach.