FEATURES December 19, 2016
Introducing MassMailer Prospector & MassMailer Clean
As a marketer or salesperson, you've been using MassMailer to send mass emails to prospects. But there's never enough leads. You often wonder if there's an easy way to find additional high quality leads. Finding new quality leads can be tough. Today, we're announcing two new new features from MassMailer that solves this problem for you – Introducing MassMailer Prospector & MassMailer Clean.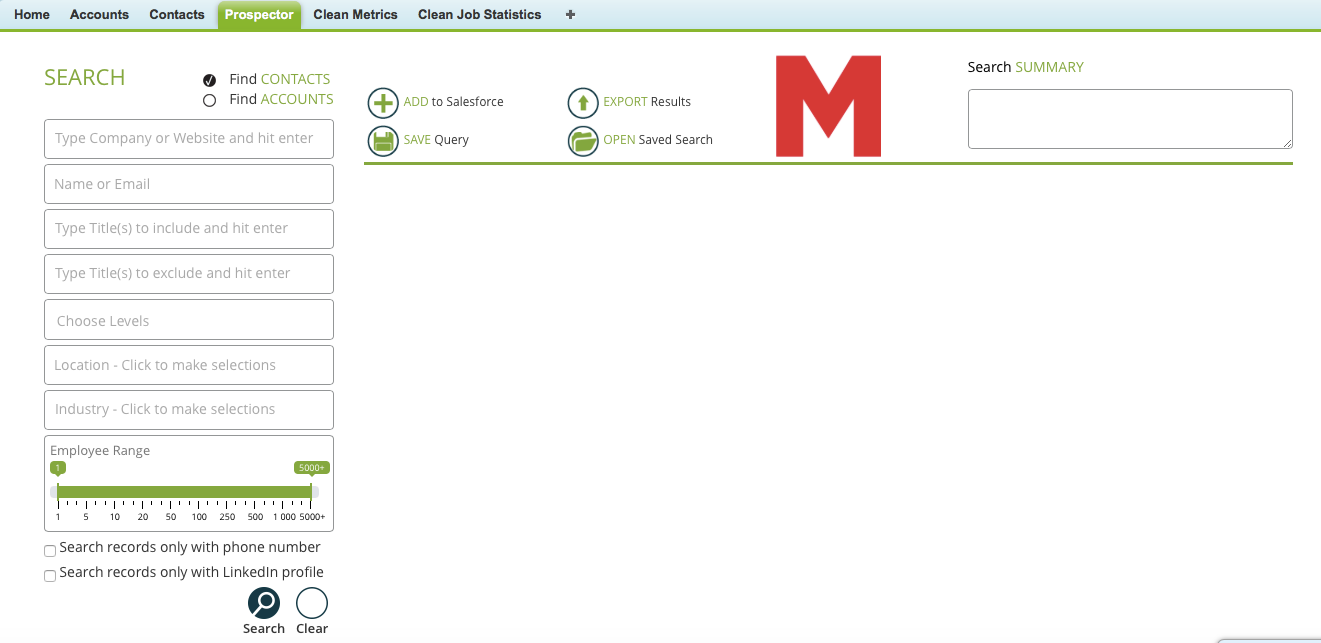 Prospector – Find high quality leads the easy way
You could find new leads by running ad campaigns, forming partnerships with related companies, or asking existing clients for referrals. But all these approaches involve a lot of work, and aren't scalable. Trying and failing at these methods means losing time – and time lost is money lost. There's a better way – MassMailer Prospector – a business database that gives you highly relevant leads in minutes.
Prospector lets you target key executives, research company profiles, target new customers by industry, and of course, e-mail these new business contacts – all within the same platform. Prospector lets you filter leads by company name, job title and even LinkedIn profiles and seamlessly integrate them into your internal workflow.
With data on more than 4 million companies with 18 million contacts, MassMailer can fuel your lead generation with an endless supply of targeted leads. Having access to such a large pool of leads directly correlates to increased sales.
Furthermore, Prospector lets you:
Research company profiles: Checking the background information of a company and knowing what they do can help you gauge each lead's potential value. The context you get from this can be crucial in converting the lead to a customer later.
Identify key executives by title: Knowing exactly who you're contacting makes you marketing more precise. This is another way of saving you time and getting maximum results.
Target new customers by industry: You want to target customers in specific industries and niches. Prospector lets you target leads by industry, so your marketing is strategic.
You don't have to worry about inaccurate or old data. All the information provided by Prospector is gathered from a multitude of directories and event driven sources. This includes new business filings, daily utility connections, press releases, corporate websites, annual reports and thousands of U.S. Yellow Page directories. Accuracy is confirmed through a telephone verification process that updates and obtains additional information such as email address, employee size, key contact name and industry.
With Prospector in your arsenal, you can swiftly send out more mails, to the relevant people and significantly amplify your sales pipeline velocity.
Clean – The quickest way to a fresh, accurate lead database
Inaccurate information can be the bane of marketing teams. Emailing bad emails and calling wrong numbers can waste a lot of time that could be spent on real contacts. You may be struggling with a list that's a few years old, and want to refresh it. Today, we have a solution for you with MassMailer Clean.
Clean identifies your contact records that have missing or incorrect data through a matching logic. Before any action is taken, you can view your records and MassMailer's records in a side-by-side comparison so that you can choose which data you'd like to keep, update, or delete. Additionally, you will see which records have been cleaned, which have pending changes, and which have not been analyzed.
MassMailer Clean will help you achieve 22% more sale opportunities and 31% more selling time by cleaning your data and correcting bad information. Clean ensures that in one step, you save time that would have otherwise been spent on manually correcting and verifying your information.
Now, you can find new leads, cleanup inaccurate lead information, and send mass emails all from a single outreach platform. This makes your job as a marketer easier than ever before. Together, Prospector and Clean both ensure that you have the highest quality leads and contacts. Not only do they save you time and money, but they also generate a lot more sales that would not be possible otherwise.
Start a free trial of MassMailer, and fill up your sales pipeline starting today.